U.S. gets payback on Puerto Rico, sits one win from Beijing
Updated:
August 29, 2007, 5:45 PM ET
Associated Press
LAS VEGAS -- The Americans made Athens look like ancient history.
Three years after its stunning loss in the Olympics, the United States smothered Puerto Rico in a 117-78 victory Tuesday night in the FIBA Americas tournament.
"I don't hold grudges, but I still keep that game in the back of my mind every time we play them," Carmelo Anthony said. "Even last year when we played them we really wanted to get after them, and tonight we wanted to get after them, also."
LeBron James scored 21 points and Anthony added 17 for the Americans, who clinched a spot in Saturday's semifinals -- where a win would earn them a berth in the Beijing Olympics.
Michael Redd had 15 points and Kobe Bryant 14. He also set up James for a pair of powerful dunks, thrusting his arms in the air like a quarterback who had just thrown a touchdown pass after both.
Puerto Rico handed the United States a 92-73 loss, its worst ever, in the 2004 games. Current U.S. stars Anthony, James and Amare Stoudemire were all in Greece and watched Carlos Arroyo and the rest of the Puerto Ricans torch the Americans for 56 percent shooting.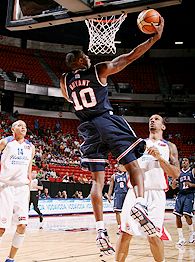 Ned Dishman/NBAE via Getty ImagesFresh on the international basketball scene, Kobe Bryant has played an integral role in Team USA's journey to Beijing.
The Americans ended any hopes of a repeat with their latest sensational second quarter and remained unbeaten in this event. They finished just about at the 117.6 points they were averaging entering the game.
The United States plays Uruguay on Wednesday before closing second-round play Thursday night against follow unbeaten Argentina. But even with losses in those two games, the Americans would still be guaranteed a spot Saturday.
"Saturday will take care of itself," U.S. coach Mike Krzyzewski said. "Obviously we want to go undefeated and get the No. 1. seed, that's our goal. We'll be ready to play whoever we face."
Arroyo fouled out in the third quarter with 12 points -- half his total that sparked the Olympic upset.
The Puerto Ricans then gave the Americans another tough test last year in the world championships, shooting 54 percent and trailing by only six at halftime of a 111-100 loss. They looked as if they would make things difficult again Tuesday for about 9 minutes, then were run off the floor in the second quarter.
"Puerto Rico is familiar with the United States and has a few pro players who have confidence playing against us," Krzyzewski said. "They controlled the tempo in the first quarter and our defense kind of blew it apart and we started playing so well in the second quarter."
Krzyzewski said he never talked about the '04 game with his team.
"We played them twice last year and they scored 100 points against us in Japan last year, a game we had a 20-point lead in. We had a great team meeting today going through our scouting report and the guys responded well."
The United States held the Puerto Ricans without a field goal for 6½ minutes to open the second period, outscoring them 22-4 to turn an 11-point lead into a 48-19 bulge on Anthony's 3-pointer with 3:47 remaining in the first half. Arroyo made a 3 about 20 seconds later, ending Puerto Rico's 0-for-8 drought.
The Americans were 7-of-11 from 3-point range in the quarter, limited the Puerto Ricans to just three field goals in 17 attempts, and led 59-27 at the break.
James was 8-of-10 from the field and is shooting a tournament-best 75 percent (36-of-48). He made three of five 3-point attempts -- and his percentage from there actually dropped. He came at 63.6 percent, tops in the event.
James, who said he has been working on his jumper all summer, has clearly been more aggressive offensively as the tournament has gone on.
"I think the defense is seeing what you guys are seeing, that I wasn't scoring as much, that I could be a facilitator," James said. "They're definitely not respecting my offensive abilities so I'm just going out there and just taking what's there."
Krzyzewski returned to the starting lineup he used for the first four games, reinserting Jason Kidd and Dwight Howard in place of Chauncey Billups and Stoudemire. Kidd improved to 40-0 in senior team competitions for the United States.
The Americans also got back reserve forward Tayshaun Prince after he missed Monday's victory over Mexico with a sprained left ankle.
Larry Ayuso scored 13 points for Puerto Rico, which plays Venezuela on Wednesday.
"We played a superior team today with the best players from the NBA," said Puerto Rico coach Manolo Cintron, adding the difference from Athens was "in the back of the room, Jose Ortiz. He was the face of the Puerto Rico team for 26 years. Right now we have a new team trying to develop, grow up and compete with the USA physically."

Copyright 2007 by The Associated Press
SPONSORED HEADLINES
MORE OLYMPIC BASKETBALL HEADLINES
MOST SENT STORIES ON ESPN.COM
Road To Beijing
By virtue of making the finals in the Tournament of the Americas Olympic qualifier in Las Vegas, Team USA earned a spot in the 2008 Summer Games in China.
Scoreboard
|
Standings
|
Schedule
|
Roster
News
•
James, Team USA bury Argentina for TOA gold
•
Puerto Rico holds off Brazil, wins third place
•
USA's outside shooting delivers Olympics berth
•
Scola, Delfino help Argentina clinch Olympics bid
•
U.S. trounces Argentina, coasts into FIBA semis
•
Roundup: Second half outburst fuels Brazil's win
•
Perfect LeBron leads U.S. rout vs. Uruguay
•
Carmelo out vs. Uruguay with bruised heel
•
Roundup: Argentina remains undefeated in TOA
•
LeBron, U.S. avenge Olympic loss to Puerto Rico
•
Roundup: Argentina gets to Canada early in win
•
Mexico hangs around, but U.S. pulls away for win
•
Roundup: Argentina's 3-point shooting keys win
•
Bryant's defense highlights U.S. win vs. Brazil
•
Prince sprains ankle in first quarter vs. Brazil
•
Roundup: Argentina wins in OT to stay perfect
•
Roundup: Barbosa lifts Brazil past Virgin Islands
•
Without Nash, Team USA blasts Canada by 50
•
Roundup: Dalembert sparks Canada's FIBA win
•
Redd's touch spurs U.S. blowout of Virgin Islands
•
Roundup: Scola's balanced play carries Argentina
•
Melo, Kobe find range as U.S. routs Venezuela
•
Roundup: Arroyo struggles in Puerto Rico's loss
•
Durant, Collison not on team
•
Coach K not worried about shooting woes
•
Anthony nets 28 in scrimmage
•
Bosh withdraws from camp with foot injury
•
Hinrich, Battier withdraw; Collison added
•
Select team of young stars to face Team USA
•
After tonsils issue, Oden likely to skip camp
•
Sheridan: Kobe the star of intrasquad game
Columns
•
Sheridan: What players get last spots?
•
Sheridan: Handing out grades for Team USA
•
Sheridan: Previewing the TOA semifinal matchups
•
Sheridan: Coach K cautions against arrogance
•
Sheridan: Dueling again with their Pampas pals
•
Altieri: Previewing game with nemesis Argentina
•
Sheridan: No captain crunch for Team USA
•
Sheridan: Cause for concern?
•
Sheridan: Bryant is 'pacesetter' for Team USA
•
Neel: Team USA puts the hammer down
•
Morales: Day-by-day notebook
•
Morales: Don't count out Argentina
•
Sheridan: Can Coach K lead this team?
•
Wojciechowski: Coach K reliving a dream
•
Katz: Nolan Richardson leads Mexico
•
Sheridan: LeBron not stressing, Durant impresses
•
Sheridan: Scrimmage team has work to do
•
Sheridan: Top 10 questions facing Team USA
•
Sheridan: Kidd's national record perfect
•
Sheridan: Kobe arrives focused on new team
•
Morales on Group A
|
Sheridan on Group B
Blog
•
Sheridan: My picks for final 12-man roster

Chat
•
Sheridan: Durant improving quickly

Podcast
•
Sheridan: Team director Jerry Colangelo

•
Ford: USA Basketball scout Tony Ronzone

•
Ford: Talking Team USA with Sheridan

En español
•
Portada de Básquetbol
•
Resultados
|
Calendario
|
Posiciones
• Planteles completos:
Grupo A
|
Grupo B
•
Altieri: EE.UU. busca acompañante
•
Morales: Panorama del Grupo A
•
Sheridan: Panorama del Grupo B
•
Morales: Blog desde Las Vegas
•
Wojciechowski: El sueño olímpico de Coach K
•
Sheridan: En busca del equilibrio NBA-FIBA
•
Morales: Argentina, con las chances intactas