Bryant, Team USA flatten Argentina to reach FIBA semis
Updated:
August 31, 2007, 8:20 AM ET
Associated Press
LAS VEGAS -- Kobe Bryant's strong start quickly took the drama out of the most-anticipated game of the FIBA Americas tournament.
Weekend Schedule
Saturday, at Las Vegas
Game 1: Brazil vs. Argentina, 4 p.m. ET (ESPN360)
Game 2: United States vs. Puerto Rico, 7 p.m. ET (ESPN Classic, ESPN360)

Sunday, at Las Vegas
Bronze medal game, 4 p.m. ET
Gold medal game, 7 p.m. ET
Now comes the only one that matters.
Bryant scored 27 points -- 15 in the first quarter -- and the United States cruised into the semifinals of the FIBA Americas tournament as the No. 1 seed by beating Argentina 91-76 Thursday night.
Carmelo Anthony added 18 points and LeBron James had 15 for the Americans, who will face Puerto Rico in Saturday's second semifinal game. A victory there gives them a berth in the 2008 Olympics.
"It was a little stagnant at the start and I came out and got hot early and we rode that for a little bit and helped us get off to a quick start," Bryant said. "We're close to accomplishing our goal."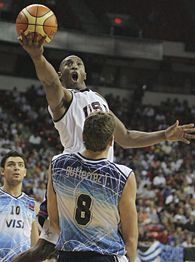 Jae C. Hong/AP PhotoKobe Bryant scored 15 first-quarter points as Team USA reached the FIBA Americas tournament semis.
The Americans took control early and were never threatened in the matchup with the defending Olympic gold medalists, who also came in undefeated despite playing this qualifying tournament without the core of their team.
"Tonight we had in the back of our minds was going to be one of the biggest games of the tournament," Anthony said. "We knew that, we knew we had to come out here and be aggressive."
An Olympic berth seems likely for a U.S. team (8-0) that had overwhelmed its opponents before playing its toughest foe in the finale of round-robin play.
The Americans averaged 117.6 points while beating their first seven opponents by 42.7 per game, not too far from the 121.2 points and 51.5 victory margin averaged by Michael Jordan, Magic Johnson, Larry Bird and the rest of the Dream Team in the Olympic qualifier 15 years ago.
While this game was closer, it wasn't much harder. Bryant hit his first three shots to get the Americans off to a quick start, and they led by as many as 25 points in a game that was never in doubt after the opening minutes.
"The U.S. is difficult enough to play with the score, let alone when you are 10, 15 points down," Argentina coach Sergio Hernandez said. "It was a more physical game than we wanted to play. We wanted to play a smart game, control the ball, but we were down too fast."
The anticipated game brought the most energetic crowd of the poorly attended tournament -- Las Vegas entertainment icon Wayne Newton had a courtside seat -- with a group of singing, flag-waving Argentineans sometimes drowned out by chants of "USA! USA!"
Argentina beat the U.S. in the 2002 world championships, then did it again in the semifinals of the Athens Olympics. The Americans avenged that loss with a victory in the bronze medal game at last year's worlds.
But the Argentineans arrived in Las Vegas without some of the top players from those teams. Manu Ginobili and Fabricio Oberto, starters for the NBA champion San Antonio Spurs, opted to rest this summer along with Chicago's Andres Nocioni and Charlotte's Walter Herrmann.
"Argentina is Argentina," Anthony said. "The guys they had out there was still good players, we couldn't sleep on them. We studied film just as if they were going to have their whole team. We wish that their main players were here, but obviously they couldn't be here. We had to take care of business regardless."
That left Luis Scola, who scored 20 points, and Carlos Delfino as the mainstays of those teams who opted to play. A victory over Brazil on Saturday would guarantee their teammates could return in Beijing.
"We've been doing a great job in this tournament, but I don't believe in stars," Scola said. "At the end of the game, it's what you did. Today we were down 26, 28, but the reserves come in and we finished down 15. Everybody has to do what it takes."
And while they had won their first seven games here, it hadn't been easy for the Argentineans. They were forced to overtime twice, including Wednesday night's victory over Brazil in which they erased a 17-point deficit, and were playing for the eighth straight day.
The Americans quickly jumped on them, as Bryant made three 3-pointers and was 6-of-8 from the field in the first quarter to help open a 28-13 lead. The U.S. lead was 49-30 at halftime, with the Americans shooting 59 percent from the field. Argentina missed 11 of 12 3-point attempts in the first 20 minutes.
"It was a little stagnant at the start and I came out and got hot early and we rode that for a little bit and helped us get off to a quick start," Bryant said.
The lead grew to 25 in the third quarter when Bryant raced upcourt with a loose ball, shook off a bump near midcourt by putting the ball between his legs, and made a layup while being fouled with 4:09 left.

Copyright 2007 by The Associated Press
SPONSORED HEADLINES
MORE OLYMPIC BASKETBALL HEADLINES
MOST SENT STORIES ON ESPN.COM
Road To Beijing
By virtue of making the finals in the Tournament of the Americas Olympic qualifier in Las Vegas, Team USA earned a spot in the 2008 Summer Games in China.
Scoreboard
|
Standings
|
Schedule
|
Roster
News
•
James, Team USA bury Argentina for TOA gold
•
Puerto Rico holds off Brazil, wins third place
•
USA's outside shooting delivers Olympics berth
•
Scola, Delfino help Argentina clinch Olympics bid
•
U.S. trounces Argentina, coasts into FIBA semis
•
Roundup: Second half outburst fuels Brazil's win
•
Perfect LeBron leads U.S. rout vs. Uruguay
•
Carmelo out vs. Uruguay with bruised heel
•
Roundup: Argentina remains undefeated in TOA
•
LeBron, U.S. avenge Olympic loss to Puerto Rico
•
Roundup: Argentina gets to Canada early in win
•
Mexico hangs around, but U.S. pulls away for win
•
Roundup: Argentina's 3-point shooting keys win
•
Bryant's defense highlights U.S. win vs. Brazil
•
Prince sprains ankle in first quarter vs. Brazil
•
Roundup: Argentina wins in OT to stay perfect
•
Roundup: Barbosa lifts Brazil past Virgin Islands
•
Without Nash, Team USA blasts Canada by 50
•
Roundup: Dalembert sparks Canada's FIBA win
•
Redd's touch spurs U.S. blowout of Virgin Islands
•
Roundup: Scola's balanced play carries Argentina
•
Melo, Kobe find range as U.S. routs Venezuela
•
Roundup: Arroyo struggles in Puerto Rico's loss
•
Durant, Collison not on team
•
Coach K not worried about shooting woes
•
Anthony nets 28 in scrimmage
•
Bosh withdraws from camp with foot injury
•
Hinrich, Battier withdraw; Collison added
•
Select team of young stars to face Team USA
•
After tonsils issue, Oden likely to skip camp
•
Sheridan: Kobe the star of intrasquad game
Columns
•
Sheridan: What players get last spots?
•
Sheridan: Handing out grades for Team USA
•
Sheridan: Previewing the TOA semifinal matchups
•
Sheridan: Coach K cautions against arrogance
•
Sheridan: Dueling again with their Pampas pals
•
Altieri: Previewing game with nemesis Argentina
•
Sheridan: No captain crunch for Team USA
•
Sheridan: Cause for concern?
•
Sheridan: Bryant is 'pacesetter' for Team USA
•
Neel: Team USA puts the hammer down
•
Morales: Day-by-day notebook
•
Morales: Don't count out Argentina
•
Sheridan: Can Coach K lead this team?
•
Wojciechowski: Coach K reliving a dream
•
Katz: Nolan Richardson leads Mexico
•
Sheridan: LeBron not stressing, Durant impresses
•
Sheridan: Scrimmage team has work to do
•
Sheridan: Top 10 questions facing Team USA
•
Sheridan: Kidd's national record perfect
•
Sheridan: Kobe arrives focused on new team
•
Morales on Group A
|
Sheridan on Group B
Blog
•
Sheridan: My picks for final 12-man roster

Chat
•
Sheridan: Durant improving quickly

Podcast
•
Sheridan: Team director Jerry Colangelo

•
Ford: USA Basketball scout Tony Ronzone

•
Ford: Talking Team USA with Sheridan

En español
•
Portada de Básquetbol
•
Resultados
|
Calendario
|
Posiciones
• Planteles completos:
Grupo A
|
Grupo B
•
Altieri: EE.UU. busca acompañante
•
Morales: Panorama del Grupo A
•
Sheridan: Panorama del Grupo B
•
Morales: Blog desde Las Vegas
•
Wojciechowski: El sueño olímpico de Coach K
•
Sheridan: En busca del equilibrio NBA-FIBA
•
Morales: Argentina, con las chances intactas