Germany beats Italy to advance to quarterfinals
Updated:
September 12, 2007, 6:01 PM ET
Associated Press
MADRID, Spain -- Dirk Nowitzki had 15 points and 10 rebounds Wednesday to lead Germany over Italy 67-58 and into the quarterfinals of the European Basketball Championship.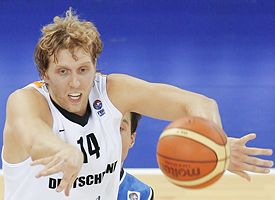 AP Photo/Daniel Ochoa de OlzaDirk Nowitzki had 15 points and 10 rebounds to lead Germany into the European Basketball Championship quarterfinals.
Nowitzki hit a 3-pointer with 4:49 to play in the fourth to extend Germany's lead to seven. The Dallas Mavericks star then made two free throws with 33 seconds to play.
Johannes Herber also scored 15 for Germany, including a key 3-pointer down the stretch.
Marco Belinelli, who limped off with an ankle injury midway through the second period but returned to play, led Italy with 25 points. Toronto Raptors center Andrea Bargnani added 10 points.
Germany will face world champion Spain in the quarters on Thursday.
Ramunas Siskauskas scored 21 points to help Lithuania beat Slovenia 80-61. Forward Darius Songaila of the Washington Wizards added 17 as the 2003 champions kept their unbeaten streak at the tournament.
Jaka Lakovic led Slovenia with 15 points and three steals.
Lithuania plays Croatia and Slovenia takes on defending champion Greece on Friday. Lithuania, Slovenia and France have already reached the quarterfinals, along with Russia, Greece and Croatia.
France beat winless Turkey 85-64 in a meaningless Group F game.
Boris Diaw led France with 18 points and Tariq Kirksay added 15. Tony Parker, France's best player, played only 21 minutes and scored six points.
"I don't know if you want to say it was a practice game, but we wanted to work on some stuff. And we wanted to win and we got some players some confidence," Kirksay said. "And now we have to be ready for tomorrow."
Kaya Peker led Turkey with 19 points.
"I hope this doesn't do immense damage to Turkish basketball," guard Engin Atsur said. "If you look at it, we have great talent, but we just couldn't make it as a team this year."
Nowitzki finished the third quarter on the bench, and Germany stretched its lead to 46-37 without him. The NBA MVP had eight points in the fourth.
Italy started fast. Belinelli, drafted in the first round by the Golden State Warriors, went 4-of-5 from the field in the first quarter to help Italy build an 18-12 lead.
Stefano Mancinelli scored Italy's only field goal of the second quarter with a layup with 14 seconds to go, but the game was tied at 27 at halftime.

Copyright 2007 by The Associated Press
EuroBasket 2007

With two Olympic qualifying bids up for grabs at the FIBA Europe competition, many NBA stars excelled for their home countries in Madrid. Russia was the surprise winner, with Lithuania collecting the other Olympic berth with its third-place finish. (Runner-up Spain already qualified.)
News
•
Holden sinks winner to lift Russia to Euro title
•
Spain upends defending champion Greece
•
Papaloukas' layup caps Greece's rally at Euros
•
Parker's missed FT helps Russia reach Euro semis
•
Nowitzki leads Germany into Euro quarterfinals
•
Greece wins as quarterfinal pairings take shape
•
Spanoulis, Greece beat Croatia at buzzer
•
Lithuania stays unbeaten, tops France
•
Parker leads France past Dirk's German club
•
Kirilenko paces strong Russian start
•
France rolls past Olympic runner-up Italy
•
Nowitzki's 35 lead Germans past Czechs
•
Israel eliminates once-proud Serbs
•
Milicic fined nearly $14K for outburst
Columns
•
Sheridan: Lessons for Team USA in Spain's pain
•
Sheridan: Why Russian upset does U.S. proud
•
Sheridan: U.S. scouts discuss NBA-caliber players
•
Sheridan: French miss their connections
•
Sheridan: Predictions for two quarterfinal games
•
Sheridan: Unbeaten Lithuania looking for title
•
Sheridan: Learning Greek from "Socrates"
•
Sheridan: An American's Russian front
•
Sheridan: My espaņol not good, but games are
Blog
•
Hollinger: Serbia hits new nadir

MORE OLYMPIC BASKETBALL HEADLINES
MOST SENT STORIES ON ESPN.COM