Team USA to consider other options if Chandler can't go
Updated:
July 21, 2008, 10:52 PM ET
By
Chris Sheridan
| ESPN.com
LAS VEGAS -- So much for Plan B.
Team USA opened training camp Monday with 12 players in uniform instead of the 13 they had planned on after a toe injury kept top alternate Tyson Chandler from joining the team.
USA Basketball officials refused to say that Chandler was completely out of the mix, but coach Mike Krzyzewski said a new backup plan will take shape over the next couple of days.
Sheridan: Gearing Up
As Team USA gears up for Beijing in Las Vegas, there are notable obstacles for the team in its attempts to improve on third-place finishes in international competitions, writes Chris Sheridan. Story
"We just found out about it a couple days ago, so what we're going to do is look at the pool of [alternates] and let a couple people know that if something happens, you are probably going to be the guy -- but we haven't decided yet who those guys are going to be."
The alternates for Team USA are Chandler, Shawn Marion, Mike Miller, Kevin Durant, Chauncey Billups and Joe Johnson.
After Team USA officials learned that Dwight Howard had suffered a hairline fracture of his sternum, they decided to invite Chandler to travel with Team USA to Asia for a series of pre-Olympic exhibition games.
Now, the plan is to leave Las Vegas on Saturday with only the 12 players from the active roster: Carmelo Anthony, Kobe Bryant, LeBron James, Jason Kidd, Howard, Deron Williams, Chris Paul, Michael Redd, Carlos Boozer, Chris Bosh, Tayshaun Prince and Dwyane Wade.
Krzyzewski hinted that Durant, who is practicing against Team USA this week as part of the U.S. Select Team, could supplant Chandler as the No. 1 alternate.
"What we could do is have Durant be a perimeter player, and LeBron be a big. The way we're playing, LeBron is a big," Krzyzewski said.
Chandler has an inflamed big toe that he originally injured when San Antonio's Ime Udoka stepped on him during the New Orleans Hornets' playoff loss to the San Antonio Spurs.
"I had a good conversation with him, he really wanted to be here. We're going to keep him posted, see how he's doing with that, and if something happens he's still going to be a major consideration for us. He said he still wants to be considered, and hopefully this gets better," Team USA managing director Jerry Colangelo said.
Chris Sheridan is an ESPN.com Insider. He has covered the U.S. senior national team since the 1996 Olympics.
SPONSORED HEADLINES
MORE OLYMPIC BASKETBALL HEADLINES
MOST SENT STORIES ON ESPN.COM
Team USA: Going For Gold In Beijing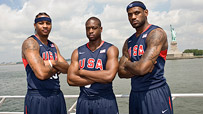 Team USA aims for the gold medal at the Beijing Games, playing its opening game against host China on Aug. 10.
Roster
|
Schedule
|
TV
News
•
Kobe & Co. arrive to heroes' welcome in Beijing
Pre-Olympic Tour
•
Jackson: Team USA will miss Amare
•
Sheridan: Flaws exposed against Aussies
•
Sheridan: Point-guard change?
•
Sheridan: D-Wade is back
•
Sheridan: Meet the Doberman
•
Sheridan: King James mastering FIBA rules
•
Jackson: Melo aiming for gold and more
Video
•
Watch: Best internationals in action
SportsNation
•
Who would you have picked?