LeBron likely to sit out U.S. exhibition vs. Canada Friday
Updated:
July 25, 2008, 3:03 PM ET
Associated Press

James
LAS VEGAS -- U.S. coach Mike Krzyzewski says injured forward LeBron James is a "95 percent no-go" for Friday's exhibition against Canada.
James, who has a mild right ankle sprain, was held out of a scrimmage for the second straight day on Thursday, although he did participate in five-on-none drills.
"He hasn't had contact," Krzyzewski said. "We're better off giving him a few days."
James injured his ankle when he landed on Kevin Durant's foot during a Tuesday scrimmage between Team USA and a select squad of young NBA players. On Thursday, James said the ankle had improved every day since.
"When it happened, I could barely walk on it, and it progressed throughout the night," James said. "It's feeling a lot better. If I had to [play], I would."

Copyright 2008 by The Associated Press
Team USA: Going For Gold In Beijing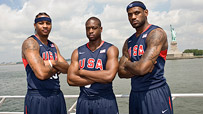 Team USA aims for the gold medal at the Beijing Games, playing its opening game against host China on Aug. 10.
Roster
|
Schedule
|
TV
News
•
Kobe & Co. arrive to heroes' welcome in Beijing
Pre-Olympic Tour
•
Jackson: Team USA will miss Amare
•
Sheridan: Flaws exposed against Aussies
•
Sheridan: Point-guard change?
•
Sheridan: D-Wade is back
•
Sheridan: Meet the Doberman
•
Sheridan: King James mastering FIBA rules
•
Jackson: Melo aiming for gold and more
Video
•
Watch: Best internationals in action
SportsNation
•
Who would you have picked?
MORE OLYMPIC BASKETBALL HEADLINES
MOST SENT STORIES ON ESPN.COM