Stephen Curry listed as day to day
Updated:
August 19, 2010, 11:46 AM ET
Associated Press
MADRID -- Stephen Curry is eager to overcome an ankle injury, hopeful it won't impact his chances of making the U.S. roster for the world championship.
Curry didn't practice Thursday after suffering a mild sprain to his left ankle a day earlier. The U.S. team said Curry's recovery was "progressing" but he remained day to day.
Team USA: Warmup Games
Here's Team USA's remaining schedule of exhibitions leading up to the 2010 FIBA men's basketball championship slated for Aug. 28-Sept. 12 in Istanbul, Turkey:

• Aug. 25: USA vs. Greece, Athens, Greece, Noon ET, ESPN2, ESPN3.com

•
FIBA World Championships website
With one player still to be cut from the 13-man squad -- and most likely a guard -- Curry looked slightly anxious after watching his teammates practice.
"It hurts. To miss a great practice like this with the scrimmaging and all -- it's never great to have an injury, especially in a pressure situation like this," Curry said at the Magic Box center on the outskirts of the Spanish capital. "I just have to make sure I get back this weekend."
The U.S. plays Lithuania on Saturday and defending world champion Spain on Sunday as part of it's warm-up for the Aug. 28- Sept. 12 tournament in Turkey.
Curry was on the court shooting free throws and 3-pointers while the team stretched out after playing a scrimmage. Curry wore flip-flops with a lone bandage over his ankle. He said he was already feeling better.
"The way it felt yesterday compared to today, I know I'm doing good," said the 22-year-old Golden State player.
Coach Mike Krzyzewski said he would cut one player after the team's final exhibition match against Greece next week.

Copyright 2010 by The Associated Press
SPONSORED HEADLINES
MORE OLYMPIC BASKETBALL HEADLINES
MOST SENT STORIES ON ESPN.COM
2010 FIBA World Championship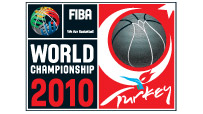 Scoreboard | Schedule | Standings
Follow ESPN's NBA coverage on Twitter
COLUMNS
NEWS
PREVIEWS
MORE