Triumphant Spain shooting for fifth place
Updated:
September 10, 2010, 5:26 PM ET
ESPN.com news services
Juan Carlos Navarro scored 26 points and Spain used a big fourth quarter to beat Slovenia 97-80 in a consolation game at the FIBA World Championship on Friday.
Spain led by only two going into the fourth before outscoring Slovenia 33-18. Sergio Llull made two 3-pointers during a 15-6 spurt that broke it open and gave the Spaniards an 84-73 lead on Navarro's 3-pointer with 3:47 remaining.
Spain's reign as world champion is ending after its 92-89 loss to Serbia on Wednesday in the quarterfinals. The Spaniards can still finish fifth with another victory.
Rudy Fernandez and Fran Vazquez each had 16 points for Spain. Goran Dragic and Jaka Lakovic scored 19 apiece for Slovenia, which will play for seventh place.
Argentina 73, Russia 61
Luis Scola scored 27 points, Carlos Delfino added 26 and Argentina pulled away late for a 73-61 win over Russia in a consolation game.
Argentina led 58-56 with 6:11 left before Delfino and Scola combined for 13 points during a 15-5 run that sealed the win. Delfino plays for the Milwaukee Bucks and Scola is on the Houston Rockets.
Sergey Monya scored 17 points for Russia, and New York Knicks signee Timofey Mozgov had 10 points and 11 rebounds.
Argentina's streak of making the final four in every worlds, Olympics and FIBA Americas Championship since 2001 ended with a 104-85 loss to Lithuania on Thursday in the quarterfinals. It can finish fifth with another win.
Russia will play for seventh place.
Information from The Associated Press was used in this report.
2010 FIBA World Championship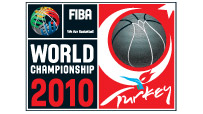 Scoreboard | Schedule | Standings
Follow ESPN's NBA coverage on Twitter
COLUMNS
NEWS
PREVIEWS
MORE
MORE OLYMPIC BASKETBALL HEADLINES
MOST SENT STORIES ON ESPN.COM