U.S. women crush Belarus at worlds
Updated:
September 28, 2010, 11:33 PM ET
ESPN.com news services
OSTRAVA, Czech Republic -- Usually when the U.S. women's basketball team faces Australia in the world championship, a medal is at stake.
When the rivals play Wednesday night, only the top seed in the quarterfinals will be at risk. Still, the Americans plan to play to win their group.
Voepel: Fowles Fuels U.S.

With all the change to the U.S. roster, some wondered how good the team's interior attack and defense would be at the world championship. Sylvia Fowles provided the answers Tuesday, writes Mechelle Voepel. Story
"Tomorrow is going to be like a gold-medal game. I know it is on our end," U.S. coach Geno Auriemma said. "It's important to us. There's no guarantee that either the U.S. or Australia will be in the gold-medal game.
"There are some teams that play one way when the game means something and play another way when the game doesn't mean something. I think tomorrow, you got two teams that really want to win and really want to beat each other."
The Aussies seemed to have a different take on Wednesday's matchup of unbeaten teams. They see it as a chance to evaluate where they stack up against the Americans when both teams are at full strength. The two powerhouse teams split a pair of exhibition games in the last month when neither team had a full roster.
"The result doesn't matter really," Australia coach Carrie Graf said. "Everything isn't riding on that game. You have to be intelligent about how you play the tournament."
Australia star Lauren Jackson, who has never beaten the U.S., found it strange to be playing them before the medal rounds.
[+] Enlarge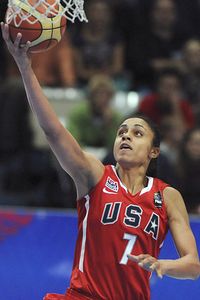 AP Photo/CTK, Jaroslav OzanaCandice Dupree was in the starting lineup, part of Geno Auriemma's effort to jump-start the offense.
"It is weird, it's a different format having us crossover," said Jackson, who plays for the WNBA champion Seattle Storm. "It's weird playing them earlier. It's a good thing as well. America is a powerhouse and it's a test to see where we are, what we need to work on."
If Tuesday night's win over Belarus is any indication, the U.S. is ready and focused.
Sylvia Fowles scored 15 points and Diana Taurasi added 14 to help the U.S. win 107-61. Candice Dupree had 12 and Swin Cash 11 in another balanced offensive effort by the U.S., which shot 68 percent.
After watching his team get off to slow starts in the last two games, U.S. coach Geno Auriemma changed his starting lineup, inserting Dupree and Tina Charles. The move paid off as the pair combined to score the team's first 10 points and the U.S. (5-0) took a 23-6 lead in the game's first 7 minutes.
"We made a couple changes in the starting lineup to give us a new look and it worked great," Auriemma said.
With the game tied 6-6, Dupree started a 17-0 run with a turnaround jumper and a layup. Taurasi followed with a 3-pointer and another basket. She capped the spurt with two free throws with 3 minutes left in the quarter.
Marina Kress finally ended the drought, hitting a 3-pointer to make it 23-9. That didn't slow down the Americans, who scored 14 of the next 16 points to end the quarter.
Cash, who was removed from the starting lineup along with Fowles, had seven points during that spurt. The U.S. led by 26 after the first quarter and 30 at the half.
The United States reached 100 points for the 15th time in world championship play, crossing the plateau on Maya Moore's layup. Moore finished with 11 points.
Yelena Leuchanka, who plays for the Atlanta Dream during the WNBA season, scored nine points to lead the Belarusians (2-3) in their first game against the U.S.
Dupree kept up her offensive prowess, shooting 6-for-7. She is shooting 84 percent for the tournament.
The Belarusians have improved on the international scene in the last few years. They finished third at the European Championship in 2007 and qualified for their first Olympics in 2008. They placed sixth in Beijing.
Belarus needs to be beat Greece on Wednesday to qualify for the quarterfinals.
"We have to put this game behind because we have a big game ahead of us," Belarus forward Tatyana Troina said.
Australia 62, France 52
Lauren Jackson scored eight of her 19 points in the fourth quarter to lead Australia over France.
Jackson also had 10 rebounds for the Aussies (5-0), who struggled for the first time in the tournament.
Leading by four going into the fourth quarter, Australia scored the first seven points to take a 55-44 lead on Penny Taylor's free throw. She finished the game with 18 points and nine rebounds.
Clemence Biekens hit a free throw to make it a 10-point game, but France was cold from the field hitting just 2 of 12 shots in the quarter.
Celine Dumerc scored nine points to lead France (3-2), which has already clinched a berth in the quarterfinals.
Brazil 93, Japan 91, OT
Erika de Souza had 32 points and 18 rebounds, and blocked the potential game-winning shot in overtime to lift Brazil over Japan.
With Brazil clinging to a one-point lead, de Souza blocked Yuko Oga's shot with 1 second left in the extra session. She made one of two free throws to seal the win.
Iziane Castro Marques added 24 points, including the go-ahead 3-pointer with 12 seconds left in overtime. With Brazil (2-3) trailing 91-89, Castro Marques caught the ball in the right corner and hit a contested shot to give her team the lead.
Oga, who led Japan with 23 points, hit a jumper from the foul line with 27 seconds left to give Japan a two-point edge.
Brazil rallied from a 12-point deficit and forced overtime on Silvia Gustavo Rocha's 3-pointer at the buzzer. The victory kept alive Brazil's chance to advance to the quarterfinals.
Hiromi Suwa added 22 points and 10 rebounds.
Greece 57, Canada 52
Pelagia Papamichail scored 12 points to help Greece hold off Canada.
Evanthia Maltsi and Dimitra Kalentzou each added 11 points for Greece (2-3), which can advance to the quarterfinals with a victory over Belarus on Wednesday.
Greece clung to a 53-52 lead with 14 seconds left when Papamichail hit a jumper to give her team a three-point advantage.
Canada had a chance to tie it, but Kaela Chapdelaine's 3-pointer from the corner rimmed out with 8 seconds left.
Olga Chatzinikolaou made two free throws to seal the win.
Kim Smith scored 10 points to lead Canada (1-4).
Spain 77, Czech Republic 57
Amaya Valdemoro scored 25 points and Sancho Lyttle added 18 points and 19 rebounds to lead Spain over the Czech Republic.
Leading by two midway through the third quarter, Spain (5-0) went on a 24-4 run over the next 11 minutes to take control. Lyttle capped the spurt by hitting a lay-in that made it 75-53 with 2:30 left.
Eva Viteckova scored 16 points and Michaela Ferancikova added 13 for the Czech Republic (3-2).
Spain will face unbeaten Russia on Wednesday night to decide the top seed in the group.
Russia 81, South Korea 48
Maria Stepanova scored 14 points while Elena Danilochkina had 12 for Russia in its rout of South Korea.
Tatiana Vidmer added 10 points, nine rebounds and six assists for the Russians (5-0), who will face unbeaten Spain on Wednesday night.
Russia held a 29-28 halftime lead before taking over in the third quarter. The Russians opened the period with a 12-4 burst capped by Stepanova's two free throws that made it 41-32.
Korea got within 45-36 before Russia put the game away scoring the next seven points.
Jung-Ja Sin scored 14 points and Yeon Ha Beon added 10 to lead Korea (2-3).
Classification Games
Argentina 74, Mali 69, OT
Carolina Sanchez scored 21 points and Marina Cava added 13 to lead Argentina to its first victory of the tournament.
Argentina (1-3) led 70-69 with 1:43 left in the overtime before Reggiardo hit a 3-pointer to make it a four-point game. Mali missed three shots and turned over the ball twice before fouling Sanchez with nine seconds left. She hit one of two free throws to seal the game.
Cava made two free throws with 54 seconds remaining in regulation to force overtime. Her potential game-winning shot at the buzzer was off target.
Djene Diawara scored 18 points and grabbed 11 rebounds to lead Mali (0-4).
China 71, Senegal 69
Miao Lijie scored 22 points and Liu Dan added 13 points and 10 rebounds to lift China to its first win at the worlds.
Miao's lay-in gave China a 67-61 lead with 1:33 left before Senegal cut its deficit to three on Aya Traore's lay-up with nine seconds left. Miao then made two free throws after she was immediately fouled to seal the game.
Traore scored 17 points to lead Mali (0-4). Awa Gueye added 16, including a 3-pointer with a second left for the final margin.
Information from The Associated Press was used in this report.
MORE OLYMPIC BASKETBALL HEADLINES
MOST SENT STORIES ON ESPN.COM