2008 Olympics video highlights: Australia's David Andersen
Originally Published:
August 1, 2008
ESPN.com
Who is that guy? While Team USA is filled with stars whose games are both quite impressive and familiar to NBA fans, here's some players who might stand out at the 2008 Olympics in Beijing. Four of the players below have logged time in the NBA. The only American-born player below (J.R. Holden) hasn't.
David Andersen, 28, is a 6-11 center who plays professionally for FC Barcelona from the Spanish League. Andersen was drafted by the Atlanta Hawks in 2002. Watch his highlights at the bottom of the page.
Click the names to see highlights of international stars other than Andersen
| | | | | |
| --- | --- | --- | --- | --- |
| D. Andersen | J.R. Holden | S. Jasikevicius | C. Jimenez | R. Kaukenas |
| V. Khryapa | D. Kus | K. Lavrinovic | R. Lopez | T. Papaloukas |
| M. Popovic | P. Prigioni | F. Reyes | R. Siskauskas | V. Spanoulis |
David Andersen, Australia
MORE OLYMPIC BASKETBALL HEADLINES
Team USA: Going For Gold In Beijing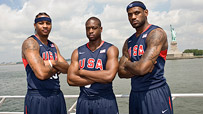 Team USA aims for the gold medal at the Beijing Games, playing its opening game against host China on Aug. 10.
Roster
|
Schedule
|
TV
News
•
Kobe & Co. arrive to heroes' welcome in Beijing
Pre-Olympic Tour
•
Jackson: Team USA will miss Amare
•
Sheridan: Flaws exposed against Aussies
•
Sheridan: Point-guard change?
•
Sheridan: D-Wade is back
•
Sheridan: Meet the Doberman
•
Sheridan: King James mastering FIBA rules
•
Jackson: Melo aiming for gold and more
Video
•
Watch: Best internationals in action
SportsNation
•
Who would you have picked?