Experts: Rosters for USA, Canada
Updated:
February 12, 2009, 7:58 PM ET
ESPN.com
Before the start of the 2008-09 NHL season, we asked our experts to make some early predictions for the 2010 Olympic men's hockey rosters for the United States and Canada. Well, with the Vancouver Games just one year away, Scott Burnside, E.J. Hradek and Pierre LeBrun are back with new rosters. They'll definitely weigh in again before Team USA's Brian Burke and Team Canada's Steve Yzerman make their final selections later this year.
• Experts' preseason picks: USA | Canada | Vote for your teams: USA | Canada
TEAM USA -- AS WE SEE THEM NOW
Scott Burnside
E.J. Hradek
Pierre LeBrun

Forwards
The challenge for GM Brian Burke is finding a forward group that won't be intimidated by being overmatched talentwise by every other medal hopeful in this tournament. There are no Ovechkins or Crosbys or Lidstroms on Team USA. Strong play by Bobby Ryan in Anaheim and Drew Stafford in Buffalo may give Burke pause as he considers the place, if any, of older players such as Jason Blake, Mike Modano and Doug Weight. The one player we left off our list this time around was Scott Gomez, who has struggled mightily with the Rangers this season. Brian Rolston and Chris Higgins also will be in the mix.

Zach Parise
Chris Drury
Paul Stastny
Phil Kessel
Patrick Kane
Jamie Langenbrunner
Dustin Brown
David Booth
Mike Knuble
Bobby Ryan
Brian Gionta
Jason Pominville
Ryan Malone

---

Defensemen
This looked as though it might be a youthful blue line, but injuries and inconsistency from Jack Johnson and Erik Johnson make their inclusions long shots. But youngsters such as Tom Gilbert, Alex Goligoski and Matt Niskanen will be in the mix. No question this group will be this team's Achilles' heel.

Brian Rafalski
Paul Martin
John-Michael Liles
Ryan Suter
Keith Ballard
Ryan Whitney
Mike Komisarek

---

Goalies
Yeah, yeah, we know ... you don't believe in Tim Thomas. We do. And right now, he is the undisputed starter of the American squad. Ryan Miller continues to impress in Buffalo and is a more-than-able No. 2 man. As for a third? You can kiss Rick DiPietro goodbye from this roster. His questionable durability makes him too big a risk. Interesting choices at No. 3: Scott Clemmensen, who has been nothing short of sensational in New Jersey, and Ty Conklin, also a steady performer.

Tim Thomas
Ryan Miller
Scott Clemmensen

---

Coaches
The group of U.S.-born coaches is pretty small, but there are some intriguing options. With the type of game the Americans will have to play to be successful, we like John Tortorella. But Peter Laviolette also has Olympic/international experience, and Mike Sullivan is a calm antidote to the emotion others may bring to the table.

Head coach: John Tortorella
Assistant: Peter Laviolette
Assistant: Mike Sullivan
Assistant: Ron Wilson

Forwards
Sabres center Tim Connolly is the biggest "if" for the Americans. If he can stay healthy and productive, he'll provide needed size to the middle of the attack. I want Cup-winning vets Mike Modano, Chris Drury and Jamie Langenbrunner to help guide a young group of forwards. I might have to save one spot for Sabres sniper Thomas Vanek. There's a rumor the Austrian-born star might be available to skate for the Americans, but right now, it remains just a rumor.

Patrick Kane
Paul Stastny
Zach Parise
Dustin Brown
Ryan Kesler
Tim Connolly
Chris Drury
Phil Kessel
Jamie Langenbrunner
Mike Modano
David Booth
Bobby Ryan
Blake Wheeler

---

Defensemen
There's a mix of size and speed needed for such an elite tournament. On the whole, the group is talented but lacks elite international experience. That could hurt the team. Young Kings D-man Jack Johnson could push for a spot with a strong finish to the season.

Brian Rafalski
Mike Komisarek
Paul Martin
Erik Johnson
Ryan Suter
Brooks Orpik
Ryan Whitney

---

Goalies
If the tournament were to start today, Tim Thomas would be my starter. He has shown the ability to get very hot for stretches. In a short tournament, few things are better than a hot goalie.

Tim Thomas
Ryan Miller
Rick DiPietro

---

Coaches
Ron Wilson is an excellent coach who brings elite international experience. Plus, his current boss, Leafs GM Brian Burke, is picking the team. He's a very good choice.

Head coach: Ron Wilson
Assistant: Peter Laviolette
Assistant: Tony Granato

Forwards
I've made six changes to my forward group from the squad I picked in September. Gone are Brian Rolston, Brian Gionta, Chris Higgins, Erik Cole, Ryan Malone and Jason Pominville. My newcomers are Bobby Ryan, Phil Kessel, Paul Gaustad, Mike Modano, David Backes and Blake Wheeler. My guess is Gaustad and Backes will surprise people the most. Keep in mind I've had the chance to brainstorm a little with Burke; he wants to have some big bodies on his third and fourth lines to make up for the smaller, skilled players he'll likely have on the top two lines.

Patrick Kane
Zach Parise
Scott Gomez
Chris Drury
Bobby Ryan
Phil Kessel
Dustin Brown
Ryan Kesler
Jamie Langenbrunner
Paul Gaustad
Mike Modano
David Backes
Blake Wheeler

---

Defensemen
John-Michael Liles and Jordan Leopold get the boot, replaced by Paul Martin and Brooks Orpik. Martin has become New Jersey's No. 1 blueliner. Keeping Burke in mind, Orpik provides some sandpaper. I probably don't have enough of that here, other than Mike Komisarek and Orpik. But you can't ignore the top-end, puck-moving talent of the guys in this group. I like Tom Gilbert and Ron Hainsey, but at this point there are better puck-movers in my selections.

Paul Martin
Brian Rafalski
Ryan Whitney
Mike Komisarek
Ryan Suter
Keith Ballard
Brooks Orpik

---

Goalies
Burke himself says these are the three guys right now. It's pretty obvious DiPietro is the No. 3 netminder at the moment given his injury-plagued season. Miller and Thomas have both had great seasons. The guy to keep an eye on moving forward is Ty Conklin if the Alaskan can steal playoff starts in Detroit.

Ryan Miller
Tim Thomas
Rick DiPietro

---

Coaches
My head coach would be Ron Wilson, with Peter Laviolette, John Tortorella and Scott Gordon as the assistants. The first three I kept from my September picks, plus I added Gordon from the Islanders. He's a younger guy who has impressed some people around the league.

Head coach: Ron Wilson
Assistant: Peter Laviolette
Assistant: John Tortorella
Assistant: Scott Gordon
TEAM CANADA -- AS WE SEE THEM NOW
Scott Burnside
E.J. Hradek
Pierre LeBrun

Forwards
Shane Doan told us earlier this year that Canada probably could ice three teams, and each of those squads would be Olympic-worthy. He's right. This surplus-of-talent problem is especially true when considering the team's unbelievable depth down the middle. Yzerman will have to decide whether he wants players to play out of position as many did at the 2002 Games in Salt Lake City, where Canada won its first Olympic hockey gold in 50 years. Brenden Morrow was on our initial list, but until he shows he's healthy, he's off. Also off is Dany Heatley, whose lack of production during the past couple of years may hurt his chances. We added Martin St. Louis, who has been terrific in a bad situation in Tampa.

Sidney Crosby
Joe Thornton
Ryan Getzlaf
Jarome Iginla
Jonathan Toews
Martin St. Louis
Jeff Carter
Mike Richards
Patrick Marleau
Derek Roy
Shane Doan
Rick Nash
Eric Staal

---

Defensemen
A number of emerging young blueliners will challenge veterans for a place on the Canadian defense. Mike Green in Washington and Shea Weber in Nashville appear ready to step up and make this team. Because this Olympic tournament will be played in an NHL building as opposed to on an Olympic-sized surface, physicality will be an issue. That's why I have Chris Pronger here. There will be some who won't make this team, including Brian Campbell, Robyn Regehr and maybe Duncan Keith, whom we had on our initial list.

Scott Niedermayer
Chris Pronger
Dion Phaneuf
Shea Weber
Mike Green
Dan Boyle
Jay Bouwmeester

---

Goalies
After the Canadians were expected at the start of the season to boast the deepest goaltending group in the Olympics, injuries to Martin Brodeur and Roberto Luongo and a decidedly uneven start to the season by Marty Turco have placed the whole goaltending thing in a state of flux -- at least for now. If the veterans falter, the door suddenly will open for Carey Price, Steve Mason and, who knows, maybe even Jose Theodore if the Caps go far this spring.

Martin Brodeur
Roberto Luongo
Marty Turco

---

Coaches
The landscape has changed somewhat on the coaching front as Pittsburgh has struggled. We like Michel Therrien and still think his style would be an interesting mix with Mike Babcock, but the job Brent Sutter has done in New Jersey has been incredible. Buffalo's Lindy Ruff is so often overlooked for these kinds of jobs, and Todd McLellan has the Sharks purring. Assistants? Why not?

Head coach: Mike Babcock
Assistant: Brent Sutter
Assistant: Lindy Ruff
Assistant: Todd McLellan

Forwards
At the 2001 training camp prior to the roster selection for the 2002 Games, Jarome Iginla was the impressive newcomer. Now, eight years later, he will be among Canada's team leaders. Patrick Marleau and Brad Richards have each earned a spot on my roster with their strong play in the first half of the season.

Jarome Iginla
Sidney Crosby
Simon Gagne
Rick Nash
Dany Heatley
Joe Thornton
Vincent Lecavalier
Patrick Marleau
Brenden Morrow
Ryan Getzlaf
Mike Richards
Shane Doan
Brad Richards

---

Defensemen
This dynamic group will be very difficult to fore check. The defensemen will be able to turn the puck quickly to their highly skilled forwards. Niedermayer's veteran presence is needed, though. If he opts for retirement, he'll be sorely missed ... as he was in 2006 when he couldn't play thanks to a knee injury.

Scott Niedermayer
Chris Pronger
Dan Boyle
Mike Green
Dion Phaneuf
Shea Weber
Jay Bouwmeester

---

Goalies
I still see Martin Brodeur and Roberto Luongo as Canada's two best goaltending options. After that, I think youngsters Steve Mason and Carey Price will battle for the No. 3 job. Right now, I'll take Mason.

Roberto Luongo
Martin Brodeur
Steve Mason

---

Coaches
Although there are many very qualified candidates, Babcock's résumé is terrific, and he's used to working with talent-laden rosters. He would be a terrific pick. Hitchcock's previous Olympic experience would be a very helpful addition to the staff.

Head coach: Mike Babcock
Assistant: Ken Hitchcock
Assistant: Dave Tippett

Forwards
Eric Staal, Brad Richards and Joe Sakic get dropped, and that was especially hard in Richards' case because I think he's such a dynamic player. But I needed to make room for newcomers Marc Savard, Jeff Carter and Simon Gagne. The Bruins' Savard just can't be ignored anymore. He's second only to Crosby for NHL points this season among Canadian-born skaters. I know Brenden Morrow has been out for most of the season, but come fall, when it's time to pick this team for real, I just love a checking line with Richards, Morrow and Doan. I thought long and hard about Dany Heatley, Derek Roy, Martin St. Louis and Corey Perry but just ran out of room!

Sidney Crosby
Ryan Getzlaf
Jarome Iginla
Jeff Carter
Vincent Lecavalier
Rick Nash
Simon Gagne
Joe Thornton
Marc Savard
Brenden Morrow
Mike Richards
Shane Doan
Jonathan Toews

---

Defensemen
Duncan Keith and Mike Green bump off Brent Burns and Chris Phillips from my September squad. Keith will not be denied; he is the best defenseman in Chicago, not Brian Campbell. Green is an offensive machine. I gave some serious thought to dumping Phaneuf and Pronger. In my mind, neither is having his best season. Two guys I really wanted to put on but couldn't because I ran out of room were Marc-Edouard Vlasic and Dennis Wideman, while Jay Bouwmeester remains very much on my radar as well. Maybe next time.

Scott Niedermayer
Chris Pronger
Shea Weber
Dan Boyle
Dion Phaneuf
Duncan Keith
Mike Green

---

Goalies
I kept the same three, in the same order, as I had in September. How Brodeur comes back from such a serious and long-term elbow injury will go a long way toward deciding his Olympic fate. Luongo needs a big stretch drive this season to assure us what we all feel in our hearts -- that he remains the best goalie in the world. I know Steve Mason and Carey Price are more popular choices as the No. 3 goalie, and many believe a young guy should be in that role, but Turco leads all Canadian-born NHL goalies in wins. So there.

Roberto Luongo
Martin Brodeur
Marty Turco

---

Coaches
I've long believed Wayne Gretzky was the best choice for head coach in 2010 because no one is better suited at handling that kind of overwhelming pressure. But his Phoenix Coyotes are fading out of the playoff picture, which might hurt his chances. Right now, I see him as an adviser to Yzerman. In the meantime, Babcock deserves the head job. Ruff has long been overlooked, and that needs to stop. Julien is French-Canadian, which is not to be forgotten because Team Canada likes to represent both official languages on the staff. Hitchcock would be an important holdover from the 2002 and 2006 Olympics.

Head coach: Mike Babcock Assistant: Lindy Ruff Assistant: Claude Julien Assistant: Ken Hitchcock
COUNTDOWN TO 2010 OLYMPICS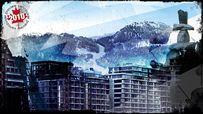 The 2010 Vancouver Olympics are one year away. We're counting down until the torch is lit on Feb. 12, 2010 as our experts give you a preview of what to expect.
THE CITY
Sorry, Innsbruck and St. Moritz and Salt Lake City. The combination of mountain vistas and sea views of Vancouver sets the bar higher for future Winter Games hosts. Jim Caple
Few countries, if any, have the connection Canada has with the sport of hockey. Which is why the expectations of its Olympic teams will spill over beyond obsession. Damien Cox
WHO/WHAT TO WATCH
What would Dan have been without Dave? Nancy without Tonya? Rivalries are what make the Olympics, and a few already are brewing. Amy Rosewater
Vonn, Bode, Ohno and more. A list of athletes to remember as we count down to Vancouver. Amy Rosewater
HOCKEY
They filled out the lineups before the start of the NHL season. Now, Scott Burnside, E.J. Hradek and Pierre LeBrun are back with new rosters for Team USA and Team Canada. Rosters
One man is charged with picking the perfect roster to bring Olympic gold back to Canada ... on home soil. The other is trying to field a squad for a team many consider to be an underdog. Our scribes check in with Olympic GMs Steve Yzerman and Brian Burke.
Burnside: Yzerman | LeBrun: Burke
MOST SENT STORIES ON ESPN.COM