Some questions answered, but many remain
Originally Published:
July 29, 2004
By
Peter May
| Special to ESPN.com
The Yanks are ready, so they say. They were sufficiently humbled by Italy to the point where they expect anything and everything in Athens.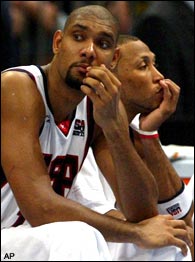 One certainty: Team USA has a chance to win any game as long as it has Tim Duncan on its side.
They pretty much have a pass to the medal round, unless
Tim Duncan
defects or breaks a leg. After that, it's anyone's guess. The Olympians didn't exactly dazzle or dominate in their exhibition tour through Europe, but they found ways to win after getting smoked by the Italians.
And three of their wins in Europe were against countries that won't even field teams in Greece. (That doesn't mean that Germany isn't much better than, say, Angola, who is in Athens thanks mainly to geography.)
We don't know a whole lot more about the U.S. men's basketball team now than we did when Larry Brown opened his Jacksonville gulag at the end of last month. We knew that as long as they had Duncan, the Yanks stood an excellent chance in any game. That has proven to be correct. The Big Fundamental averaged 17.7 points, 8.7 rebounds and 1.5 blocks and shot 66 percent from the field in the United States' six exhibitions. (There was one game in Florida before the five-game European trip.) In the final four victories (Germany, Serbia and two over Turkey), Duncan averaged 19 points a game.
We wondered about their outside shooting, especially against the zone defenses they are likely to see. That hasn't changed. Although the Yanks shot 54 percent as a team, they shot only 30 percent from 3-point range. Carmelo Anthony made only four of 15 treys while Lamar Odom and LeBron James each went 1-for-6 and Stephon Marbury (the lowest average scorer on the team) missed all five of his. On the other hand, Iverson, who struggles in the NBA to hit 42 percent of his shots, morphed into Mark Price, knocking down 26 of 44 3-pointers from the field, or an astonishing 59 percent. At that rate, Jim O'Brien might soon be appealing to the NBA's Competition Committee to immediately install the international rules.
We wondered how the offense would fare in international competition; there was the good (the 54.2 percent shooting with only one game -- Germany -- below 50 percent) and the not-so-good (15 turnovers per game.) We wondered how the young players would respond to the R&R of international hoops -- rules and referees. That is an ongoing and evolving process; Richard Jefferson was the only player on Team USA to foul out of a game and the team committed one less foul over six games than the opposition.
The U.S. men did show their muscle on the glass, outrebounding opponents by an average of nine per game. Team USA held its opponents to 38.8 percent shooting. After a rocky start against Puerto Rico and Italy (27-of-46), its free-throw shooting picked up over the last four games (43-of-54). Free-throw shooting was a big problem at the World Championships in Indianapolis in 2002.
Brown pretty much stuck with the same starting five -- Duncan, Marbury, Odom and Jefferson started all six games. Allen Iverson started five; he, James and Amare Stoudemire were late for a meeting and were suspended for the exhibition opener against Puerto Rico. (Shawn Marion started the one game Iverson missed.) The normal starting five all averaged 20 or more minutes (the games are 40 minutes), with Duncan's 28.8 leading the way.
| | |
| --- | --- |
| | The world is getting better. USA Basketball is not getting the best NBA players. That's a combination that might not prove lethal, but it's one that could make for a lot of sweaty palms and itchy fannies in Athens. |
| | |
If the exhibitions are any indication,
Emeka Okafor
and Stoudemire are going to be spending a lot of time on the pine. Stoudemire appeared in only two games, playing a total of 17 minutes. Okafor, the only player on the roster without NBA experience, played 21 minutes over four games. And those are two of the bigger guys on the roster.
The Americans caught a big break in bracketing. The Yanks are in the "B" group, whose only decent team (read: medal threat) is Lithuania, the European qualifier champion from last year. The "A" group features defending world champion Serbia-Montenegro (although without Vlade Divac and Peja Stojakovic) along with worlds silver medalist Argentina, Italy and Spain, which features Pau Gasol. Probably the worst team in the A group is China -- and they will have Yao Ming.
Given that the first week is devoted to eliminating four of the 12 teams, the U.S. men can take time to work on their game. A loss in the first week would be shocking, but not fatal. The real test will come in the quarterfinals, starting Aug. 26, when the tournament basically goes to a one-and-done format as far as medaling is concerned.
The opening game is on Sunday against Puerto Rico. Team USA should win -- handily -- but the Puerto Ricans know the U.S. team as well as anyone. That victory should be followed by wins over the home country, Greece, and Australia, before the first real test, a week into the Games, comes against Lithuania. The Lithuanians are a true T-E-A-M, having won the last three bronze medals in Olympic play. They rolled through the European qualifying tournament, going 6-0 despite not having arguably the two most well-known players from the country still playing: Arvydas Sabonis and Zydrunas Ilgauskus. Their sole NBA player is Kings' reserve Darius Songaila.
Sure, the U.S. men might steamroll through the competition and run the table in Athens. They have the most talented roster in terms of ready-for-NBA competitors. But who expects such dominance; the team has only been together for three weeks and the other teams have been together for years.
What remains to be seen is if the United States has enough firepower to take on all comers. It's clear that the U.S. men have lost their invincibility/intimidation factor. The day has come and gone where some foreign player will ask a teammate to snap a picture while he's "guarding'' some American celebrity hoopster. As many as four teams begin this Olympiad with legitimate gold-medal aspirations -- which is three more than it has been in the last three Olympics, or ever since the NBA started sending players.
The world is getting better. USA Basketball is not getting the best NBA players. That's a combination that might not prove lethal, but it's one that could make for a lot of sweaty palms and itchy fannies in Athens.
And it won't be because of humidity or ill-fitting uniforms.
Peter May, who covers the NBA for the Boston Globe, is a regular contributor to ESPN.com.