No rest, all action for Aussie Jackson
Updated:
July 15, 2004, 1:21 AM ET
Associated Press
SEATTLE -- It has already been a busy year for basketball star Lauren Jackson, and things will only get more hectic in Athens next month.
So far, Jackson has played pro ball in her native Australia, spent two weeks on a Russian team during its championship drive and rejoined the Seattle Storm.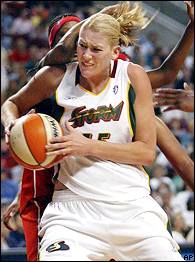 Lauren Jackson, who led Australia to silver at the 2000 Olympics, was the WNBA's No. 1 pick in 2001 and its MVP in 2003.
And, of course, she's poised to lead the Aussies at the Summer Olympics. All of these competing interests have Seattle coach Anne Donovan concerned about wear and tear on the WNBA's reigning MVP. No worries, the Storm's 23-year-old star says. "I knew it was going to be tough,'' Jackson said. "But hey, I'm young. I can take it now.'' Anybody who hasn't seen Jackson in person during her globe-trotting, take heart. She's in print at selected newsstands after posing nude in an Australian art magazine that featured several of the nation's Olympians. Talk about exposure. After news of the pictorial came out in mid-June, Jackson shattered the all-time WNBA record for weekly visits to a player page on WNBA.com by nearly 70,000 hits. Jackson has been busy, and she didn't even map out a plan. "Everything sort of came up straight,'' she said. "I didn't really think about it at all. I was always going to play in the WNBA and I was always going to play in the Australian league. Russia just popped up, so I went.'' Soon after becoming the first international player and the youngest-ever MVP in the WNBA last season, Jackson returned home to play in Australia's WNBL, where she won another MVP award. After each pro season Down Under, Jackson usually hits the beach to surf and relax. This year, she spent two weeks in Russia, joining a team for its stretch drive -- though she saw sporadic playing time. From Russia, she went straight to Seattle and into Storm practices. "She definitely has some issues to look after,'' said Seattle teammate Sue Bird, who will represent the United States in Athens. "That's a lot of basketball, but Lauren is a professional. She's been doing this a long time. I think she knows how to handle it.'' The most difficult parts are travel and homesickness. Jackson's mother joined her in Seattle when WNBA camp opened but she left after a few weeks. Visits by her Australian mates help Jackson manage it.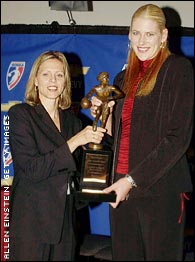 Getty ImagesAfter leading the WNBA in scoring (21.2 ppg), Lauren Jackson was named 2003 league MVP.
"All the traveling is hard,'' she said. "I do miss my family a lot, but the basketball side of it is too good to pass up. I love playing. You could say I actually hate having time off. I just like to play.'' Too much playing time, however, could take a toll. Jackson played in recent weeks wearing neoprene sleeves on her legs to ease the stress on sore shins, a problem that has nagged her since she was 15. Nobody is taking it easy on Jackson, either. After she averaged career highs with 21.2 points and 9.3 rebounds last season, the 6-foot-5 forward now sees regular double- and even triple-teams this year. After a win last week, Jackson's arms were red with scratch marks. "If I really stop and think about it, I'm very concerned about September,'' Donovan said. "I'm a little more cautious about her minutes. There's no way her Australian national team is going to be cautious. She's going to play 40 minutes a game in Athens.'' The Olympics are the wild card in Jackson's schedule. She admits there was no way she would pass up the chance to play, not after she helped the Australians to a silver medal at the Sydney Games as a 19-year-old. "It's the Olympics. It means a lot for her,'' Bird said. "For myself, I know it means a lot. I don't think she would ever turn it down.'' Donovan tries to focus on Seattle's next opponent, but she admits Jackson's health is in the back of her mind. After all, what's the benefit to the Storm if the team's star limps into the playoffs? "There's an obligation to take care of your body, but it's impossible to do that during an Olympic year,'' Donovan said. On the other hand, Donovan said Jackson's WNBA paycheck isn't "the significant part of her annual salary.'' Thus, Storm officials realize they're not in position to make demands. "After this, there will be a situation at some point in her career -- hopefully sooner rather than later -- where she's got to take a look at things, figure a place to get a couple months' rest in there,'' Donovan said. "And not just to get it. She's got to make it happen.'' Good luck getting Jackson to slow down. "I mean, I'm young,'' she said with a laugh. "That's what everybody keeps saying to me. I've got my whole career ahead of me. I'll just go out there and play. It's fun.''

Copyright 2004 by The Associated Press
SPONSORED HEADLINES
MORE OLYMPICS HEADLINES
MOST SENT STORIES ON ESPN.COM