Thompson, Johnson propel U.S.
Updated:
September 2, 2004, 3:27 AM ET
Associated Press
ATHENS, Greece -- The women bringing home a basketball gold medal celebrated with the unbridled joy of children at play.
Dawn Staley, Lisa Leslie, Sheryl Swoopes and their U.S. Olympic teammates huddled under Old Glory as if it were a sheltering tent. They laughed and giggled and skipped around the court, soaking up the adulation.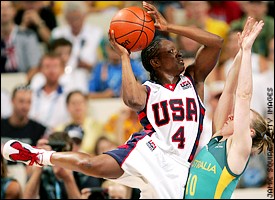 Getty ImagesLike Tina Thompson, Shannon Johnson's late-game heroics -- two late baskets and four free throws -- helped Team USA fend off Australia.
This was a team in every sense of the word, the most dominant in women's basketball.
U.S. men, take note!
The United States shook off early shooting woes and sloppy play to claim its third straight Olympic title Saturday, a 74-63 victory over Australia.
They did it by turning up the defense, crashing the boards harder in the second half and, most importantly, finding their shooting touch.
"This is incredible,'' said Staley, playing in her third and final Olympics. "I have to share this with so many people -- people in the United States and Spain, people who come from humble beginnings. This gold medal is for them.''
This is gold medal No. 3 for Staley, Leslie and Swoopes.
They have led the resurgence of U.S. women's basketball internationally after disappointing bronze-medal finishes in the 1992 Olympics and 1994 world championships. They gave their time to training and travel and were joined by other players similarly committed.
The result: 25 straight victories in the Olympics, three golds and two world championships.
"We had an ultimate goal and that was to win the gold medal, and we did it,'' said Tina Thompson, who led the United States with 18 points, including a clutch 3-pointer in the fourth quarter.
Staley, usually a passer instead of scorer, came up big with 14 points. Leslie scored 13 and Shannon Johnson had 12, including eight in a short stretch when the United States started to pull away after trailing by four.
"We held our poise like the veterans always do,'' said Diana Taurasi, who joined the team in April after leading Connecticut to its third straight NCAA championship. "This is just the greatest. I wouldn't trade it for the world.''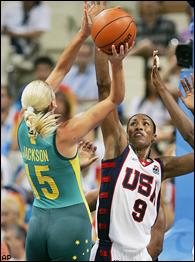 Australia's Lauren Jackson dominated the boards, but went just 4-for-16 from the field and missed all five of her 3-pointers.
It certainly didn't hurt that Australian star Lauren Jackson had a miserable game, shooting 4-for-16 and managing just 12 points -- a far cry from her Games-leading 24.4 scoring average.
Coach Jan Stirling said Jackson was bothered by an intestinal virus. Jackson, the WNBA's leading scorer, said that wasn't so.
"I was fine,'' she said. "It was just pregame nerves, nothing really. I have no regrets. We left everything on the court.''
Penny Taylor gave the United States problems with her aggressive drives to the basket and led Australia with 16 points. But she was ineffective after getting her third and fourth fouls 20 seconds apart in the final minute of the third quarter.
That was when the United States made its move.
With her team trailing 49-45, Taurasi calmly sank a 3-pointer to cut the lead to one. Johnson tied it at 50 with two free throws and then, with time about to expire at the end of the third quarter, she drove into the lane and banked in a turnaround shot to make it 52-50.
The game was a long way from over, but the Americans led the rest of the way. A driving shot and two free throws by Johnson helped build the lead, and then Tina Thompson stepped up, hitting a 3 from the right wing after Australia closed to 63-57.
Thompson somehow kept her concentration with teammate Tamika Catchings sprawled on the floor at her feet.
Then, as if it were scripted, Staley provided the finishing touches.
In the final 1:37, she made two free throws, drove the lane and scooped in an underhanded layup. She then made two final free throws as the American fans waved flags and chanted "U-S-A, U-S-A.''
"I still have a little bit of offense left in me,'' Staley said. "I was able to hit a couple of open shots. My teammates found me. Lisa even gave me the ball down in the low post for the first time in 16 years.''
This team said it wouldn't settle for anything other than gold.
This team didn't let it get away.

Copyright 2004 by The Associated Press
SPONSORED HEADLINES
MORE OLYMPICS HEADLINES
MOST SENT STORIES ON ESPN.COM