Timing is everything
Updated:
August 23, 2004, 3:27 PM ET
By
Mark Kreidler
| Special to ESPN.com
Trevor Graham, humble American hero? I think I speak for the congregation when I say this: Whoa.
Trevor Graham, the track coach with the list of controversies almost as long as, say, Marion Jones' résumé, may be guilty of any number of things. A bracing self-immodesty is not one of them.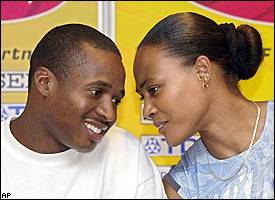 It wasn't long after Tim Montgomery and Marion Jones fired Trevor Graham that a THG-coated syringe arrived at the U.S. Anti-Doping Agency.
In fact, after acknowledging publicly for the first time that he was the person who delivered to investigators the THG-coated syringe that helped drag the sleazy BALCO scandal into the harsh light of day, Graham told reporters in Athens that he was "just a coach doing the right thing at the time. I have no regrets."
Wow, you sure? You sure about all of that, or even any of it? This is a coach, after all, who has been linked to BALCO in particular and doping in general on several different fronts. For the record, here a couple of them:
Nine of his current or former runners either have been accused of doping offenses or have tested positive for banned substances.
Jones' former husband, C.J. Hunter, told investigators that Graham gave Jones banned substances, along with instructions on how to administer them, when he was her coach.
Tim Montgomery, Jones' current familial partner and another former client of Graham's, reportedly testified before the BALCO grand jury that he used banned substances and that Graham supplied steroids to some of his, ah, pupils.

Graham has steadfastly denied any connection with banned substances, explaining that he came about the syringe with the "magic potion" THG on it via Hunter, the disgraced ex-shot putter who -- according to one version of the story -- was trying to get himself professionally hitched to Graham as a strength coach. Of course, Graham is the same coach who once tried to explain why an athlete of his tested positive for a performance-enhancer by saying the runner had fallen down hard and thus may have secreted excess levels of testosterone in the process.

Before there's a rush to crown Graham as a great American for his part in cracking the BALCO code, consider this dot on ye olde BALCO timeline: Graham suddenly turned in the dirty syringe roughly six months after Jones fired him.

If I didn't know better, I'd say that sounded an awful lot like a jilted ex-husband and a jilted track coach getting together to try to bring down the object of their disaffection. But perhaps that's just too simple an explanation, or at least too simple-minded of one, to really work within the labyrinthine confines of the BALCO story.

The specifics don't change the larger picture, of course. BALCO has exposed a newer undercurrent of cheating by elite-level athletes, essentially an up-to-date twist on what is fast becoming an old, old story of using just about anything to get ahead. Jones thus far has been heavily implicated in the scandal, but not openly accused by the U.S. Anti-Doping Agency of any offenses.

And though Jones' name is the most prominent, this is the story of an entire subsection of athletes accused of cheating to gain an edge. Some names: Montgomery, Kelli White, Chryste Gaines, Michelle Collins, Alvin Harrison. To follow the U.S. contingent in Athens is to understand that the track and field squad is fielding a roster absent many of its finest performers amid the specter of drugs.

Still, it's fascinating to watch things unfold. Graham has suspects among a whole host of the athletes he coaches, yet he's quite certain (for the record) that he has never perceived drug offenses by any of them. Hunter was essentially forced into retirement by positive steroid tests and has recounted helping Jones inject substances during her five-medal performance in Sydney in 2000, yet Hunter is quite certain he isn't the source of the BALCO syringe, Graham's account notwithstanding.

In other words, everybody's guilty of everything except for the people who are sure they're not. Jones is adamant that she has done nothing wrong. Montgomery is livid over the charges and paints Graham as a supplier. Graham says it's all lies. You need a scorecard to track the righteous indignation, and it isn't until someone like White admits using previously undetectable drugs, or people like Graham and Hunter begin rolling over before investigators, that the parade of suspicion gathers momentum anew.

There is momentum again, this time generated by the BALCO scandal. Trevor Graham has stepped forward to say he's the guy who got the ball rolling. You might want to hold your applause.

Mark Kreidler is a columnist with the Sacramento Bee and a regular contributor to ESPN.com
Page 2
Regular contributor to ESPN.com
Author of "The Voodoo Wave" and "Six Good Innings"
Radio host, "The Rise Guys Show," Sacramento
MOST SENT STORIES ON ESPN.COM