Security still 'a work in progress'
Updated:
July 15, 2004, 7:11 PM ET
By
Greg Garber
| ESPN.com
You will find Greece's Revolutionary Organization 17 November -- wedged in between Revolutionary Nuclei and Revolutionary People's Liberation Army -- at No. 32 on the U.S. Department of State's official (and alphabetized) list of foreign terrorist organizations.
According to the office of counterterrorism, 17 November is a radical leftist group that is anti-Greek establishment, anti-United States, anti-Turkey, anti-NATO and committed, among other things, to the ouster of U.S. bases and the severing of Greece's ties with NATO and the European Nation. Since 1975, 17 November has carried out assassinations of senior U.S. officials and prominent Greeks. Bombs and rocket attacks are also part of its modus operandi. The most recent operation was the murder of British defense attaché Stephen Saunders in June 2000.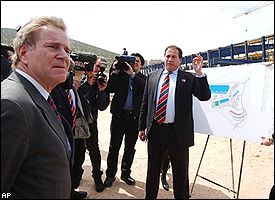 An International Olympic Committee inspector tours the Olympic Shooting Center in Markopoulo, east of Athens, in April.
For the first 27 years of its existence, 17 November carried out its war of terror without reprisal; not a single member was ever arrested by Greek authorities. In 2002, Greece jailed a number of its members, but the United States had been openly critical of Greece's anti-terrorism effort.
The Greece-based Revolutionary Nuclei, also on the State Department list, was founded in 1971 under the banner of Espanastatikos Laikos Agonas in opposition to the military junta then in power. Revolutionary Nuclei has bombed a number of targets in Greece that represent what the group calls U.S. imperialism.
In April, a relatively new group billing itself as the Revolutionary Struggle took credit for planting a bomb in an Athens bank. One of the motivations for the attack, the group said, was NATO's plan to be part of the Olympic security net.
George Voulgarakis, Greece's new minister of public order, says he is not concerned about the safety of athletes at the coming Olympic Games in Athens. After the arrests of 17 November members, he told the New York Times, "we do not have local terrorist groups here any more."
Nevertheless, Greece is pulling together an unprecedented security effort for the Games of Aug 13-29.
More than 55,000 Greek soldiers and police are to be deployed, supported by intelligence organizations from prominent participating countries, including the CIA and FBI of the United States and England's Scotland Yard. NATO and the European Union will provide ships and surveillance planes to patrol the Greek coastline and airspace. The U.S. Department of Energy has offered millions of dollars worth of radiation detectors to help uncover any attempts at smuggling in a "dirty" nuclear device. In March, some 1,500 Greek police and soldiers and hundreds of American Special Forces troops engaged in two-week drill training for "catastrophic scenarios," including plane hijackings, suicide bombings and biological, chemical or nuclear attacks.
The U.S. Ambassador to Greece, Thomas Miller, has called the security arrangements "a work in progress."
The price tag? Originally the budget was set at $600 million. More recent calculations are at $1.18 billion, a figure that is likely to increase.
The current crisis is in construction delays that, according to consultants, might mean less time to focus on security and crowd control measures. With 100 days until the Games, some 19 venues were still behind deadlines, leading to concerns that the 23 test events yet to be held would be compromised. The shooting venue has been savaged by participants who have seen it, and the marathon route is in disarray.
In early April, representatives of The Times of London -- including a structural engineer -- wandered freely about the Olympic venues. One month after the Madrid train bombings, the newspaper reported that there was no visible construction at any of the major construction areas. Security experts fear that terrorists were free to assess the sites and, perhaps, even plant devices in the rubble.
Perhaps the most vulnerable target is the Queen Mary 2, which will be docked in the most easily accessible berth, on the outside edge of the main port at Piraeus, along with seven other large cruise ships. The QM2, hired by the Athens Organizing Committee, is expected to house some athletic teams plus thousands of tourists and heads of state.
Security experts say the ship is vulnerable to the kind of attack that killed 17 servicemen aboard the USS Cole in 2000.
"We will have 120 cameras to watch the secure area, 600 coast guards will patrol, plus 400 other police and soldiers," Commodore Nikos Voulgaris, security chief at the Greek Ministry of Mercantile Marine, told The Times. "Like all ships, the Queen Mary 2 will be safe during the Games, I can assure you."
And yet, the fear that something bad will happen persists. In recent polls, both Americans and Greeks said they believed as much.
When a bomb exploded in Centennial Olympic Park at the 1996 Summer Olympics in Atlanta, no one knew what motivated the blast. Nearly seven years later, the answer came. A police officer in Murphy, N.C., arrested Eric Robert Rudolph in May 2003. Rudolph, who had been the FBI's most wanted figure until he was displaced by Osama bin Laden, was wanted for his alleged connection with other bombings, including those at two abortion clinics and a gay nightclub. He is now alleged to be behind the Olympic bombing.
In 1999, after a series of 17 November killings, the U.S. State Department ranked Greece second to Colombia in anti-American terrorist attacks. The report blamed the problem on the "absence of strong public government leadership and initiatives to improve police capabilities."
Today, Greek leaders says they are proud of their security effort and look forward to the Olympic Games. Are the local terrorist groups gone, as officials insist? On Aug. 29 the answer may be evident.
Greg Garber is a senior writer for ESPN.com
Writer, Reporter
Greg Garber joined ESPN in 1991 and provides reports for NFL Countdown and SportsCenter. He is also a regular contributor to Outside the Lines and a senior writer for ESPN.com.
MOST SENT STORIES ON ESPN.COM