For 40 years, Karolyis the guiding force of gymnastics
Updated:
July 15, 2004, 6:59 PM ET
Associated Press
NEW WAVERLY, Texas -- Bela Karolyi was showing off his house deep in the heart of Sam Houston State Forest, pointing out the loft where Mary Lou Retton once slept, recalling the history of the numerous hunting trophies when he heard the door open.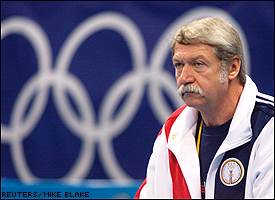 Bela Karolyi has been instructing Olympians for the last 40 years.
"Uh-oh,'' he said.
"Oh, Bela!'' his wife, Martha, cried when she saw the unexpected guests. "The house is not quite in order!''
Soon after, the reporters were ushered out.
Bela may be the showman, a larger-than-life persona who inspired delicate sprites to soar to wondrous heights. But it's Martha who is the quiet force, keeping her husband on task whether they're in the gym or at home.
For almost 40 years -- the last 23 in the United States -- the Karolyis have set the gold standard in gymnastics. Together they trained nine Olympic champions and 15 world champions, including the sport's greatest icons, Retton and Nadia Comaneci.
Now, with Martha Karolyi in charge of the U.S. women's gymnastics program, the Americans are poised for what could be their biggest triumph. Four years after leaving Sydney in shambles, the Americans head to the Athens Olympics as heavy favorites to win gold.
"This is one of the strongest and deepest teams we've ever fielded,'' said Kelli Hill, coach of two-time national champion Courtney Kupets.
The Karolyi gymnastics dynasty began in their native Romania, where Martha (pronounced MAR-ta) competed in college. Smitten by her, Bela signed on as an assistant coach so he could spend more time with her.
They are a portrait in contrasts.
Bela is a tall, bear of a man, with a thick mustache, booming voice and an energetic personality that rubs off on everyone around him. Martha is tiny with bright, dark eyes and a high-pitched voice, a shy woman who still isn't comfortable in the public eye. Engaging and caring with those she knows, she's also a model of organization.
Yet their differences make them perfectly suited for each other.
They married after graduating from college, and moved to a small coal-mining town in Transylvania to teach elementary school. Looking for a way to keep their students warm and entertained during the long and harsh winters, the Karolyis dragged out some old mats and taught them gymnastics. Their students' exhibitions thrilled the town -- and caught the eye of the Romanian government, which hired them to coach the women's national team.
The world discovered the Karolyis -- or Bela, at least -- in 1976, when Comaneci scored the first perfect 10 at the Montreal Olympics and tumbled her way into the hearts of millions. But while Bela was squarely in the spotlight, doling out his trademark bear hugs, Martha's influence may have been more profound.
"There is a saying, 'People who do a lot, they don't talk a lot,''' Comaneci said.
The Karolyis fell out of favor with the Romanian government during the 1980 Moscow Olympics. Bela criticized the judging -- which some thought cost Comaneci a second all-around title -- and Romanian officials were horrified that he would embarrass their Soviet hosts.
When the Karolyis took the Romanian team to New York for an exhibition in March 1981, they were tipped off that they would be punished when they returned home. Speaking no English and with their 6-year-old daughter, Andrea, still in Romania, the couple faced an agonizing decision.
After a sleepless night, they decided to defect.
"We knew what kind of risks we were taking, because nobody was guaranteeing us anything,'' Martha said.
They weren't even able to tell their daughter, who was staying with an aunt.
"We were waiting for the team and my parents to come home on the train. Here were the girls. Where's mom and dad?'' Andrea Karolyi Wise recalled. "It was pretty scary. ... (But) there was no other choice in their minds.''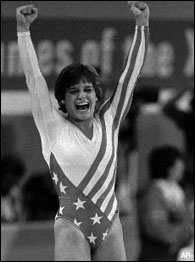 Mary Lou was coached by Bela Karoli en route to her goal medal in 1984.
Andrea came to the United States about six months later and the family settled in Houston, where the Karolyis opened a gym. It soon became the center of American gymnastics, cranking out eight national champions in 13 years.
Three years after the Karolyis left Romania, Retton became the first -- and, so far, only -- American to win the Olympic all-around.
"To them, it wasn't work. It was their life,'' Karolyi Wise said. "It was hard because they were focused on gymnastics. `Why can't you come to my play at school? Or my jazz recital?' But I always saw how dedicated to the sport they were. And when they were home, they were very loving and caring.''
No matter how late her parents got home, the three always sat down to talk about their days, speaking in their native Hungarian. When they weren't coaching, Bela liked to hunt and work on the ranch he built 45 minutes north of Houston; Martha liked to shop.
The Karolyis retired after the 1996 Olympics and moved to the ranch, which had grown from a small plot of land with a hunting lodge to a 1,200-acre spread with a menagerie including everything from cattle to camels.
But when the United States faltered at the 1999 world championships, USA Gymnastics begged the Karolyis to come back. They agreed, and Bela became the national team coordinator.
The experiment failed miserably. To compete with the state machines of China, Romania and Russia, Bela came up with an idea for semi-centralized training: Gymnasts would live at home and work with their personal coaches, but it would be under the direction of national team officials and there would be regular training camps to monitor the athletes' progress.
The personal coaches chafed at the system, seeing Bela as more of a coach than a coordinator. The tension exploded in Sydney, with public sniping and finger-pointing, and the team left without winning a single medal for the first time since 1976.
"I don't want to say anything against him, but it just didn't work,'' said Hill, who was the 2000 Olympic coach. "It was more of a dictatorship.''
Bela left the job after the Sydney Olympics, and his wife replaced him. Though coaches were initially wary, they soon saw what Retton and other gymnasts learned long ago.
"Bela's the showman. Bela's the motivator,'' Retton said. "But he would be a lost puppy without her. She's always been the stone behind them. That's why they worked so well together.''
Even the Karolyis recognize she is probably better-suited for this job. While he tends to charge forward regardless of the consequences, she is a consensus builder who listens to everyone's opinion.
"We both look for perfection, to get as close as possible to perfection,'' Martha said. "My approach is a little different. He's more direct, and maybe I have a little bit more patience.''
And there is no arguing with the results. At the 2002 individual event world championships, the United States won half of the gold medals. At last year's worlds, the Americans lost half of their team to injury and illness, and still won the gold medal.
"The team is again on top of the world,'' Bela said. "It's the very best in the world, in my opinion.''
But for the first time in their careers, he doesn't have a direct hand in it. Though he is proud of his wife's accomplishments, Bela has taken great pains to avoid Martha's spotlight.
He has no role in the team's training or selection. He didn't even make an appearance at the national championships or the Olympic trials, content to let his wife get the credit that is so many years overdue. Instead, he spends his time promoting the sport of gymnastics, working at their beloved ranch and doting on granddaughter Julia.
"My dad was just ready to focus on other things,'' said Karolyi Wise, a dietitian who runs the food service at the training camps with her husband, Paul. "Now it's her turn to show she's as knowledgeable as my dad. She's finally able to get that recognition.''
Even if that was never her goal.
"I never had any kind of special aspirations,'' Martha said. "I always wanted to be able to help raise the level of gymnastics in the United States. I think it's great to have this opportunity.''

Copyright 2004 by The Associated Press