U.S. women look to regain glory as vets retire
Updated:
August 10, 2004, 6:30 PM ET
Associated Press
An electronic sign at the national soccer training center near Los Angeles has been counting down the days until the start of the Olympics, a simple tool meant to excite and motivate the U.S. women's team.
For some of the team's greatest stars, though, the sign has become the proverbial clock about to strike midnight. "Every once in a while you catch yourself thinking about it,'' team captain Julie Foudy said. "It counts down every day. You watch that go and you think: 'I've got two months left in my soccer career.'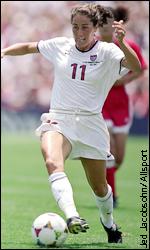 Julie Foudy, above, and Mia Hamm, Kristine Lilly, Joy Fawcett and Kristine Lilly combine for nearly 1,200 career caps.
"I want to make the best of it.'' The Athens Games are essentially the last hurrah for several players who have defined virtually the entire history of the U.S. women's soccer program. Mia Hamm, Joy Fawcett, Foudy and perhaps Kristine Lilly and Brandi Chastain -- five players who debuted in the late 1980s for a team that didn't even exist before 1985 -- are ending a journey that turned an obscure women's sport into a major social phenomenon. "They've paved the road for everybody to follow them,'' coach April Heinrichs said. "Without Foudy, Hamm, Lilly, Fawcett, Chastain, it just wouldn't have happened this way.'' The final mission for these veterans comes with a twist hardly befitting a farewell tour: In Greece, they'll have to avoid being beaten by the very monster they created. The Americans popularized women's soccer in the 1990s and dominated it, winning two World Cups as well as the gold medal when the sport debuted at the 1996 Olympics. Only Norway and China were serious threats to a team that had won 84 percent of its games. The rest of the world was suitably inspired. More countries put more resources into women's soccer and developed their own stars. In the new millennium, they have closed the gap. "So many of our followers now believe we should win even when we're sleepwalking,'' said Heinrichs, who is 0-for-2 in major world tournaments since replacing Tony DiCicco in 2000. "And that's not the case anymore.'' Norway won the gold at the 2000 Olympics, and Germany took the World Cup title on U.S. soil last year. Although the Americans have won smaller tournaments in between, they now have their first losing streak in the two world championship events that matter most, and haven't won a major competition in five years. "It's probably something that Tiger Woods has to go through,'' Hamm said. "We set our own standard. No one sets it for us. We want to win.'' It's still true that no one can match the depth of the U.S. squad. The development of several young players through the now-suspended WUSA make this year's team perhaps even better than the one that won the World Cup in 1999.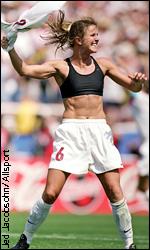 Brandi Chastain and the U.S. women seek their first major title since the 1999 World Cup.
Looking for the next Mia Hamm? How about Abby Wambach, who has averaged nearly a goal per game in 2004 -- and is determined not to let down her idols in their final Olympics. "It's just a burning flame inside of me and inside of everyone else on this team that none of us want to let these older women, these veterans, go out on that note,'' Wambach said. "We want to send them off in the best way, in the way that most of them came in.'' Germany, China and Sweden are again expected to vie with the Americans for podium places in Athens, but the tournament will sadly be missing a revival of the great U.S.-Norway rivalry. The defending champions didn't qualify because Europe didn't hold a qualifying tournament, instead relying on the order of finish from the World Cup to determine which teams to send. The structure of the Olympic tournament is just as peculiar. Ten teams are split unevenly into three groups, forcing the teams in one group -- which includes the United States -- to play an extra game. The Americans, leg weary from three games in seven days, will play a quarterfinal match against a team that has had much more rest. "It is bizarre structuring,'' Heinrichs said. "They'll have five to six days off, when we'll be functioning with two to three. It's a big difference.'' The structure of the men's event is more straightforward -- four groups of four in a 16-team field -- but the United States won't get a chance to build on its fourth-place finish in Sydney because it failed to qualify. In fact, none of the top four men's teams from 2000 qualified for Athens, leaving 2001 under-20 champion Argentina as the probable favorite in a tournament that's notoriously hard to handicap because teams are limited to players under 23 years old -- with three exemptions. The farewell theme for the U.S. women's veterans has a bit of a familiar ring. Many people thought Sydney would be the final call for Foudy, Chastain, Hamm and Co. Heinrichs at the time called it the end of an era, saying it was like having Larry Bird, Magic Johnson and Michael Jordan all on the same team for 10 years -- and knowing it would never happen again. Four years later, they are still going strong but finally ready to say goodbye. Hamm, Fawcett and Foudy say this is definitely their last major international competition, although they might play another year or so in the WUSA if the league is revived and don the red, white and blue for a few more international friendlies. Chastain and Lilly say they'll wait until after the Olympics to decide their futures, but Chastain will be 39 and Lilly 36 by the next World Cup. "Sydney would have been a goodbye, but then we had the league starting, and so we all wanted to help build that,'' Foudy said. "But I'm not crying wolf this time. This will be it.''

Copyright 2004 by The Associated Press
SPONSORED HEADLINES
MORE OLYMPICS HEADLINES
MOST SENT STORIES ON ESPN.COM