Hamm ready to hang up her cleats
Updated:
August 10, 2004, 6:30 PM ET
Associated Press
When Mia Hamm married Nomar Garciaparra last year, she decided not to put his name -- with all those letters -- on the back of her jersey.
"My speed isn't what it used to be,'' Hamm quipped. "I need to make sure I keep as much weight off my jersey as possible.''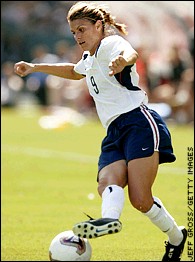 Getty ImagesIn 258 games for the United States, Mia Hamm has scored 149 goals, more than any man or woman.
Seriously, Hamm did have a perfect excuse to make the switch -- because two recently married U.S. teammates did the same. Kate Sobrero is now Kate Markgraf, and Christie Pearce has become Christie Rampone. But it just wouldn't be the same, seeing the legend run onto the field with anything other than the No. 9 Hamm jersey that's also worn by adoring fans around the world. And, besides, to hear Hamm talk, even a place on her back wouldn't do justice to what the Boston Red Sox shortstop has meant to her. "I'm nothing but proud to be a part of his life,'' Hamm said. "And his name is everywhere else that it needs to be. He's great about it. He's like, 'You've earned that right to wear the name on the back of the jersey.' It could change, but for right now we're going to leave it at Hamm and see what happens.'' The Athens Olympics will be Hamm's last major international competition, and the sport's most popular player -- and most prolific all-time scorer -- is leaving in high spirits both personally and professionally. That would not have been the case had she quit three or four years ago. Her longtime marriage to Christiaan Corry was foundering, and her confidence on the field was shaky. "There was a time when I wasn't happy with soccer,'' Hamm said. "And if things weren't going well, I'd be extremely nervous and scared. "Now, if don't play tomorrow, I'm perfectly fine with that. I can go on and be happy about the rest of my life and what I've accomplished. It's not the center of my life anymore.'' Basic Sporting Advice 101 from Garciaparra -- control only what you can control -- helped Hamm rediscover her old magic on the field. Last year, she led the U.S. team with nine assists, and her eight goals were just one shy of Abby Wambach's team-high. This year, Hamm had five goals and a team-high nine assists in her first 12 games.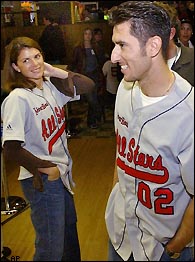 Advice from husband Nomar Garciaparra -- control only what you can control -- helped Mia Hamm rediscover her old magic on the field.
Even so, she says it's time to hang up the cleats. She has been playing for the national team for 17 of her 32 years, which she points out would have been "two careers for a lot of athletes.'' "I feel it's the right time,'' Hamm said. "I feel good about where I am in my life. Some people are like, 'C'mon, you're playing so well.' I don't want to be one of those athletes that they're talking about: 'Well, you know, the skills aren't what they used to be,' and just holding on.'' Hamm's teammates can only marvel at her staying power. Numerous talented forwards have played for the national team the last few years -- Tiffeny Milbrett, Cindy Parlow, Shannon MacMillan, Wambach, Lindsay Tarpley, Christie Welsh and others -- but no combination has been able to knock Hamm out of the starting lineup when the major tournaments come around. "Some people question her leadership,'' said Wambach, whose outgoing nature contrasts noticeably with Hamm's natural shyness. "In my mind, she is one of the greatest silent leaders on the field.'' Hamm, who also is notoriously competitive, has allowed herself a nostalgic remark here and there as her career comes to a close. For the most part, though, she's trying not to think too much about it. "I'm intense by nature,'' Hamm said, "so sometimes I just live moment-by-moment instead of looking at the big picture and seeing what I've been able to be a part of, and how fortunate and lucky I am. But for the Olympics, I'm not going to ask my teammates to, 'Hey, win one for the Gipper.' I want them to play for themselves. "You always want to end on a high note, but I want to end knowing that I gave everything I had, and hopefully that the game was better because I was a part of it.''

Copyright 2004 by The Associated Press
MOST SENT STORIES ON ESPN.COM