Wambach is No. 1 warrior for U.S. women's soccer team
Updated:
August 21, 2004, 10:55 AM ET
Associated Press
THESSALONIKI, Greece -- Abby Wambach is so big and strong, it's hard to believe she was once the puny one.
"Being the youngest of seven, you have to learn not to ever tell on the older brothers and sisters," Wambach said. "Or else you'll be hung on the back of the doorknob by your underwear."
Yes, that actually happened once.
"They tortured me in some ways, and it was fun," Wambach said. "That's kind of where I learned how to deal with anything that was thrown my way, even if I didn't like it."
It's much harder to put Wambach out of commission these days, but it has finally happened. Although she's on an amazing scoring binge of 16 goals in 17 games, the next-generation star of the U.S. women's soccer team will have to sit out Tuesday's last first-round game against Australia because of a suspension for rough play.
"A little heartbreaking," Wambach said. "I want to be able to help my team and wear that jersey every day and play in every game. If I can't do that, I feel I'm letting my team down, my country down."
Goals, fouls, patriotism and childhood stories involving doorknobs. Forget, for a moment, Mia Hamm and the rest of the Fab Five. To date, Wambach is by far the most exciting and interesting player in the tournament.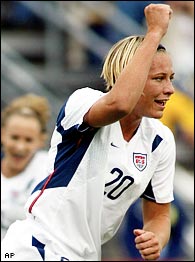 AP PhotoAbby Wambach has been suspended for Tuesday's first-round match against Australia for her rough style of play.
She has played a direct role in four of the five goals the U.S. team has scored in its first two games, 3-0 and 2-0 wins over Greece and Brazil. Each time she displayed a different talent.
She made the perfect decoy move, letting a pass go between her legs while drawing a double-team, to set up a goal by Shannon Boxx. She placed an impeccable 10-yard header over a goalkeeper off a corner kick. She drew a foul that led to a penalty kick goal. And she proved she can dribble, too, maneuvering her 5-foot-11 frame through two defenders to score on a 30-yard run.
No wonder her opponents are feeling a little intimidated.
"You can see it, them double-teaming her, giving her the respect, backing off of her," said Boxx, who played against Wambach in the WUSA. "I've had to go up against Abby for 90 minutes and I was so tired by the end of that game. It was just the physical battle every time the ball came into her. Fight, fight, fight. Push, pull, whatever you can do. And I'm one of the stronger ones."
Sounds a lot like Wambach's growing-up life in Rochester, N.Y., where the little sister played "every sport known to man - except ice hockey" in order to keep up with her four brothers and two sisters. She wanted to play ice hockey, too, but her mother thought it was a sport just for boys.
Her brothers, however, did let her play roller hockey in the driveway. Sort of.
"They would put pads on me, stick me in goal," Wambach said. Then they'd say "'We're going to take some slap shots on you."'
By the time she went to college at Florida, Wambach had toughened into a bruising soccer player, setting the school record for goals and assists while knocking people around.
"I would go into every tackle hard," Wambach said. "And once a year I had to sit out because I accumulated so many yellow cards."
Despite her scoring prowess, Wambach's career wasn't going anywhere unless she started playing smarter. That happened when she was drafted by the WUSA's Washington Freedom and was paired with Hamm, perhaps the sport's fiercest and smartest competitor. The pair developed a chemistry they have maintained with the national team and taken all the way to the Olympics.
"People say sometimes she's hard to play with, her intensity and standards are so high," Wambach said. "But I was willing to accept that."
Wambach also has learned to read the refs and control her physical game. She received just two yellow cards in her first 40 games with the U.S. team.
Then the Olympics started. Grabbed and shoved by Greece and Brazil, Wambach gave as good as she got and got a yellow card in each game, resulting in her one-match suspension.
So far, coach April Heinrichs has resisted the urge to tell Wambach to back off.
"She plays with such a warrior mentality," Heinrichs said. "You can imagine asking a warrior of her physical presence to tone it down a notch and be delicate and tiptoe around on egg shells and survive. ... As soon as you that, you're not allowed to be yourself."

Copyright 2004 by The Associated Press
SPONSORED HEADLINES
MORE OLYMPICS HEADLINES
MOST SENT STORIES ON ESPN.COM