Iraqi soccer team reaches semifinals
Updated:
August 21, 2004, 5:35 PM ET
Associated Press
IRAKLION, Greece -- Iraqi coach Adnan Hamad couldn't complete more than a few sentences without his cell phone ringing. His team is one step away from an improbable trip to the medal podium, and he was more than happy to spread the word to a country in dire need of good news.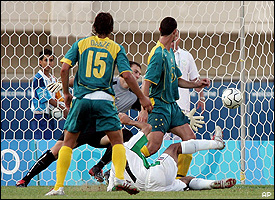 Mohammed Emad curls in the game-winner to send Iraq on to the semis.
"We have spoken to our families already about this victory," Hamad said after Saturday's 1-0 quarterfinal win over Australia. "They're all very happy. Everybody is out in the streets, ecstatic."
The victory put the war-torn nation in position to compete for only the second Olympic medal in its history. Iraq will play Paraguay, which defeated South Korea 3-2, in the semifinals in Thessaloniki on Tuesday.
In Baghdad, a stream of red tracer bullets cut through the night sky amid a hail of celebratory gunfire. Fans who had watched the game in cafes and hotels spilled out and drove through the streets with national flags fluttering from their cars and screaming "God is great."
"This is an incredible event," 35-year-old Munther Elias said as he and his brothers danced and fired off guns. "I couldn't imagine that Iraq is going to reach the semifinals. I ask them to keep it up until the end."
Even a loss in the semis would put the Iraqis in the bronze medal game, where they could become the first athletes from their country to win a medal since Abdul Wahid Aziz's weightlifting bronze in Rome in 1960.
"There have been many sacrifices made for this match tonight. ... Our families are unhappy and very sad," Hamad said through an interpreter. "They are all surrounded by difficult conditions and tough situations in our country. And we are trying to offer the best we can with a little happiness for our people."
One person definitely not on Hamad's speed dial was President Bush, who has stirred some anger among the Iraqi coach and players for using Iraq's flag during a reference to the Olympics in a commercial for his re-election campaign. The U.S. Olympic Committee has also raised concern about the ad's use of the games for a political purpose.
Asked about the commercial, Hamad said: "Bush helps to destroy our country. After a year and a half, we have passed into a very bad situation. ... We'll never believe Bush can be with us."
In the other quarterfinal games, Argentina defeated Costa Rica 4-0 and Italy beat Mali 1-0. Argentina and Italy will play Tuesday in Athens.
The only goal of the game came on Emad Mohammed's 12-yard bicycle kick in the 64th minute, but it was more than enough to satisfy more than 1,000 chanting, flag-waving Iraqi supporters at Pankrito Stadium on the island of Crete.
The fact that the Iraqis even qualified for the Athens Games was a remarkable achievement. They clinched a berth in May, just three months after the country was reinstated by the International Olympic Committee following a nine-month absence. The Iraqi Olympic Committee was previously run by Saddam Hussein's son, Odai, who tortured players when they fell out of favor.
Two months after qualifying, the team's German coach, Bernd Stange, resigned because of safety reasons and was replaced by his assistant and former Iraqi player Hamad. The team could not play any home games because of the war and had virtually no funding.
"Things were confusing for us," Mohammed said. "We came here to play, to participate in the Olympic Games, but it's quite difficult to have our minds only on the game."
The goal came on a corner kick. Mahdi Karim sacrificed his body to head the ball to Mohammed, who flipped himself upside down to put his shot inside the right post. Karim was injured on the play and lay on the field for a couple of minutes, but he returned to the game.
The Australians still had better scoring chances throughout the match, even though they played without three regular starters. Defender Craig Moore and midfielders Ahmad Elrich and Tim Cahill were suspended after receiving two yellow cards in the first round. Elrich and Cahill had accounted for three of Australia's six first-round goals.
Australia actually put the ball in the net in the 48th minute when Anthony Danze knocked in a rebound after two excellent saves by goalkeeper Nour Sabri, but the play was ruled offsides. Sabri then made a leaping save on John Aloisi's header in the 59th, and Australia's Luke Wilkshire hit the crossbar in the 66th.
Asked if it was any consolation losing to a team with such a remarkable story, Australia coach Frank Farina said: "Definitely not."
"We're very dissatisfied we didn't win the game," Farina said. "The beginning of the second half, if it was a boxing match, it would have been stopped. But we committed the biggest error in not finishing the chances that we had."
Two more Iraqi victories would mean a gold medal and a promised $25,000 reward for each player from the Iraqi Olympic Committee. The committee had conceded it may need sponsors to come through with the cash, considering there are 18 players on the roster.
"If we do reach this result," Hamad said, "it will be a source of great happiness for our people."

Copyright 2004 by The Associated Press
MOST SENT STORIES ON ESPN.COM