Displaced Iraqis meet at Olympics
Updated:
August 24, 2004, 10:36 PM ET
By
Jim Caple
| ESPN.com
THESSALONIKI, Greece -- The Iraqi fans' bus ride from Athens to Kaftanzoglio Stadium took eight hours. But at least that was better than the trip to Crete last weekend to see their team play. With the bus and the ferry, that trip took 15 hours.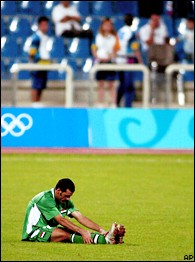 APIraq could still win a bronze.
But hey, when you're on a victory ride so precious that it seems like a gift from the heavens, you don't complain about the lack of leg room. You simply savor the journey for as long as it lasts, appreciating every second of distraction it offers from the struggles of daily life.
"We were so tired when we got back from Crete. But we walked 5 kilometers anyway to celebrate the victory," Arkan Sabah said through an interpreter, while wearing an Iraqi flag like a cape. "This team made the people of Iraq feel happy. It made Iraqis feel joy for the first time since the war -- since before the war. Since the 1980s we have no joy in Iraq, only killing and bombing."
Unfortunately, the ride to gold is over. After winning three games to reach the medal round, Iraq lost in Tuesday's semifinal to a clearly superior Paraguay team. The Iraquis will play Italy for bronze Friday.
"It was the will of God that [a victory] not happen," Iraq coach Majeed Adnan Hamad said. "After Paraguay scored the first goal, we seemed a little down, a little more stressed."
By now, the Iraq team's story is well known, a saga that makes one feel guilty for ever thinking the Jamaican bobsled team was the height of Olympic inspiration. When Saddam Hussein ruled Iraq, his son Uday ran the Olympic program and tortured players for poor performance.
Uday is dead, but the program is still recovering from both him and the war, facing obstacles that should embarrass USOC officials who whine about a lack of support. The Iraqis had to train and play outside the country because of violence. The head coach left the team after receiving death threats. A thug of Uday's is still running the soccer program. And the players have to return to war after the Olympics.
How can we possibly appreciate what the Iraqi's soccer team means to them and to the country? We know how much reaching the World Series would mean to Cubs fans. Can we imagine how much it would mean to them if Chicago were under a cruel dictator for two decades and were so ravaged by war that funerals were more part of everyday life than reliable electricity?
"These people have left their jobs for more than a week to follow the team," Sabah said, pointing to the fans around him. "They need money to buy food and to live, but they left to support the team."
Sort of puts bitching about Ticketmaster charges in new perspective, doesn't it?
With an Olympic medal on the line, the Iraqi fans banded together and traveled by busload to this major city in northern Greece, donning T-shirts, painting their faces and wrapping themselves in the new Iraq flag. "We made the flags by ourselves," said Michael Heriz, a native of Baghdad. "We printed the T-shirts ourselves. No one helped us."
The 22,000 seat stadium was no more than one-third full with a very conspicuous section crowded with 800 to 1,000 Iraqi fans. They danced and pounded drums and chanted the name of their country loudly enough to be heard in Baghdad. When the national anthem played before the game, they sang it loudly and proudly, even though many had to refer to notes with the lyrics handwritten on them.
Most of the crowd was said to be Iraq expatriates, who fled the country during Hussein's reign or during the war. Heriz said he left Baghdad 10 months ago to escape the war and find work in Athens. He said that he is grateful the United States ousted Saddam but that life in Iraq is much worse than before the war and that many Iraqis hate America because of this period. He said he doesn't know what should be done now. "When everything is destroyed, you can't fix everything by snapping your fingers," Heriz said. "It takes ages."
Paraguay scored the game's first goal, but the Iraqi fans maintained their spirited support. Then Paraguay scored another goal to take a 2-0 lead at halftime, sapping enthusiasm. Then it extended the lead to 3-0 early in the second half. When the third goal skipped into the net, the Iraqi goalkeeper collapsed face first on the ground and lay there in agony for almost a minute.
It was about then that you sensed highlights from this game would not show up in any campaign commercials.
Iraq scored a goal late but could narrow the gap no further. When time expired, several players collapsed to their knees in anguish. One held his head in his hands and wept.
Many Iraqi fans rushed for the exits to begin the long ride home. Many more stood and applauded their team. When they lined up for the buses, they began to dance and sing with joy. So what if Iraq lost? So what if there would be no gold? Against all odds, a free team from Iraq had gone to the Olympics, reached the medal round and provided a war-torn country one small bit of joy for two weeks.
And perhaps hope for the future, as well.
"That we could reach this far is a victory," Sabah said. "People all around the world have seen us. They have seen our flag."
After the stadium had cleared and most fans had left, there was an extraordinary moment near the entrance. While Menar Shinawa provided translation for an interview with Fahran Kshaish, the two began talking about their backgrounds and it dawned on them that they had met long ago. "I know your father!" Kshaish said, throwing his arms around Shinawa and hugging him for more than a minute. "I have not seen your father for 18 years. I knew you when you were a little boy."
Shinawa's parents left Iraq nearly a quarter-century ago, moving to Bulgaria and Greece and finally Sweden in search of work and a better life. The 23-year-old economics student had not set foot in Iraq until a visit in December, but he considers himself an Iraqi first and foremost. He said someday, when the "situation" improves, he will return there to live. "Fahran and I met by chance tonight, but these reunions are not rare," Shinawa said.
"When people flee Iraq the contacts are broken, but there are Iraqi people all over the world and they come together again."
Chased from their homeland by a cruel dictator and separated by the decades, the two Iraqis had been brought back together by a simple game, connected again as surely as the panels on a soccer ball.
"Tell the American human beings to help Iraq," Kshaish said. "Not the soldiers, not the government -- we do not believe in them. We believe in the people who are behind them, the human beings of America. And Iraqis need their help."
SPONSORED HEADLINES
MORE OLYMPICS HEADLINES
MOST SENT STORIES ON ESPN.COM