They paved the way
Updated:
August 27, 2004, 11:57 AM ET
By
Jim Caple
| ESPN.com
ATHENS, Greece -- Let's forget the effect the U.S. women's soccer team has had on American girls for just a minute. How about its effect on American males?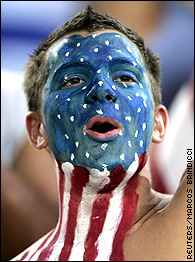 Even men get dressed up to cheer on the women.
During Thursday's gold medal game against Brazil, there was a little boy racing up and down the Karaiskaki Stadium aisles waving the stars and stripes while shouting Kristine Lilly's name. There was a bald man in his fifties who painted his entire scalp white and covered his face with an enormous red star. There was an entire row of young, shirtless men with the names and numbers of the U.S. players painted across their chests and backs.
And everywhere you looked at Thursday's gold medal soccer game, there were men of all ages wearing the replica T-shirts and chanting the names of 18 young women.
"We've got Scurry! We've got Scurry!'' one man chanted while banging a drum until it broke. "We've got Scurry! We've got Scurry!''
Could anyone have imagined this response when the U.S. women's soccer team first burst to prominence eight years ago at another gold medal game in another Athens? Back then, could anyone have thought that fans would not only recognize a women's team, their first names would be sufficient identification? That Mia and Brandi would resonate as much as Michael and A-Rod?
Could anyone imagine that there would be a Mia Hamm Barbie Doll?
"We feel this medal is great recognition for our senior players,'' U.S. coach April Heinrichs said. "We have to thank them for bringing this game such a long way all over the world.''
From the 1996 gold medal in Athens, Georgia, to the 2004 gold medal in Athens, Greece, the U.S. team left a mark on women's sports as visible as Chastain's sports bra. The veteran core didn't make women's sports possible -- Title IX did that in 1972, the same year Hamm was born -- but they made it a whole lot cooler, if not downright sexy.
"I grew up looking up to them,'' U.S. softball outfielder Jessica Mendoza said while celebrating America's 2-1 overtime victory over Brazil. "They were the first team that paved the way for women's sports in our country. After that first gold medal in 1996, a lot of girls felt like they could play sports.
"I was 15 in 1996 and I remember the attention they got and just watching them and seeing the response they got was really cool.''
Now Mendoza and her teammates -- most of whom were on hand to cheer on the soccer team -- are enjoying the same response. They're on the cover of Sports Illustrated this week with the headline: The Real Dream Team. "They gave us posters of the cover at the SI party and we were carrying them around the whole night,'' Mendoza said. "Other than the gold medal, that's the greatest award I have.''
Don't limit yourself, Jessica. The U.S. soccer team opened up a grand horizon of opportunity for women athletes and if this keeps up, there may be an even greater honor in the future: bobblehead dolls.
Thursday was probably the final meaningful game for several veterans who have been the soul of U.S. soccer and the women went out with as dramatic and emotional game as any they played since their first practice almost two decades ago. The oldest team in the Olympics, the U.S. played its sixth game in 16 days and its second consecutive 120-minute game of the week, withstanding repeated scoring threats by the Brazilians -- two of their potential winning shots bounced off the post in the second half -- before Abby Wambach scored the deciding goal with a 10-foot header off a corner kick from Lilly.
When the clock ran out and the game finally ended, the women hugged and ran a victory lap around the field with American flags. And then they held hands and stepped onto the podium to receive their gold medals.
Keri Arnoldy, a grade school teacher near Sacramento, said that the team is embraced by both the women she plays with in her rec league and the children she teaches. "The little girls know all the names of the players and that's so neat,'' she said. "I think this team has really shown the power of women in sports.''
Although U.S. supporters were out in force -- men, women, children and athletes from Michael Phelps to Richard Jefferson -- the stadium was more than half-empty, evidence that the women's game lacks the popularity worldwide that it enjoys in the United States. That lack of support for women's sports globally is one reason the U.S. teams dominate each Olympics -- the competition simply isn't as deep as it is on the men's side. So there still is work to be done, progress to make.
But the Girls of Summer certainly did their share, lifting women's sports so high in the U.S. that even men could see.
"I think that a lot of the older players -- Mia, Brandi and Julie -- are great role models for young girls,'' Mendoza said. "Even our team aspires to be like them. Women sports is growing. With their gold medals and our gold medals, we're just getting stronger and stronger.''
SPONSORED HEADLINES
MORE OLYMPICS HEADLINES
MOST SENT STORIES ON ESPN.COM