Argentina captures first Olympic gold
Updated:
August 28, 2004, 9:06 PM ET
Associated Press
ATHENS, Greece -- Finally Argentina has something Brazil doesn't: an Olympic soccer gold medal.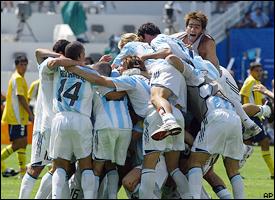 After a disappointing silver-medal finish in 1996, Argentina finally has its Olympic gold.
Carlos Tevez scored his eighth goal of the tournament and Argentina -- for decades in the shadows of five-time World Cup winner Brazil -- beat Paraguay 1-0 in Saturday's all-South American final.
"To be champion of the Olympic Games is quite an achievement," Argentina coach Marcelo Bielsa said. "What has just happened ... is something that fills me with happiness."
A day after Argentina's basketball team scored a stunning victory to oust the United States in the Olympic semifinals, its soccer players grabbed the spotlight.
Tevez, a 20-year-old Boca Juniors striker who's a likely transfer target for Europe's top clubs, beat two Paraguayan defenders to a cross from Mauro Rosales to score in the 18th minute before 41,116 fans at the Olympic Stadium.
The win made up for two second-place finishes, in 1928 and 1996, for a nation that craves success in team sports.
"Sports is very important for a large portion of our population at home," Bielsa said. "Football brings happiness to them. Therefore we are absolutely delighted for having contributed something."
After the victory over the United States on Friday night, guard Manu Ginobili said golds in soccer and basketball would be "the happiest time ever for us."
That joy was evident following Saturday's match as Argentina's players held hands and danced in a circle. Although Paraguay came close to scoring, Bielsa's team was an overwhelming favorite to win the title and take the gold medal back to South America for the first time since Uruguay beat Argentina 76 years ago in Amsterdam.
Now Argentina has a title its big South American rival Brazil has never won. The Brazilians, who won five World Cups, failed to qualify for the Olympics after being eliminated by Paraguay.
Already an underdog, Paraguay was reduced to nine men after Emilio Martinez was sent off for elbowing Andres D'Alessandro in the face in the 67th minute and Diego Figueredo was shown a second yellow six minutes from the end.
"We were playing a very good side and with a referee who was a bit knit-picky," Paraguay coach Carlos Jara said. "I don't think he influenced the result, but he definitely affected our players psychologically, with so many yellow cards and the sendings off.
"But we tried our best. We had a very difficult competition -- five very tough games in 10-12 days."
The silver medal was still Paraguay's first at the Olympics at any sport. Italy won the bronze Friday night by beating a surprisingly strong Iraq team 1-0.
"Obviously we had looked to win the gold, but we are heading home extremely happy -- we have won a medal," Jara said.
Argentina's victory was a huge relief for Bielsa, who had been told to come home with nothing but gold.
For Valencia defender Roberto Ayala, it also made up for the disappointment of the silver medal he collected when Argentina lost 3-2 to Nigeria eight years ago.
If Paraguay didn't already have a tough enough job stopping the hot favorite, striker Jose Cardozo -- who scored five goals in Athens, including two in the semifinal beating of Iraq -- was ruled out because of an injury suffered against the Iraqis.
It didn't take long for Argentina to score.
A break from defense by AC Milan's Fabricio Coloccini started the move when he ran 30 yards from his own area and released Mauro Rosales down the right. He crossed to the near post and Tevez ran between defenders Julio Manzur and Carlos Gamarra to prod the ball home from six yards.

Copyright 2004 by The Associated Press
SPONSORED HEADLINES
MORE OLYMPICS HEADLINES
MOST SENT STORIES ON ESPN.COM