Nearly flawless, U.S. women win gold
Updated:
August 24, 2004, 6:52 AM ET
Associated Press
ATHENS, Greece -- One last time, the U.S. softball team crowded around its coach and listened.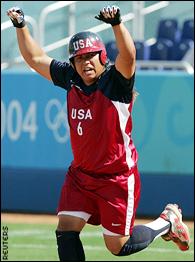 Crystl Bustos set an Olympic record with five home runs, including two Monday, in Athens.
Two hours after winning their third straight gold medal and posing for pictures, the Americans pulled tightly together, stuck their hands into the middle of the circle and waited for coach Mike Candrea to ask them a question they've heard every day for more than a year.
"Who do you play for?'' he asked.
"U-S-A!'' they screamed.
Loud enough for the whole world to hear.
On Monday, the U.S. team completed an almost flawless romp through the Olympics, winning gold with a 5-1 victory over Australia -- another dominant performance by the best softball team America has ever built.
"This team got it done, and we got it done in grand fashion,'' said pitcher Lisa Fernandez. "This is the best that's ever put on the red, white and blue.''
They leave the Olympics with gold medals for the third straight time and a lasting legacy only slightly off perfection. The U.S. softball team not only was the real American Dream Team of these Olympics, it was the most dominant team of the Athens Games -- and maybe any other.
"This is the best one I've ever coached,'' Candrea said. "It's probably the best team I'll ever see. I think it will go down as a team people will talk about for a long time.''
Displaying unmatched power on the mound, around the basepaths and in the batter's box, the United States beat Australia for the third time in eight days, capping a tournament it made its own.
Fernandez pitched a four-hitter and Crystl Bustos hit two homers -- one a monstrous shot off Aussie ace Tanya Harding -- to finish off their stay in Greece with style.
They ending was perfect except for one minor flaw: The Aussies scored a run in the sixth inning.
"That was our mini-goal,'' said outfielder Sandra Allen.
The Aussies knew better than to go for gold. Fernandez wasn't going to let them get their hands near it.
"We didn't do our homework well enough,'' Stacey Porter said. "She got us in the end again.''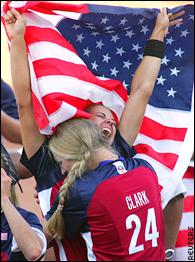 U.S. softball's performance in Athens raised the bar on how the game can be played.
No worries, mate. Fernandez gets everyone.
At 33, the three-time Olympian only seems to get better. She went 4-0 in the tournament and batted .545 in her third games, leaving little doubt that she's still the game's best all-around player.
The best team was never a debate.
The one run Australia scored was the only one against the Americans in the tournament, a tiny flaw that made the final score: U.S. 51, World 1.
The Americans outhit, outran and outclassed the game's top teams while virtually rewriting the Olympic softball record book for runs, home runs, ERA, extra-base hits, this, that and the other.
From their opening-game rout of Italy, to their gut-wrenching extra-inning win over Japan, to their third win over the Aussies, the Americans showed that -- at least in the softball world -- they are alone on the diamond.
"This is the greatest feeling in the world,'' outfielder Kelly Kretschman said. "We made it look easy, but every game was tough.''
Women's softball has never been played better, at least not since it became an Olympic sport in 1996. However, it's guaranteed a spot in the lineup only through the 2008 Beijing Games.
"Softball is dominated by the U.S.A.,'' said catcher Stacey Nuveman, who homered. "And that's just the way it is.''
These women were a special unit, indeed, not just as a team but as a group united by a common goal and even more so by last month's death of Candrea's wife, Sue.
Candrea drew courage from his players during the toughest time of his life, and seconds after his team -- the one as close to perfect as a team can get -- won their medals, America's newest golden girls were there for him again.
They hugged their coach. They cried in his arms. They hoisted him in the air to chants of "U-S-A! U-S-A!''
"I thanked them all for the greatest moment of my life,'' he said. "I will never forget the ride they put me on in these Olympic Games.''
Nor will anyone forget this team -- one that extended its winning streak to 79 games.
Four years ago in Sydney, the United States barely captured gold. This time, it was just a blink from perfection.
Fernandez, as always, led the way.
The right-hander was thrilled when Candrea, who could have started Jennie Finch, gave her the ball against the Aussies -- the closest thing the U.S. team has to a rival.
She didn't let him down. And she won it for his wife as much as she did for her teammates.
"The only way I could help him get through it was to at least bring home the gold,'' Fernandez said, her voice cracking.
As she spoke, Candrea covered his face.
During the game, he rubbed his wedding band. It reminded him of the only thing missing from the greatest day of my life.''
When he was chosen coach two years ago, Candrea issued a challenge to his players:
``One, to be special. And, two, to leave a legacy,'' he said. "I think this team has done that.''

Copyright 2004 by The Associated Press
MOST SENT STORIES ON ESPN.COM