Thorpe eclipses Phelps' destiny
Updated:
August 17, 2004, 6:17 AM ET
By
Eric Adelson
| ESPN The Magazine
ATHENS, Greece -- Michael Phelps lifted himself out of the pool and lurched slowly away. His shoulders slumped. His jaw hung open. He placed a hand on his hip and stared ahead vacantly. Then he left.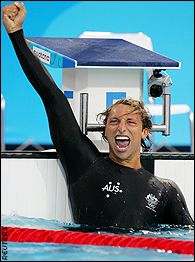 Just like that, Thorpe gained back his title of fastest man in the pool.
On this night, he was a beaten man.
The 19-year-old with so much potential and promise, the Baltimore boy with endless optimism and enough ambition to carry an entire American team, had been vanquished by the one swimmer he so desperately wanted to beat. History will likely remember Phelps as the best ever, but history will never forget this race.
The contest was simply beautiful. The waves lapped in the glimmer of the sunset as if expecting something wonderful to happen. It did. The three men -- Aussie Ian Thorpe and Dutchman Pieter van den Hoogenband -- strode confidently to their platforms like boxers. Thorpe was the first to jump up. For a moment, he stood waiting for the others. That was a portend. The Dutchman jiggled nervously. Phelps took a huge breath. Thorpe stood motionlessly. Then the others mounted the blocks as Thorpe rested his hands on his knees, collecting himself. Phelps and van den Hoogenband dangled their arms to their toes. The three leapt together.
The reigning champ, van den Hoogenband screamed ahead. Would he blow everyone else out? He seemed impossibly long, impossibly fast. Thorpe, completely in black, looked short and heavy in comparison. Phelps threw his long arms out, keeping up. Van den Hoogenband hit the first wall in world-record time. Phelps kicked forcefully, almost angrily, magically disappearing under the wake. Then there he was, right up with the leaders. He reached and reached, but seemed to come up with too little. It became a race of two.
Thorpe waited so long, almost too long. This was such his style, to be quiet and knowing. He had looked not quite right in his earlier swims. Perhaps, his true promise would always go unfulfilled. Perhaps, the Thorpedo was done. He gave everyone a chance to think that as van den Hoogenband pulled away. Then, at the last moment, Thorpe attacked.
There it was -- that perfect stride. He closed on van den Hoogenband, slowly, surely, and then completely -- as if eclipsing all the doubts leftover from Sydney and so many of the lofty hopes waiting back in America for Phelps. Thorpe had swam past The Future, and now he swam by his past. He touched the wall, spun, gaped and grinned.
Thorpe and van den Hoogenband came together in an embrace. The Athens champion told the Sydney champion he hoped to see him in Beijing.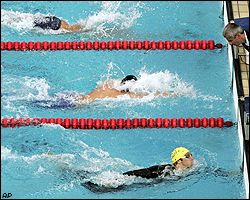 Ian Thorpe pulled ahead of Michael Phelps and Pieter van den Hoogenband.
Minutes later, there Thorpe was again, on the medal stand. Before the race, he did not move. Now he swayed his shoulders and sang his national anthem loud enough for the defeated to hear.
Phelps smiled, but his eyes showed fatigue. Thorpe and van den Hoogenband grabbed their medals and pulled them out from their chests for all to see. Phelps lifted his only slightly. After the ceremony, Phelps put on a brave face. "How could I be disappointed?" he said. "I was right there with them."
He's right. Phelps raced an event dominated by two other men, and he pushed them all the way to the end.
But something has hit Phelps that he did not expect. He could not have foreseen the difficulty of the Games, the wear of this unique and awesome ordeal. The experience hit him the way Thorpe's stroke has. "Boy," Phelps said to his coach Sunday night, "he makes big waves."
There is time for Phelps. There are more races this week, then in 2008 and in 2012. His best is yet to come. And few remember that Mark Spitz needed a first Olympic experience in 1968 to prepare him for his greatest glory in 1972. But waiting even a day must feel so long to a teenager who has measured his life by hundredths of seconds. He will come back. He will win gold again. He will give a nation many more reasons to be proud. But after a lifetime of putting everyone else deep in his wake, Phelps now knows what it feels like to push against the ripples of another man's destiny.
| | | | | |
| --- | --- | --- | --- | --- |
| Event | Result | Time | What happened | Eric's pick |
| 400 IM | Gold | 4:08:26 WR | Phelps won the United States' first gold medal of the 2004 Olympics. | Gold |
| 400 free relay | Bronze | 3:14.62 | South Africa set a world record; United States got the bronze. | Gold |
| 200 Freestyle | Bronze | 1:45.32 AR | Phelps' hopes of tying Mark Spitz's record crumbled as he set an American record but was not fast enough to beat Ian Thorpe or Pieter van den Hoogenband. | Gold |