U.S. women break 17-year-old record
Updated:
August 21, 2004, 5:56 AM ET
By
Carrie Sheinberg
| Special to ESPN.com
ATHENS, Greece -- Finally, for one night, the waves died down. For one night, the mist cleared. And for one night, the U.S. women's swim team owned the spotlight.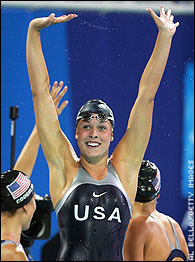 Kaitlin Sandeno celebrates a record-breaking 4x200 meter freestyle relay.
Swimming in the wake of the Michael Phelps armada for the past week, Kaitlin Sandeno and Natalie Coughlin have been quietly collecting medals of their own. There were few who noticed. But Wednesday night, without a final for Phelps to swim in, all eyes were on the U.S. women's 4x200 freestyle relay team.
With nothing but themselves in the reflection of the calm, glassy water, they found strength where others might wilt. They not only attacked the rest of the field, beating second-place China by 2.55 seconds and Germany, who took bronze almost four full seconds behind, they attacked the record books.
And when Sandeno touched the wall after the fourth and final leg, they had smashed the oldest record in swimming. Even bigger, it was the last of the old East German women's records set in 1987.
Not that these women thought anything about that, after all Sandeno and Carly Piper were 4 years old then. Dana Vollmer, 16, hadn't even been born yet. For those who do remember the days of the suspiciously masculine women from East Germany, though, this swim was particularly significant.
"(The record) burned people a lot," said U.S. women's coach Mark Schubert. "We all know the reason why, and we're very proud to have that record back. I'm really glad to get this record off the books."
Dirty record or not, by swimming 800 meters in 7:53.42, more than two seconds faster than the old one of 7:55.47, the American women sent a message. They're world beaters, too.
"When we got in the huddle, I said, 'let's show everybody the girls team can do it, as well,'" Sandeno said. "We shined tonight and to break that record is huge."
Swimming the lead-off leg, Natalie Coughlin, with a gold medal from the 100 backstroke and a silver in the 100 freestyle relay already in her swim bag, set the tempo. Go out easy, then motor through the second 100 meters.
Coughlin came back to the wall with a huge lead, Piper and Vollmer steadily built on that through the second and third legs. Sandeno, waiting on the platform to anchor her first international relay (one that was well ahead of world record pace no less) was getting anxious. Coughlin talked her down. Just stick to the plan, she said, don't go out too hard, save it for the finish. Sandeno finished loud and clear.
"We expected this result," Schubert said. "Natalie Coughlin, I've got to give her a lot of credit she gave up individual events for this relay."
Even though Coughlin's split in this relay would likely place her in the medals in the 200-meter freestyle event, she wanted this title more.
"I watched this team come so close to breaking the record last year, and I was so jealous," Coughlin said. "I wanted to be a part of this so badly. I knew we could break the record."
This was Sandeno's final race of these Olympics. The 21-year-old had been tearing up the lanes all week. Every time she leapt from the blocks, she swam a personal best. Even earlier Wednesday evening, when she came in just out of the medals in the 200 butterfly, she was better than she had ever been.
For those who knew to look, her swims have been thrilling.
At the end of the night on Tuesday, caught up in the emotion of one of the biggest nights in history for the U.S. men's team, someone asked head coach Ed Reese if it had been his favorite two races of the Games. He didn't even hesitate before he said, "I've really enjoyed watching Kaitlin Sandeno swim. She's been lighting the place up."
Wednesday night everyone finally got to see what he was talking about.
"I love coming in under the radar," said Sandeno, who now has a medal of every color to complete her collection. "I love being the darkhorse and I think we just stepped up ... We're tough chicks."
Coughlin still has the 100-meter freestyle to swim Thursday night and Vollmer has yet to compete in the 200-meter freestyle event.
Maybe now everyone will watch.
MOST SENT STORIES ON ESPN.COM