While Michael Phelps is breaking records at the U.S. Olympic swim trials, his agent Peter Carlisle is firming up details for an elaborate post-Olympic marketing plan.
Phelps hasn't won a gold medal yet, but given the small window of opportunity afforded to Olympic athletes whose fame is so often fleeting, Carlisle is piecing together a plan that will capitalize on Phelps' anticipated popularity. Calendars, books and possibly even a television special of Phelps' life are in various stages of planning should he step off the medal platform in Athens with a fistful of gold medals. Endorsement riches, too, are at stake.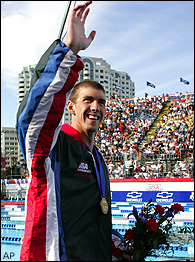 Michael Phelps' time in the limelight will be limited in Athens, so his agent is working to make the most of his exposure.
Phelps has his sights set on breaking Mark Spitz's record of seven gold medals in a single Olympiad. But unlike when Spitz was criticized when millions of dollars in endorsement deals awaited his return from the 1972 Munich Games, the acceptance of athletes cashing in on their success has become routine.
Speedo has promised Phelps a $1 million bonus if he equals Spitz's mark either in Athens or at the 2008 Beijing Games. So far, Phelps has qualified for five events at the trials -- the 200-meter freestyle, 200 butterfly, 400 individual medley (in record time), 200 backstroke and 200 IM, and earned a spot on the 800 free relay team. He could also be competing in the 100 fly and possibly two more relays.
So while Phelps concentrates on making history in Athens, it's Carlisle's job to put Phelps in a position to capitalize on the feat once he steps out of the pool.
"We have no time to sit back and wait after the Games are over," Carlisle said. "You have to have product out there at the peak time, otherwise people will think harder about spending for those items."
There will be little time to revel in glory. The college football season kicks off the day before the Olympics' closing ceremonies. The U.S. Open tennis tournament begins the day after. And the NFL season kicks off 11 days later.
With that in mind, a Phelps calendar will hit stores within days of the conclusion of the Games. A book, targeted for kids between the ages of 11 and 19, also will be on shelves. Instead of a quick turnaround of Phelps' highlights, which would have a short shelf life, Carlisle said the book will be a vehicle for Phelps to share advice on life experiences. Octagon, the sports management agency that Carlisle works for, has compiled behind-the-scenes video footage of Phelps over the past two years and is looking to sell the rights for a television special on the swimmer's life.
Phelps already has appeared in television commercials for Visa, Argent and AT&T Wireless, and others like Speedo, Omega, Powerbar and Meijer could build a marketing program around him after the Games, depending on his success. Even companies that didn't want to take a risk on Phelps heading into the Olympics have discussed contingency offers in which they would be interested in post-Olympic endorsement deals.
Phelps said he's most interested in using endorsements to raise the profile of swimming.
"One of my goals is bring more attention to the sport," Phelps said. "Hopefully after the Olympics that would happen."
In order to keep up with the speed of the marketplace, companies have plans to release congratulatory advertisements to air immediately after an event takes place. Visa, for example, had an ad that would have run in the first commercial break after the Belmont Stakes' television coverage had Smarty Jones won the Triple Crown earlier this year. Carlisle would not say if any of Phelps' current sponsors have a similar plan in place.
Track and field stars are usually among the favorites in the endorsement market because their sport is better covered on a year-round basis than swimming. This year, however, that has shifted since high-profile stars are rumored to have been involved in the BALCO investigation.
"The folks at BALCO are getting a Chanukah card from me," joked Evan Morganstein, who represents more than 20 Olympic swimmers, including Aaron Peirsol, Jenny Thompson and Spitz.
Spitz, who met Phelps for the first time on Saturday, is cashing in again with the hype surrounding Phelps' pursuit of his record. Morganstein said Spitz has endorsement deals with Panasonic and Sprint.
"The Speedo incentive ignited Mark's name," Morganstein said. "Normally, you'd have to do something horrendous to get the amount of press Mark is getting now."
Spitz would likely benefit more if Phelps were to tie or break his record, since a modern-day version of his feat would keep things more relevant.
Perhaps he can join Phelps on his Olympic victory tour, which will take place sometime between the closing ceremonies and the world championships in early October, assuming all goes as planned in Athens. Dates and details are still being arranged, but expect the schedule to gradually fill up while Phelps is still in the Olympic pool.
Said Carlisle: "We're definitely not hiding from the possibility of him having a chance of winning seven golds."
Darren Rovell, who covers sports business for ESPN.com, can be reached at Darren.rovell@espn3.com.
ESPN.com Sports Business reporter
ESPN.com's sports business reporter since 2012; previously at ESPN from 2000-06
Appears on SportsCenter, ESPN Radio, ESPN.com and with ABC News
Formerly worked as analyst at CNBC
SPONSORED HEADLINES
MORE OLYMPICS HEADLINES
MOST SENT STORIES ON ESPN.COM