Roddick, Williams sisters top fields
Updated:
July 15, 2004, 7:15 PM ET
Associated Press
Andy Roddick is familiar with the spoils that come with being a top tennis player: a U.S. Open title, No. 1 ranking, more than $6.5 million in prize money, endorsement deals.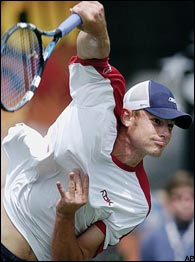 Andy Roddick is pumped about playing for the United States in the Olympics.
Funny how a $20 T-shirt got him all pumped up. Not just any shirt, mind you. One emblazoned with the Olympic rings and "USA Team 2004'' in light blue lettering.
"All along, I kind of knew I was going to be on the team,'' Roddick said. "But, you know, it's amazing how something as small as a T-shirt makes it real.''
U.S. Davis Cup captain Patrick McEnroe, doubling as the men's Olympic tennis coach, was struck by the reactions he got when he handed out the shirts after his roster was set during Wimbledon.
"I'm impressed at how excited our guys are. It's honestly all they talk about,'' McEnroe said. "We gave them a T-shirt -- the look on Andy Roddick's face this morning, Bob and Mike Bryan, they were genuinely so excited about it. From that standpoint, that's a great sign that having tennis back in the Olympics is really good for the sport worldwide, overall.''
Most top players feel that way, giving the Aug. 15-22 tennis competition at the Athens Games the feel of a Grand Slam tournament. It probably helps that the ATP and WTA agreed to award rankings points at the Olympics, and that the men play best-of-three-set matches until the best-of-five final.
The Williams sisters will defend their Sydney Olympic titles (Venus won the singles gold medal, and she paired with Serena for the doubles gold). Wimbledon champion Roger Federer, three-time French Open champion Gustavo Kuerten and Tim Henman are signed up, as are Justine Henin-Hardenne, Jennifer Capriati and Amelie Mauresmo.
It's a U.S. Open tuneup of sorts, with the same type of hard courts that will be used at Flushing Meadows starting Aug. 30.
That should give Roddick and his powerful serve an edge.
"Yes, it's a packed summer, there's no doubt. But it's the Olympic Games. Someone's going to have to drag me off the court not to play there,'' said Roddick, 27-1 on the summer hard-court circuit in 2003. "My ultimate goal in tennis was the U.S. Open, but I want that gold medal. I definitely would cherish it just as much as a Grand Slam title.''
Not everyone is quite so enthusiastic.
There are security questions, of course. And then there are those such as 2000 U.S. Open champion Marat Safin, who thinks his sport doesn't belong in the Summer Games to begin with.
"The Olympics is not for tennis. Tennis doesn't need the Olympic Games,'' Safin said. "We have four Grand Slams. We have a lot of tournaments. We have a pretty tough schedule.''
He showed up in Sydney about 24 hours before his opener at the 2000 Olympics -- and promptly lost.
So why is Safin going to Athens?
"I have to play for Russia. Because I have to,'' he said. "But it is not my goal in my life to win the Olympic Games. I'm not excited at all to go there.''
Among the top players skipping the trip to Greece: Andre Agassi (at 34, he limits his schedule), Lindsay Davenport (she already owns a medal and had security concerns), Kim Clijsters (she pulled out because she wouldn't have been able to wear her sponsor's clothing, but recent wrist surgery probably would have sidelined her anyway), and her fiance, Lleyton Hewitt.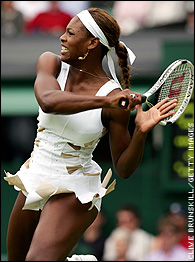 Serena along with sister, Venus, look to capture gold once again at Athens.
Another notable absentee: Maria Sharapova.
Olympic tennis team entries were due a few days before Sharapova won Wimbledon to jump into the top 10. So Russia's squad is made up of women ranked ahead of her at the deadline: French Open champion Anastasia Myskina, French Open runner-up Elena Dementieva, Svetlana Kuznetsova and Nadia Petrova.
That would be quite a formidable foursome for a team competition like the Davis Cup or Fed Cup. But the Olympics are set up just
like any single-elimination tennis tournament.
McEnroe, for one, is a proponent of changing the format to make it more of a team event. Whatever the logistics of it, Federer is eager to try to gain a medal for Switzerland, four years after losing the match for the singles bronze.
"Representing your country is very different from basically representing your name in a tournament,'' Federer said. "What I experienced in Sydney in 2000 was, for me, one of the best two weeks I've ever had in my career.''
That's saying a lot, coming from a three-time major champion who overtook Roddick for the No. 1 ranking in February.
They could reprise their rivalry at Athens, playing for a gold medal just seven weeks after meeting in the first No. 1 vs. No. 2 Wimbledon final since 1982.
Perhaps someone will derail that, such as David Nalbandian, an excellent returner who gives Roddick and Federer trouble. Or a serve-and-volleyer such as Henman or Mark Philippoussis. Or a truly surprising winner could emerge, such as Marc Rosset in 1992.
And maybe an Olympic rookie will claim a medal.
How about Martina Navratilova, headed to the Summer Games for the first time at age 47?
"That's why I really played one more year,'' said Navratilova, who'll play doubles with Lisa Raymond. "It wasn't to play Wimbledon one more time, it was to play the Olympics.''

Copyright 2004 by The Associated Press
SPONSORED HEADLINES
MORE OLYMPICS HEADLINES
MOST SENT STORIES ON ESPN.COM