U.S. could be forced to forfeit medals
Updated:
August 3, 2004, 2:18 AM ET
Associated Press
ATHENS, Greece -- Calvin Harrison has been suspended for two years for a second doping violation, knocking the sprinter off the U.S. Olympic team and likely forcing the United States to forfeit a relay gold medal in the world championships.
The U.S. Anti-Doping Agency said Monday that Harrison, 30, was found guilty of using the stimulant modafinil at the U.S. track and field championships in June 2003.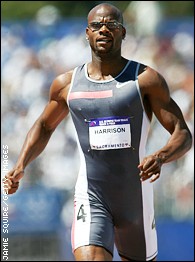 Getty ImagesHarrison had been named to the relay pool for Athens before Monday's ruling.
The case was heard last week by a three-member arbitration panel, which rejected Harrison's appeal of the test results.
Harrison also tested positive for the stimulant pseudoephedrine during the 1993 U.S. junior indoor championships and served a three-month suspension. As a repeat offender, he got the two-year ban.
Harrison's lawyer, Ed Williams, said Monday he was not sure whether he will appeal the ruling to the Swiss-based Court of Arbitration for Sport.
Williams said he was disappointed the arbitrators did not accept his argument that the 1993 suspension should have been nullified because athletes were not accorded adequate due process at that time.
He also argued unsuccessfully before the panel that because modafinil was not specifically named on the banned substance list in 2003, that Harrison would have had no way of knowing it was prohibited.
USADA's director of legal affairs, Travis Tygart, said modafinil -- now on the banned list -- was prohibited in 2003 because it was chemically related to stimulants named on the list of banned substances.
"Modafinil is a banned substance and is a stimulant. You can only get it in the U.S. by prescription. It is classified by the federal government as a central nervous system stimulant," Tygart said in a telephone interview.
"Athletes are generally warned not to take drugs when they compete, and they should be held accountable when they do so."
Harrison, part of the 1,600-meter gold medal relay team in the Sydney Olympics that already faces loss of its medals because of a positive drug test by Jerome Young, had been selected to the U.S. squad for Athens as part of the relay pool.
He also was on the 1,600 relay team that won a gold medal in the 2003 world championships in Paris, and that squad now could face loss of its medals.
All of Harrison's results from the time of the positive drug test -- two months before the world championships -- will be nullified. The International Association of Athletics Federations will decide whether to strip the U.S. squad of its gold and award it to silver medalist France.
Harrison ran the opening leg in the relay final in Paris. The other runners were Tyree Washington, Derrick Brew and Young.
Harrison's twin brother, Alvin, faces a lifetime ban after being charged by USADA with steroid use. His case is awaiting arbitration.
The 2000 Sydney relay gold medals could be forfeited because Young failed a steroid test in 1999.
The Court of Arbitration for Sport ruled in late June that Young should be stripped of his relay medal, and the IAAF has recommended that the entire team -- including Michael Johnson -- be stripped of its medals.
A final decision rests with the International Olympic Committee, which is expected to rule days before the Athens Games and is expected to endorse the IAAF recommendation.

Copyright 2004 by The Associated Press
MOST SENT STORIES ON ESPN.COM