Commentary
Draft Watch: Spain's Rubio among NBA prospects at Olympics
Originally Published:
August 7, 2008
By
Chad Ford
| ESPN.com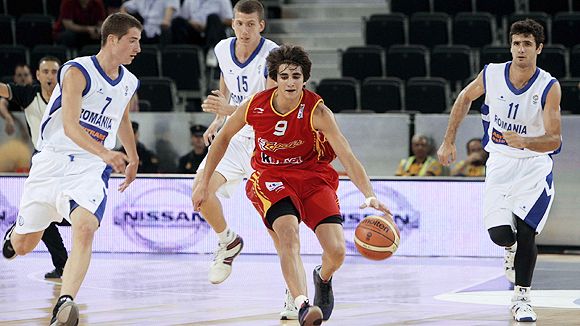 Icon SMIRicky Rubio has been on the NBA radar screen since he was 15 and has all the makings of a star.

Over the past several years, the influence of young international players on the NBA draft has steadily declined. During the 2008 NBA draft, just one international player, Danilo Gallinari, was selected in the lottery. Several others, including Alexis Ajinca, Serge Ibaka and Nicolas Batum, went late in the first round.
The same trend generally holds true for the Olympics. National teams, the U.S. included, invite their most experienced players to play for the gold. There is very little space for a young player to get significant minutes in the Olympics.
However, there is good news for draftniks who are watching the Olympics hoping to catch a glimpse of the next great Euro. The top-rated international player on our draft board, 17-year-old Ricky Rubio, is not only on the Spanish national team -- he's been given significant minutes in Spain's warm-up games.
Who is Ricky Rubio? He is one of the most promising young point guards ever to emerge from Europe.
He started for his club, DKV Joventut, in Spain's ultracompetitive ACB league this year. Rubio's numbers last season were solid for a teenager playing with grown men. He averaged 10.5 points, 4 assists and 2 steals in 23 minutes per game.
The things scouts emphasize about Rubio are his terrific basketball IQ and feel for the game. He's a leader who shows incredible poise for someone so young.
And that doesn't mean his game is dull. Rubio's game has plenty of sizzle. He can make the impossible pass seem routine and he has a flair for the spectacular. He is fearless with the ball, which makes him one of the most fun European players to watch. Some scouts call him a young Pete Maravich.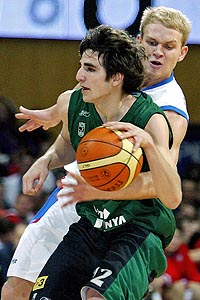 Cesar Rangel/Getty ImagesRicky Rubio's game reminds some of Pete Maravich.
Rubio is also an excellent defender. He uses his long arms and his height (6-foot-4) to disrupt passing lanes and terrorize the offense. Most importantly, he understands defense and rarely puts himself in a bad position.
So why isn't Rubio ranked higher on our draft board? While there is very little doubt that he'll be a phenomenal European player, he lacks the elite athleticism and explosiveness that is essential in the NBA. Rubio isn't a bad athlete, but he doesn't have the spectacular speed of many of the NBA's elite point guards, like Chris Paul or Tony Parker.
Rubio is also still figuring out his jump shot. He can be solid from midrange but doesn't shoot with much accuracy from distance. Rubio is improving in this area, but he still has a long way to go.
I'd expect to see Rubio play an important role off the bench for the Spanish national team in the Olympics. His defensive ability alone will get him opportunities, and his leadership skills allow him to play confidently, even against the top talent in the world. I think many of us are crossing our fingers for a Spain-USA gold medal game.
If there is someone else to keep an eye on in the Olympics beside Rubio, it is Australia's Patrick Mills. The Australians continue to produce some serious basketball players -- Aussie Andrew Bogut was the first pick in the 2005 NBA draft and center Nathan Jawai was drafted in the second round this year. This Australian national team has two NBA prospects -- Mills and Joe Ingles.
Mills is a super-quick combo guard who played for Saint Mary's (Calif.) last season as a freshman, averaging 14.8 points per game and 3.5 assists. Mills put on a show against Team USA in a warm-up game, leading the Australian team with 13 points off the bench. Mills, like Jawai, is an indigenous Australian from a tiny place called Thursday Island. He has the speed and quickness that NBA teams love in their point guards, but he is a bit undersized and an inconsistent shooter -- think a poor man's Tony Parker.
Ingles is a 6-foot-8 small forward with an excellent midrange game and good scoring instincts. Ingles has better size (and a better feel for the game) than fellow Aussie Brad Newley, whom the Rockets drafted in 2007. The downside for Ingles is that he lacks great strength and athleticism. He isn't bad in those areas, but he'll struggle to hang with the NBA's elite athletes.
After those three prospects, things drop off very quickly. A few NBA scouts are interested in Iranian big man Hamed Hadadi ... but he's already 23 and no longer eligible for the draft. Hadadi, who stands 7-foot-2, has had a few impressive games this summer. NBA teams can sign him as a free agent.
Meanwhile, China's Jianghua Chen is a local favorite thanks to his AND-1 antics. But most NBA scouts see him as an out-of-control showboater who will never play in the league.
Chad Ford covers the NBA for ESPN Insider.
SPONSORED HEADLINES
MORE OLYMPICS HEADLINES
MOST SENT STORIES ON ESPN.COM
Team USA: Redemption In Beijing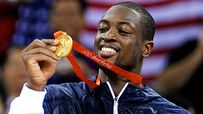 Team USA won the Olympic gold medal in men's basketball after years of frustration.
Roster | Schedule | TV | Scores | Standings
The Redeem Team

Sheridan: 1992 vs. 2008
They redeemed U.S. hoops and reclaimed Olympic gold. So, how does the '08 team stack up to the Dream Team?
Chris Sheridan
•
Sheridan: Dream scene
---

TrueHoop: What next?
Team USA was great in '08. But how will it remain on top of the world? We've got the plan (with a few new faces) moving forward.
TrueHoop
•
TrueHoop: Day of redemption
---

Jackson: Truly redeemed?
Yes, the U.S. men's basketball team recaptured the Olympic gold in Beijing. But did they really accomplish their mission? Depends how you look at it.
Scoop Jackson
---

Hollinger: International flair
Team USA got the gold, but the game of basketball was also a big winner. Here's a look at how the NBA's international stars fared in the Beijing Olympics.
John Hollinger
Medal Round
•
Sheridan: United statement
•
Forde: Coach K deserves praise
•
Hill: Rooting for redemption
•
Sheridan: USA gets revenge vs. Argentina
•
Sheridan: US-Argentina rivalry renewed
•
Sheridan: Dispelling two Team USA myths
•
Sheridan: One down, two to go
•
Sheridan: Quarterfinals roundup
•
Sheridan: A whole new ballgame
•
Sheridan: Previewing the quarterfinals
•
Sheridan: Australia won't be scared
Preliminary Round
•
Day 5: Greece earns date with Argentina
•
Sheridan: Kaman suits up for Germany
•
Sheridan: Unchallenged by Spain in 37-point win
•
Bucher: Unselfishness sets Team USA apart
•
Day 4: Aussies, China clinch medal-round berths
•
Watch: Coach K and the challenge of Team USA
•
Sheridan: Spain's strengths pose challenge
•
Mag: Rubio is Spain's teen phenom
•
Sheridan: Winning Grecian formula for Team USA
•
Broussard: Wade back in elite conversation
•
Day 3: Lithuania, Spain remain undefeated
•
Sheridan: Team USA's Greek strategy
•
Sheridan: Angola was easy, Greece won't be
•
Day 2: China almost upsets Spain; Croatia rolls
•
Forde: U.S.-China game had historic feel
•
Sheridan: Yi struggles against Team USA
•
Day 1 roundup: Argentina upset
•
Israeli, Iranian share embrace
TrueHoop
•
Chris Bosh on Olympic intensity
•
The Next Team USA
•
Suddenly, Team USA looks enormous
•
Spain's joke not funny
•
The other Redeem Team: Spain
•
Dream Team not the model
•
Yao Ming is no Kobe Bryant
•
Team USA's Chinese fans
•
Is Team USA muzzled or not?
Olympic Preview
•
Sheridan: 10 questions for opening round
•
Sheridan: Who will grab gold?
•
Sheridan: Argentina, Russia headline Group A
•
Sheridan: USA, Spain tops in Group B
•
Jackson: Something's missing on USA's roster
•
Kobe & Co. arrive to heroes' welcome in Beijing
•
Ford: Top int'l draft prospects at Olympics
•
Watch: Best internationals in action