Commentary
Redeem Team proves worthy of Dream Team comparison
Originally Published:
August 25, 2008
By
Chris Sheridan
| ESPN.com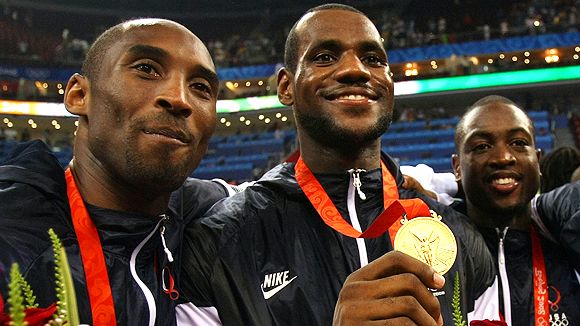 Jed Jacobsohn/Getty ImagesKobe, LeBron and D-Wade each showed why they are considered among the best in the game today.
BEIJING -- Over here, they were called Dream Team 8. And two years ago in Japan, the locals referred to them as Dream Team 7.
The world might have caught up in basketball during the past decade, but it hasn't caught on to the notion that the American federation ditched the Dream Team nickname after the Atlanta Olympics in 1996 -- back when it started to realize that the true, original Dream Team that won the gold medal in Barcelona in '92 should have had the nickname retired in its honor.
"We're not the Dream Team," coach Mike Krzyzewski said over and over again during the past 2½ weeks when he faced questioning from several Chinese journalists who prefaced their questions with that phrase. "There was only one Dream Team, and there will never be another."
That might indeed be the case, but it's still a valid idea to compare this year's gold-medal winning Team USA to the one that set a standard that'll never be matched.
Both were dominant in their own way, the 1992 team squishing and squashing each and every last one of its opponents, beginning with a 79-point victory over Cuba in the first game of the '92 Tournament of the Americas and ending with a 32-point victory over Toni Kukoc and Croatia in Barcelona.
The 2008 team crushed the opposition in all but one game -- Sunday's 118-107 victory over Spain -- and set its high-water mark with a 68-point triumph over the U.S. Virgin Islands during the 2007 Tournament of the Americas in Las Vegas.
Here is a statistical comparison of the two Olympic teams:
Dream Team vs. Redeem Team
1992
2008
W-L
8-0
8-0
PPG
117.3
106.3
Opponent PPG
73.5
78.4
PPG differential
+43.8
+27.9
FG pct
57.8
55.0
Opponent FG pct
36.5
40.3
3-pt FG pct
40.0
37.7
Opponent 3-pt pct
30.5
29.9
FT pct
72.6
68.0
RPG differential
+13.5
+5.6
Assists per game
29.9
18.8
Steals per game
22.1
12.5
Blocks per game
5.9
3.9
You can also use the Angola comparison:
The 1992 team defeated Angola by 68 points in the opener of the Barcelona Games, with Charles Barkley making his first mark by answering, "I know they're in trouble," when asked what he knew about the small African nation, then delivering an elbow to one of the Angolan players during the game.
Those Angolan players actually asked the Americans for autographs and posed for photographs after the game, whereas the 2008 Angolan team fouled the Americans at the end of its 97-76 loss to get an extra possession and reduce its losing margin to 21 -- something it was elated about after the game.
The Angolans lost to the 1996 U.S. team by 33, and to the 2004 Olympic team by 36 -- a game in which the Americans futilely tried to get Emeka Okafor on the scoreboard for the first time in the tournament by running plays for him throughout the fourth quarter.
The 1992 team's other victory margins were 33 over Croatia (in their preliminary round game), 43 over Germany, 44 over Brazil, 41 over Spain, 38 over Puerto Rico and 51 over Lithuania.
The 2008 team's other victory margins were 37 over Spain (in pool play), 23 over Greece, 31 over China, 49 over Germany, 31 over Australia and 20 over Argentina.
Spain's point total of 107 was the highest ever against a U.S. senior national team (the only other teams to reach 100 were Spain in the 1994 FIBA world championship, Puerto Rico at the 2006 FIBA world championship and Mexico at the 2007 Tournament of the Americas).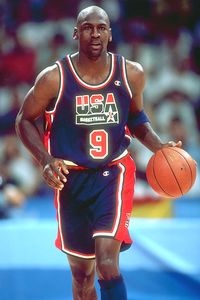 Getty ImagesMJ versus Kobe would be a dream matchup to say the least.
"I was pretty young (in 1992), but to me there was only one Dream Team," Pau Gasol said after Spain's loss. "That team inspired a lot of young people to want to go and play basketball. This team is very good, close to that team, but I don't think there will ever be anything like that team again."
Five players from the 1992 team (Barkley, David Robinson, Scottie Pippen, Karl Malone and John Stockton) stayed with the U.S. national team for the 1996 Olympics, but only one player from the 1996 team, Gary Payton, was on the 2000 Sydney Olympics team.
The Athens team had no holdovers from Sydney, whereas the 2008 team had four returnees from 2004 -- LeBron James, Carmelo Anthony, Dwyane Wade and Carlos Boozer.
James has hedged in conversations with ESPN.com regarding whether he wants to be part of the 2012 Olympics team and Bryant will be 33 when the London Games open. Anthony, however, has already strongly stated his intention to return, as has Dwight Howard.
Team director Jerry Colangelo has been stocking the USA Basketball pipeline by selecting several up-and-coming American players for the U.S. Select Team that scrimmaged against the Senior Team in Las Vegas the past two summers, but the only one of them who should be considered a virtual lock to be wearing red, white and blue in 2012 is Kevin Durant.
"They forgot this was a six-year commitment," Colangelo joked from the interview podium as the 12 Team USA members sat to his right, each wearing a gold medal. "We're going to celebrate, and we're going to talk about the future going forward. But the good news is this: Unsolicited, five or six of these guys have already said they want to be a part of what we do going forward. But we have plenty of time to sort through it. They need some time off, they really do."
The next competition for Team USA will be the 2010 world championship in Turkey, a country James, Wade, Anthony and Boozer visited four years ago on their pre-Olympic tour prior to the Athens Games. If the Americans win it, they'll earn an automatic berth into the 2012 Games, and there will be no need for the main players to sacrifice another one of their summers to compete in the 2011 Tournament of the Americas. So the best chance America has of seeing a large chunk of the Redeem Team together again in London is to have many of them on board for the trip to Turkey two summers from now.
And their coach -- whether it's Krzyzewski, Gregg Popovich, Mike D'Antoni, P.J. Carlesimo or someone else -- can have the opportunity to shoot down the inevitable questions about Dream Team 9 the same way Krzyzewski patiently shot them down here in Beijing.
Chris Sheridan is an ESPN.com Insider. He has covered the U.S. senior national team since the 1996 Olympics. To e-mail Chris, click here.
SPONSORED HEADLINES
MORE OLYMPICS HEADLINES
MOST SENT STORIES ON ESPN.COM
Team USA: Redemption In Beijing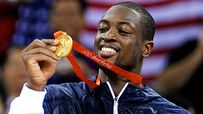 Team USA won the Olympic gold medal in men's basketball after years of frustration.
Roster | Schedule | TV | Scores | Standings
The Redeem Team

Sheridan: 1992 vs. 2008
They redeemed U.S. hoops and reclaimed Olympic gold. So, how does the '08 team stack up to the Dream Team?
Chris Sheridan
•
Sheridan: Dream scene
---

TrueHoop: What next?
Team USA was great in '08. But how will it remain on top of the world? We've got the plan (with a few new faces) moving forward.
TrueHoop
•
TrueHoop: Day of redemption
---

Jackson: Truly redeemed?
Yes, the U.S. men's basketball team recaptured the Olympic gold in Beijing. But did they really accomplish their mission? Depends how you look at it.
Scoop Jackson
---

Hollinger: International flair
Team USA got the gold, but the game of basketball was also a big winner. Here's a look at how the NBA's international stars fared in the Beijing Olympics.
John Hollinger
Medal Round
•
Sheridan: United statement
•
Forde: Coach K deserves praise
•
Hill: Rooting for redemption
•
Sheridan: USA gets revenge vs. Argentina
•
Sheridan: US-Argentina rivalry renewed
•
Sheridan: Dispelling two Team USA myths
•
Sheridan: One down, two to go
•
Sheridan: Quarterfinals roundup
•
Sheridan: A whole new ballgame
•
Sheridan: Previewing the quarterfinals
•
Sheridan: Australia won't be scared
Preliminary Round
•
Day 5: Greece earns date with Argentina
•
Sheridan: Kaman suits up for Germany
•
Sheridan: Unchallenged by Spain in 37-point win
•
Bucher: Unselfishness sets Team USA apart
•
Day 4: Aussies, China clinch medal-round berths
•
Watch: Coach K and the challenge of Team USA
•
Sheridan: Spain's strengths pose challenge
•
Mag: Rubio is Spain's teen phenom
•
Sheridan: Winning Grecian formula for Team USA
•
Broussard: Wade back in elite conversation
•
Day 3: Lithuania, Spain remain undefeated
•
Sheridan: Team USA's Greek strategy
•
Sheridan: Angola was easy, Greece won't be
•
Day 2: China almost upsets Spain; Croatia rolls
•
Forde: U.S.-China game had historic feel
•
Sheridan: Yi struggles against Team USA
•
Day 1 roundup: Argentina upset
•
Israeli, Iranian share embrace
TrueHoop
•
Chris Bosh on Olympic intensity
•
The Next Team USA
•
Suddenly, Team USA looks enormous
•
Spain's joke not funny
•
The other Redeem Team: Spain
•
Dream Team not the model
•
Yao Ming is no Kobe Bryant
•
Team USA's Chinese fans
•
Is Team USA muzzled or not?
Olympic Preview
•
Sheridan: 10 questions for opening round
•
Sheridan: Who will grab gold?
•
Sheridan: Argentina, Russia headline Group A
•
Sheridan: USA, Spain tops in Group B
•
Jackson: Something's missing on USA's roster
•
Kobe & Co. arrive to heroes' welcome in Beijing
•
Ford: Top int'l draft prospects at Olympics
•
Watch: Best internationals in action