Commentary
Group A: Argentina, Russia highlight deep field
Originally Published:
August 8, 2008
By
Chris Sheridan
| ESPN.com
• Click here for Chris Sheridan's preview of Group B
A look at the six teams competing in Group A of the Olympic men's basketball tournament:

Argentina
The defending Olympic champions return several key members of the team that defeated Italy for the gold medal in 2004 in Athens. Four of their five starters --
Manu Ginobili
,
Andres Nocioni
,
Luis Scola
and
Fabricio Oberto
-- are NBA players, and their sixth man,
Carlos Delfino
, was an NBA player, too, before becoming one of several players who accepted more lucrative offers this summer to play in Europe.
Not as deep as they once were, with Walter Herrmann and Ruben Wolkowyski opting to sit out this summer.
Key player: Point guard Pablo Prigioni, who takes over the job held by Pepe Sanchez four years ago.
---

Australia
Known as the Boomers in their homeland, they have been competitive in warm-up matches against Argentina and the United States. During the game against the Americans in Shanghai, they tried to get in the superstars' heads by refusing to call them by their names. "I've got No. 6; you've got No. 11," they'd say when setting up to defend an inbounds play involving LeBron James and Dwight Howard.
But the most striking pre-Olympics Boomers story was told to ESPN.com by retired Aussie power forward Andrew Vlahov:
"At the 1996 worlds, I got into it with Alonzo Mourning and Shawn Kemp, and I told them: 'If either of you want to fight me, one of you will never walk again.'"
Key player: Chris Anstey, the Australian League MVP, who has a better inside-outside game than Andrew Bogut.
---

Croatia
One of three teams to qualify for the Olympics in July at a tournament in Athens. Basketball fans in America won't be familiar with many of Croatia's players, other than
Zoran Planinic
, who spent three years with the
New Jersey Nets
as
Jason Kidd
's backup.
Damir Markota, who spent one season with the Milwaukee Bucks, was left off the final roster after spraining his ankle in Athens. Coach Jasmin Repesa selected 7-footer Damjan Rudez over NBA prospect Ante Tomic as Markota's replacement.
Key player: Davor Kus, a shooting guard who plays professionally for Unicaja Malaga of the Spanish League.
---
Iran
Another team unfamiliar to American basketball fans -- except those who watched the Rocky Mountain Revue summer league in Utah, where Iran lost by 17 to the
Dallas Mavericks
and by 25 to the
Utah Jazz
. Qualified by winning the 2007 FIBA Asia championship, but have zero chance of making it out of the preliminary round.
Key player: Hamad Ehadidi, a 23-year-old, 7-foot-2 center who had 19 points, 16 rebounds and two blocks versus the Mavs to emerge on the radar of NBA scouts. His conditioning, however, is his primary weakness. He declared for the draft in 2004 and was not selected.
---

Lithuania
Finished third in the Olympics in 1992, 1996 and 2000. In 2004, they defeated the United States in the preliminary round in Athens before losing a rematch to the Americans in the bronze-medal game.
A back injury has kept Darius Songaila of the Washington Wizards off the team, but Linas Kleiza of the Denver Nuggets is on board, as is former NBA player Sarunas Jasikevicius, who made seven 3s and scored 28 points in Lithuania's victory over the United States in '04.
Key player: Ramunas Siskauskas, who spent last season with Euroleague champion CSKA Moscow. He can play the 1, 2 or 3, and his offensive game is as crafty as it is unorthodox.
---

Russia
Stunned the basketball world in summer 2007 by defeating Spain in Madrid to win the European Championship. Coached by Israeli-American David Blatt and led by American expatriate J.R. Holden from Pittsburgh, who plays for CSKA Moscow and holds a Russian passport.
They are tall and they are long, but they aren't particularly good shooters. Their best-known star is the Jazz's Andrei Kirilenko, who won MVP honors at EuroBasket last summer.
Key player: Viktor Khryapa, who was added to the 12-man roster Thursday despite missing all of Russia's tuneup games with a sprained ankle.
• Click here for Chris Sheridan's preview of Group B
Chris Sheridan is an ESPN.com Insider. He has covered the U.S. senior national team since the 1996 Olympics. To e-mail Chris, click here.
SPONSORED HEADLINES
MORE OLYMPICS HEADLINES
MOST SENT STORIES ON ESPN.COM
Team USA: Redemption In Beijing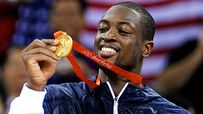 Team USA won the Olympic gold medal in men's basketball after years of frustration.
Roster | Schedule | TV | Scores | Standings
The Redeem Team

Sheridan: 1992 vs. 2008
They redeemed U.S. hoops and reclaimed Olympic gold. So, how does the '08 team stack up to the Dream Team?
Chris Sheridan
•
Sheridan: Dream scene
---

TrueHoop: What next?
Team USA was great in '08. But how will it remain on top of the world? We've got the plan (with a few new faces) moving forward.
TrueHoop
•
TrueHoop: Day of redemption
---

Jackson: Truly redeemed?
Yes, the U.S. men's basketball team recaptured the Olympic gold in Beijing. But did they really accomplish their mission? Depends how you look at it.
Scoop Jackson
---

Hollinger: International flair
Team USA got the gold, but the game of basketball was also a big winner. Here's a look at how the NBA's international stars fared in the Beijing Olympics.
John Hollinger
Medal Round
•
Sheridan: United statement
•
Forde: Coach K deserves praise
•
Hill: Rooting for redemption
•
Sheridan: USA gets revenge vs. Argentina
•
Sheridan: US-Argentina rivalry renewed
•
Sheridan: Dispelling two Team USA myths
•
Sheridan: One down, two to go
•
Sheridan: Quarterfinals roundup
•
Sheridan: A whole new ballgame
•
Sheridan: Previewing the quarterfinals
•
Sheridan: Australia won't be scared
Preliminary Round
•
Day 5: Greece earns date with Argentina
•
Sheridan: Kaman suits up for Germany
•
Sheridan: Unchallenged by Spain in 37-point win
•
Bucher: Unselfishness sets Team USA apart
•
Day 4: Aussies, China clinch medal-round berths
•
Watch: Coach K and the challenge of Team USA
•
Sheridan: Spain's strengths pose challenge
•
Mag: Rubio is Spain's teen phenom
•
Sheridan: Winning Grecian formula for Team USA
•
Broussard: Wade back in elite conversation
•
Day 3: Lithuania, Spain remain undefeated
•
Sheridan: Team USA's Greek strategy
•
Sheridan: Angola was easy, Greece won't be
•
Day 2: China almost upsets Spain; Croatia rolls
•
Forde: U.S.-China game had historic feel
•
Sheridan: Yi struggles against Team USA
•
Day 1 roundup: Argentina upset
•
Israeli, Iranian share embrace
TrueHoop
•
Chris Bosh on Olympic intensity
•
The Next Team USA
•
Suddenly, Team USA looks enormous
•
Spain's joke not funny
•
The other Redeem Team: Spain
•
Dream Team not the model
•
Yao Ming is no Kobe Bryant
•
Team USA's Chinese fans
•
Is Team USA muzzled or not?
Olympic Preview
•
Sheridan: 10 questions for opening round
•
Sheridan: Who will grab gold?
•
Sheridan: Argentina, Russia headline Group A
•
Sheridan: USA, Spain tops in Group B
•
Jackson: Something's missing on USA's roster
•
Kobe & Co. arrive to heroes' welcome in Beijing
•
Ford: Top int'l draft prospects at Olympics
•
Watch: Best internationals in action