Commentary
Group B: Spain, Greece are USA's main competition
Originally Published:
August 8, 2008
By
Chris Sheridan
| ESPN.com
• Click here for Chris Sheridan's preview of Group A
A look at the six teams competing in Group B of the Olympic men's basketball tournament:

Angola
Small but athletic, Angola has won nine of the past 10 FIBA Africa championships and has qualified for five consecutive Olympics. Every member of the roster plays professionally in Angola.
Expect this team to play 40 minutes of zone against the United States, and expect this team to get blown out. The players are undersized but feisty, but nonetheless, the Americans' pressure defense will cause them all sorts of problems.
Key player: Orlando Cipriano, known as the Gilbert Arenas of Africa for his style of play, although he is a 6-foot-3 small forward. He shot 64 percent from the field at the recent DiamondBall tournament in Nanjing.
---

China
Very big along the front line with 7-foot-6
Yao Ming
, 7-foot-2 Wang Zhi-Zhi and 7-footer
Yi Jianlian
, but the problem -- especially against the United States -- will be advancing the ball upcourt and getting it into those players' hands -- especially when starting point guard Liu Wei is out of the game.
Not a good defensive team, and there is a ton of pressure on these players to make it to the quarterfinals as they did in 2004, when they stunned Serbia-Montenegro to reach the final eight for the first time. Coached by Lithuanian Jonas Kaslauskas, who is assisted by Dallas Mavericks general manager Donnie Nelson.
Key player: Yao, whose conditioning is poor as he continues to recover from a broken foot that prematurely ended his 2007-08 NBA season.
---

Germany
In the past, this team could be dismissed as
Dirk Nowitzki
and 11 stiffs. Now, it is more competitive, with Nowitzki and
Chris Kaman
(whose grandfather was German, which earned him a German passport earlier this year) giving the team a formidable tandem of 7-footers.
Managed to stay with the Americans for 20 minutes in the 2006 World Championship quarterfinals, but didn't have the depth or talent to keep things competitive in the second half. An advantage: Like the Greeks and the Croats, the Germans have been together all summer since they had to qualify at the tournament in Athens.
Key player: Nowitzki, who cannot be keyed upon as much as he was in the past due to Kaman's presence.
---
Greece
What I like to call a smashmouth team, a collection of tough, physical players who are masters at dictating the tempo of play. They are big at every position but center, but at that spot, they are especially wide. Pivot man Sofoklis Schortsianitis, known as "Baby Shaq" in Greece, is back with the national team after sitting out summer 2007 because he had put on too much weight.
Shooting guard Dimitrios Diamantidis is crafty but inconsistent, and veteran backup point guard Theo Papaloukas (who played for CSKA Moscow last season) is uncommonly good at making clutch plays at the end after being all but invisible over the first 35 minutes.
Key player: Vassilis Spanoulis, who hurt the Americans from the 3-point line in the semifinals at the 2006 World Championship.
---

Spain
The Spanish go nine deep with quality players, and they've been getting especially inspired play in their warm-ups from
Pau Gasol
's brother,
Marc
, who will play for the
Memphis Grizzlies
in 2008-09.
Their backcourt of Jose Calderon and Juan Carlos Navarro is strong, but the player to watch is 17-year-old point guard Ricky Rubio, who has been drawing comparisons to Pistol Pete Maravich since he was 15.
Easily defeated Argentina in two warm-ups, and should be considered the biggest threat to challenge the United States for the gold medal.
Key player: Pau Gasol, who was a bigger disappointment for Spain in the summer of 2007 (five missed free throws in the fourth quarter versus Russia, and missed the game's final shot in the European Championship) than he was for the Los Angeles Lakers in the NBA Finals.
---

United States of America
The Redeem Team, as the players want to be known, is incredibly gifted athletically. The Americans will try to use their quickness and defensive aggression to create turnovers and transition baskets. Their biggest question mark is their lack of size, and they have given up a lot of open looks in their five tuneup games.
It is unknown how they will respond if they have to play from behind, and American teams have tended to panic in such situations in the past three major international competitions. The favorite to win the gold, but far from a lock.
Key player: Kobe Bryant, who is competing in a FIBA tournament for the first time and also contending with LeBron James for alpha-dog status on this team.
• Click here for Chris Sheridan's preview of Group A
Chris Sheridan is an ESPN.com Insider. He has covered the U.S. senior national team since the 1996 Olympics. To e-mail Chris, click here.
SPONSORED HEADLINES
MORE OLYMPICS HEADLINES
MOST SENT STORIES ON ESPN.COM
Team USA: Redemption In Beijing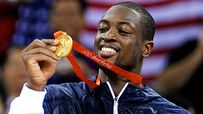 Team USA won the Olympic gold medal in men's basketball after years of frustration.
Roster | Schedule | TV | Scores | Standings
The Redeem Team

Sheridan: 1992 vs. 2008
They redeemed U.S. hoops and reclaimed Olympic gold. So, how does the '08 team stack up to the Dream Team?
Chris Sheridan
•
Sheridan: Dream scene
---

TrueHoop: What next?
Team USA was great in '08. But how will it remain on top of the world? We've got the plan (with a few new faces) moving forward.
TrueHoop
•
TrueHoop: Day of redemption
---

Jackson: Truly redeemed?
Yes, the U.S. men's basketball team recaptured the Olympic gold in Beijing. But did they really accomplish their mission? Depends how you look at it.
Scoop Jackson
---

Hollinger: International flair
Team USA got the gold, but the game of basketball was also a big winner. Here's a look at how the NBA's international stars fared in the Beijing Olympics.
John Hollinger
Medal Round
•
Sheridan: United statement
•
Forde: Coach K deserves praise
•
Hill: Rooting for redemption
•
Sheridan: USA gets revenge vs. Argentina
•
Sheridan: US-Argentina rivalry renewed
•
Sheridan: Dispelling two Team USA myths
•
Sheridan: One down, two to go
•
Sheridan: Quarterfinals roundup
•
Sheridan: A whole new ballgame
•
Sheridan: Previewing the quarterfinals
•
Sheridan: Australia won't be scared
Preliminary Round
•
Day 5: Greece earns date with Argentina
•
Sheridan: Kaman suits up for Germany
•
Sheridan: Unchallenged by Spain in 37-point win
•
Bucher: Unselfishness sets Team USA apart
•
Day 4: Aussies, China clinch medal-round berths
•
Watch: Coach K and the challenge of Team USA
•
Sheridan: Spain's strengths pose challenge
•
Mag: Rubio is Spain's teen phenom
•
Sheridan: Winning Grecian formula for Team USA
•
Broussard: Wade back in elite conversation
•
Day 3: Lithuania, Spain remain undefeated
•
Sheridan: Team USA's Greek strategy
•
Sheridan: Angola was easy, Greece won't be
•
Day 2: China almost upsets Spain; Croatia rolls
•
Forde: U.S.-China game had historic feel
•
Sheridan: Yi struggles against Team USA
•
Day 1 roundup: Argentina upset
•
Israeli, Iranian share embrace
TrueHoop
•
Chris Bosh on Olympic intensity
•
The Next Team USA
•
Suddenly, Team USA looks enormous
•
Spain's joke not funny
•
The other Redeem Team: Spain
•
Dream Team not the model
•
Yao Ming is no Kobe Bryant
•
Team USA's Chinese fans
•
Is Team USA muzzled or not?
Olympic Preview
•
Sheridan: 10 questions for opening round
•
Sheridan: Who will grab gold?
•
Sheridan: Argentina, Russia headline Group A
•
Sheridan: USA, Spain tops in Group B
•
Jackson: Something's missing on USA's roster
•
Kobe & Co. arrive to heroes' welcome in Beijing
•
Ford: Top int'l draft prospects at Olympics
•
Watch: Best internationals in action