Commentary
Dispelling two myths on eve of US-Argentina semifinal
Originally Published:
August 21, 2008
By
Chris Sheridan
| ESPN.com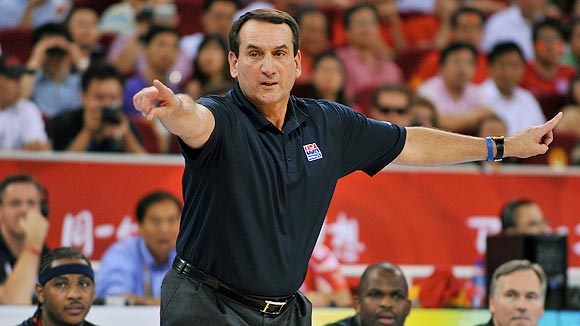 Garrett Ellwood/NBAE/Getty ImagesTimes have changed, especially in today's basketball world. Just ask Coach Krzyzewski and Team USA.

BEIJING -- There are two myths being perpetuated back home in the United States which need to be addressed before we get to tipoff of the US-Argentina semifinal Friday.
(To skip today's sermon and get to the hoops preview, click here.)
Myth No. 1: It is impossible for Team USA to lose.
Myth No. 2: Winning the gold medal is going to be easy.
And since a certain percentage of my loyal readers have made it clear -- both in their ESPN Conversation comments beneath my stories and in their e-mails flooding my inbox -- that they're tired of me writing that this tournament is far from over, I decided Thursday to let someone else pontificate.
Coach Mike Krzyzewski, the floor is yours. Please speak to the notion of Myth No. 1:
"You and I both know better, and our players do not feel that way. And when you start saying 'easy' and 'impossible to lose,' we're going back to those few years ago where we're arrogant, we don't respect, and we don't know. And we're past those times. Hopefully with the experiences we've had over the past three years, we'll never visit those places again. Then we'll have a better chance to win. But we're not going back there, not as long as any of the people involved in this program go forward, because you set yourself up to lose. And we've gotten better, and American basketball has gotten better, because we've learned that we can learn from others.
"The thing that our American fans don't understand is that we've learned from other international coaches, from the way they conceive their systems, from individual players. We've always looked at it from an American basketball culture that we're always giving knowledge to the world. And that has changed. They're giving knowledge, and we're sharing knowledge of the game. To me, that's the one of best things about this whole experience, and I think the world sees that in us. They know we're not kidding when we say that, and that's something we have to take forward.
"Basketball is played at a high level all over the world; that's why a third of the NBA is international. I mean, why don't we come to the full realization that there are a lot of really good players and a lot of good systems all over the world?"
And to address Myth No. 2, we bring in USA assistant coach Jim Boeheim:
"Most people think coaching is just showing up at the game at 8 o'clock. There's a lot of people that think that. They don't know the tape work, the behind-the-scenes work, and the reality is that if you do all that, it might make a hard game seem easy. We've been preparing knowing that the last two games would be the hardest. So I wouldn't be surprised at all that we're going to have a hard game. Everybody thinks they're going to be 20-, 30-point blowouts, but that's not necessarily true. When you win and it looks easy, the public thinks it is easy. That's not the case. Until we started to make some shots yesterday [against Australia], that game was difficult.
"There is no impossible in the world of sports, absolutely not -- not in today's basketball world. You could have said in '92 it was impossible for that team to lose, and I would have agreed with you, but in today's world? No. That's the farthest thing from the truth. Somebody gets hurt, a key guy gets in foul trouble, somebody shoots 65 percent like Greece did against us a couple years ago -- there is no impossible in sports. Like they said, that's why they play the games, and these last two games should be great games."
So think about those words from those two coaches, my loyal American readers, before you click the "Comments" button. Those comments are read worldwide, and the lower the level of discourse drops, the more ignorant all Americans look.
To think this is going to be easy is an affront to the U.S. players who have invested three years of their lives in trying to restore American basketball to worldwide prominence. They're the ones in the gym and the weight room for more hours than you could imagine; they're the ones staying up an extra hour or two to study DVDs of their opponents' tendencies. It's a disservice, too, to those coaches and scouts who stayed up until 4 a.m. local time Thursday breaking down tape of the Argentina-Greece game, formulating a game plan, adjusting their scouting reports and depriving themselves of sleep.
They are trying to win this for everyone back in the States, even those who can't or won't understand how difficult it has been to arrive at this point with so much confidence and momentum, and how tough it's going to be to win the next two games.
As I've written, I think Team USA is going to win both, but I won't be shocked if they don't.
Either way, as an American (one who covers their games neutrally and objectively because it's my job to do so), I'm proud of how my nation's basketball program is in a much better place than it has been at any time during this decade.
But it hasn't been easy for them, it won't be easy Friday and Sunday, and it is not impossible for them to lose. Team USA has already accepted that reality, and it's time for more folks back home to wise up, too.
Chris Sheridan is an ESPN.com Insider. He has covered the U.S. senior national team since the 1996 Olympics. To e-mail Chris, click here.
Team USA: Redemption In Beijing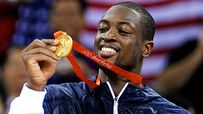 Team USA won the Olympic gold medal in men's basketball after years of frustration.
Roster | Schedule | TV | Scores | Standings
The Redeem Team

Sheridan: 1992 vs. 2008
They redeemed U.S. hoops and reclaimed Olympic gold. So, how does the '08 team stack up to the Dream Team?
Chris Sheridan
•
Sheridan: Dream scene
---

TrueHoop: What next?
Team USA was great in '08. But how will it remain on top of the world? We've got the plan (with a few new faces) moving forward.
TrueHoop
•
TrueHoop: Day of redemption
---

Jackson: Truly redeemed?
Yes, the U.S. men's basketball team recaptured the Olympic gold in Beijing. But did they really accomplish their mission? Depends how you look at it.
Scoop Jackson
---

Hollinger: International flair
Team USA got the gold, but the game of basketball was also a big winner. Here's a look at how the NBA's international stars fared in the Beijing Olympics.
John Hollinger
Medal Round
•
Sheridan: United statement
•
Forde: Coach K deserves praise
•
Hill: Rooting for redemption
•
Sheridan: USA gets revenge vs. Argentina
•
Sheridan: US-Argentina rivalry renewed
•
Sheridan: Dispelling two Team USA myths
•
Sheridan: One down, two to go
•
Sheridan: Quarterfinals roundup
•
Sheridan: A whole new ballgame
•
Sheridan: Previewing the quarterfinals
•
Sheridan: Australia won't be scared
Preliminary Round
•
Day 5: Greece earns date with Argentina
•
Sheridan: Kaman suits up for Germany
•
Sheridan: Unchallenged by Spain in 37-point win
•
Bucher: Unselfishness sets Team USA apart
•
Day 4: Aussies, China clinch medal-round berths
•
Watch: Coach K and the challenge of Team USA
•
Sheridan: Spain's strengths pose challenge
•
Mag: Rubio is Spain's teen phenom
•
Sheridan: Winning Grecian formula for Team USA
•
Broussard: Wade back in elite conversation
•
Day 3: Lithuania, Spain remain undefeated
•
Sheridan: Team USA's Greek strategy
•
Sheridan: Angola was easy, Greece won't be
•
Day 2: China almost upsets Spain; Croatia rolls
•
Forde: U.S.-China game had historic feel
•
Sheridan: Yi struggles against Team USA
•
Day 1 roundup: Argentina upset
•
Israeli, Iranian share embrace
TrueHoop
•
Chris Bosh on Olympic intensity
•
The Next Team USA
•
Suddenly, Team USA looks enormous
•
Spain's joke not funny
•
The other Redeem Team: Spain
•
Dream Team not the model
•
Yao Ming is no Kobe Bryant
•
Team USA's Chinese fans
•
Is Team USA muzzled or not?
Olympic Preview
•
Sheridan: 10 questions for opening round
•
Sheridan: Who will grab gold?
•
Sheridan: Argentina, Russia headline Group A
•
Sheridan: USA, Spain tops in Group B
•
Jackson: Something's missing on USA's roster
•
Kobe & Co. arrive to heroes' welcome in Beijing
•
Ford: Top int'l draft prospects at Olympics
•
Watch: Best internationals in action

MOST SENT STORIES ON ESPN.COM