Commentary
Quarterfinals roundup: Spain, Argentina and Lithuania advance
Originally Published:
August 20, 2008
By
Chris Sheridan
| ESPN.com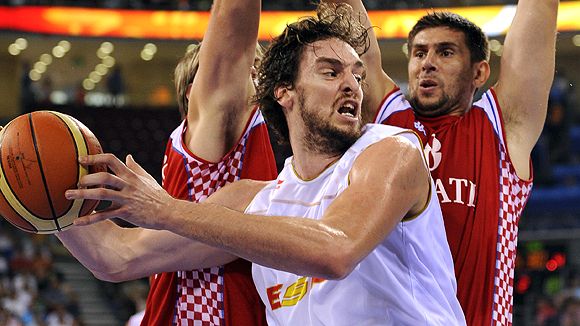 TIMOTHY A. CLARY/AFP/Getty ImagesPau Gasol scored 20 points and grabbed 10 rebounds against Croatia in the Olympic quarterfinals.

BEIJING -- After what Jose Calderon did to lock up Spain's place in the semifinals, perhaps his coach will decide it's finally time to put him back where he belongs -- in the starting lineup.
But only if Calderon's groin injury is not too serious.
Calderon had back-to-back assists on nearly identical driving baskets from the left wing by Rudy Fernandez at the start of the fourth quarter, igniting a 12-0 run that broke open the game as Spain defeated Croatia 72-59 on Wednesday in the Olympic men's basketball quarterfinals.
Calderon again began the game on the bench as coach Aito Garcia Reneses started 17-year-old phenom Ricky Rubio. But Rubio showed more flashes of klutziness than brilliance before Calderon steadied the team.
Calderon was on the floor at the start of the fourth quarter, and his 17-foot jumper from the wing capped off the 12-0 run and put Spain ahead 63-41.
Calderon has not started the last five of Spain's six games, with Garcia Reneses going instead with Rubio or Raul Lopez. Rubio actually had his best play of the game early in the first quarter, grabbing a loose ball in the lane with his right hand and quickly flicking a touch pass to Pau Gasol for a dunk that put Spain ahead 8-1.
Croatia didn't get its first field goal until 3:28 remained in the first quarter, but Spain had difficulty putting its opponent away. Rubio tried a between-the-legs crossover move midway through the second quarter and turned the ball over, leading to a fast-break layup by Roko Ukic that cut Croatia's deficit to 11.
With Spain ahead 42-26 in the third quarter, Rubio tried an off-the-backboard alley-oop pass that none of his teammates was expecting, and it ended up not hurting Spain only because Gasol raced downcourt and blocked a transition 3-point attempt from the corner.
Croatia pulled to 51-41 on a 3-pointer by Marko Tomas to open the fourth quarter before Calderon made three big plays -- the two assists to Fernandez and a trap on Zoran Planinic in between that resulted in a turnover. Calderon hobbled off with 1:49 remaining after appearing to strain his right groin muscle.
Gasol led Spain with 20 points on 8-of-11 shooting with 10 rebounds and three blocks. Calderon shot 4-for-5 overall and 2-for-2 from 3-point range for 10 points in just 18 minutes of playing time. Rubio played 17 minutes, shot 1-for-3 and had one assist, three turnovers and two fouls.
Garcia Reneses conducted his postgame press conference in Spanish and did not field any questions regarding the point guards, though he did acknowledge his team's confidence was shaken by its 37-point loss to Team USA in the opening round.
Gasol was asked afterward about the prospect of defeating the United States in the gold-medal game.
"I don't think nothing is impossible, that's my philosophy in life," Gasol said. "I don't think they're impossible to beat, but I think they are very hard to beat. If we earn a chance, we'll try again."
---


Argentina 80, Greece 78
There were 15 lead changes and seven ties, and neither team led by more than seven points in this barnburner that came down to the final minute.
With Argentina ahead 78-75, Pablo Prigioni deflected a pass to force a backcourt violation. Manu Ginobili then got the ball isolated at the top of the key against Theo Papaloukas, drove to his right and got around the Greek veteran, uncorking a high-arching left-handed shot -- with topspin on it, no less -- that floated through to make it 80-75 with 47 seconds left.
Panagiotis Vasilopoulos then took a pass from Dimitrios Diamantidis at a little left of the top of the key and banked in a 3-pointer (anyone know how to call "glass" in Greek?), making it a two-point game.
There was a six-second differential between the game clock and the shot clock, and Argentina again got the ball to Ginobili isolated against Papaloukas straightaway. Ginobili started to drive again to his right, but seeing his defender sag off, he pulled up and shot it from 3-point range. The shot was no good, and Greece rebounded and headed the other way. (Unlike in the NBA, you cannot call timeout in such a situation.)
Vassilis Spanoulis pulled up from about 10 feet to the right of where Vasilopoulos made his shot from and got off a clean look, but the shot was off-target, and the final 2 seconds ticked off the clock as the teams scrambled for the rebound.
Argentina moves on to a semifinal matchup against the U.S. -- a rematch of the 2004 Olympic semifinal -- while Greece is heading home.
Ginobili scored 24, Carlos Delfino had 23, and Argentina made 14 3-pointers (six by Ginobili) to the Greeks' eight.
---

Lithuania 94, China 68
The VIP parking lot at Wukesong Arena was jam-packed with identical shiny, black Audi sedans, an indication that nearly every big shot from the Chinese Olympic federation was in the house to see whether history would be made.
China has never advanced past the quarterfinals in men's hoops. And this would not be the year it happened.
With centers Robertas Javtokas and Marijonas Petravicius fronting and bodying Yao Ming with a physicality that would never be permitted in the NBA, the big man scored only seven first-half points as China fell behind 41-30 on a buzzer-beating 3-pointer by Ramunas Siskauskas right before the half.
Rimantas Kaukenas and Linas Kleiza hit back-to-back 3s midway through the third quarter to get the lead up to 16, and Kleiza's 3 late in the third sent groans through the packed house -- except for the colorfully clad Lithuanian cheering section in the end-zone seats -- after China had pulled within 12. Yi Jianlian picked up his fourth foul with 46 seconds left in the quarter, and Sarunas Jasikevicius drilled a 3 to end the period with Lithuania up by 17.
After Simas Jasaitis knocked down Lithuania's 13th 3 midway through the fourth quarter to make it a 25-point game, Yao walked slowly back downcourt with his head bowed.
"It's a regret for us," China guard Liu Wei said. "We lost to Lithuania four years ago in Athens. Our team has made progress in the past four years, but it is still not enough to upset Lithuania. We did not execute our tactics well. We did not grasp chances."
Jasikevicius scored 23 points, Siskauskas had 15 and Kleiza 13 for Lithuania, which will play Spain in the semifinals. Yao scored 19 (11 from the free-throw line) for China.
Chris Sheridan is an ESPN.com Insider. He has covered the U.S. senior national team since the 1996 Olympics. To e-mail Chris, click here.
Team USA: Redemption In Beijing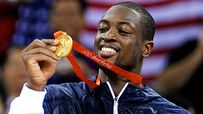 Team USA won the Olympic gold medal in men's basketball after years of frustration.
Roster | Schedule | TV | Scores | Standings
The Redeem Team

Sheridan: 1992 vs. 2008
They redeemed U.S. hoops and reclaimed Olympic gold. So, how does the '08 team stack up to the Dream Team?
Chris Sheridan
•
Sheridan: Dream scene
---

TrueHoop: What next?
Team USA was great in '08. But how will it remain on top of the world? We've got the plan (with a few new faces) moving forward.
TrueHoop
•
TrueHoop: Day of redemption
---

Jackson: Truly redeemed?
Yes, the U.S. men's basketball team recaptured the Olympic gold in Beijing. But did they really accomplish their mission? Depends how you look at it.
Scoop Jackson
---

Hollinger: International flair
Team USA got the gold, but the game of basketball was also a big winner. Here's a look at how the NBA's international stars fared in the Beijing Olympics.
John Hollinger
Medal Round
•
Sheridan: United statement
•
Forde: Coach K deserves praise
•
Hill: Rooting for redemption
•
Sheridan: USA gets revenge vs. Argentina
•
Sheridan: US-Argentina rivalry renewed
•
Sheridan: Dispelling two Team USA myths
•
Sheridan: One down, two to go
•
Sheridan: Quarterfinals roundup
•
Sheridan: A whole new ballgame
•
Sheridan: Previewing the quarterfinals
•
Sheridan: Australia won't be scared
Preliminary Round
•
Day 5: Greece earns date with Argentina
•
Sheridan: Kaman suits up for Germany
•
Sheridan: Unchallenged by Spain in 37-point win
•
Bucher: Unselfishness sets Team USA apart
•
Day 4: Aussies, China clinch medal-round berths
•
Watch: Coach K and the challenge of Team USA
•
Sheridan: Spain's strengths pose challenge
•
Mag: Rubio is Spain's teen phenom
•
Sheridan: Winning Grecian formula for Team USA
•
Broussard: Wade back in elite conversation
•
Day 3: Lithuania, Spain remain undefeated
•
Sheridan: Team USA's Greek strategy
•
Sheridan: Angola was easy, Greece won't be
•
Day 2: China almost upsets Spain; Croatia rolls
•
Forde: U.S.-China game had historic feel
•
Sheridan: Yi struggles against Team USA
•
Day 1 roundup: Argentina upset
•
Israeli, Iranian share embrace
TrueHoop
•
Chris Bosh on Olympic intensity
•
The Next Team USA
•
Suddenly, Team USA looks enormous
•
Spain's joke not funny
•
The other Redeem Team: Spain
•
Dream Team not the model
•
Yao Ming is no Kobe Bryant
•
Team USA's Chinese fans
•
Is Team USA muzzled or not?
Olympic Preview
•
Sheridan: 10 questions for opening round
•
Sheridan: Who will grab gold?
•
Sheridan: Argentina, Russia headline Group A
•
Sheridan: USA, Spain tops in Group B
•
Jackson: Something's missing on USA's roster
•
Kobe & Co. arrive to heroes' welcome in Beijing
•
Ford: Top int'l draft prospects at Olympics
•
Watch: Best internationals in action

MOST SENT STORIES ON ESPN.COM