Commentary
Day 4: Bogut, Aussies eliminate Russia; China clinches medal-round berth
Originally Published:
August 16, 2008
By
Chris Sheridan
| ESPN.com
The Boomers will be in the Olympic quarterfinals, and the reigning European champions will not.
On a pivotal day when the final eight teams were determined -- two days prior to the end of the preliminary round, and four days before the quarterfinals -- Australia got 22 points from Andrew Bogut to defeat Russia 95-80.
China also clinched a spot in the final eight by defeating Germany 59-55, joining the other qualifiers from Group B: Greece, Spain and the United States. The qualifiers from Group A are Lithuania, Argentina, Croatia and Australia.
Australia will likely finish fourth in Group A, meaning it will face the United States in the quarterfinals. (Only a loss by Croatia against winless Iran, along with a victory by Australia over undefeated Lithuania on Monday, can keep that from happening.)
"We're going to have to punch out our way, but that's what an Aussie does," coach Brian Goorjian said.
C.J. Bruton also scored 22 points for the Australians, who were in control after using a 13-0 run to take a 32-16 lead in the second quarter. Bogut shot 8-for-13 -- including 2-of-3 from 3-point range -- and helped hold Andrei Kirilenko to just six points on 1-of-10 shooting.
Australia did not even qualify for the 2004 Olympics after finishing fourth in 2000 and 1996.
"We've been second-class citizens, a team that has not been able to get over the hump and beat a European power," Goorjian said. "We talked before the game, and I told my team it all comes down to today. For me, today was a trademark of seven years of hard work.
Australia lost its first two games to Croatia and Argentina before defeating Iran and Russia. They finish preliminary round play on Monday against Lithuania.
"I didn't see it coming," said a dejected Russian coach David Blatt, whose team upset Spain in Madrid last summer to win the European championship. "We're at the end of a three-year process, and it didn't end as well as it was in the middle, but that is something we'll have to come back from."
---
China 59, Germany 55
[+] Enlarge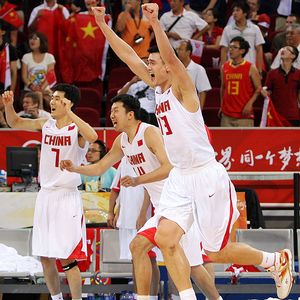 Streeter Lecka/Getty ImagesYao Ming and China got a win that assured a medal-round berth.
Yao Ming was pumping his fists like crazy, both during the game and after it.
The big man scored 25 points, and Yi Jianlian sank a clutch 18-footer from the right wing with 28 seconds left to put China ahead 58-55.
"I was thinking of nothing at that time. It was totally out of intuition," said Yi, who had nine points and 11 rebounds in his best game of the tournament.
After a timeout, Germany got Dirk Nowitzki (24 points, 17 rebounds) open for a 3, but it spun around the rim and missed. Yao hit one of two free throws to make it a four-point lead, and Yi hounded Nowitzki as he brought the ball upcourt, allowing Liu Wei to sneak up behind Nowitzki and steal the ball.
"This is a historic moment for everyone to witness," Yi said.
---
Lithuania 86, Croatia 73
Linas Kleiza knocked down a 3-pointer early in the fourth quarter -- one of three he made in the period -- to begin a game-breaking 17-3 run that wrapped up first place in Group A for the undefeated Lithuanians.
Lithuania could still lose Monday to Australia and finish with the same record as Argentina, but it would win the tiebreaker because it defeated Argentina 79-75 on the opening night of the tournament.
"If anything, we need a good day off," Lithuanian guard Sarunas Jasikevicius said.
Kleiza scored 18, going 4-for-6 from 3-point range, and shooting guard Mindaugas Lukauskis came off the bench to hit three 3-pointers and score a team-high 20 points.
"One of our coaches said [Lukauskis] was going to be a dark horse. In our pretournament games he was our most consistent player, so for me it was not surprising," Jasikevicius said.
---
Argentina 97, Iran 82
High-scoring honors for the tournament now belong to Manu Ginobili, who went for 32 on 10-for-14 shooting.
The scoring outburst moved Ginobili (21.5) ahead of Yao (19.8) for first place in individual scoring at the Olympics, with Dwyane Wade and Nowitzki (17.8) tied for third. Ginobili is third in assists (5.3) behind LeBron James and Jasikevicius (5.5). Wade leads everyone in field goal percentage (73 percent), and Ginobili (93.5 percent) is second in free-throw shooting behind Nowitzki (94.7)
Luis Scola added 20 points and seven rebounds, and Iranian center Hamed Ehadadi improved his NBA prospects by scoring 21 points with 16 rebounds.
---
Greece 102, Angola 61
Ioannis Bourousis, a 7-foot-1 center who will be Josh Childress' teammate next season with Olympiacos in Athens, shot 9-for-9 and scored 22 points in just 13 minutes as Greece kept Angola winless. Georgios Printezis, whose NBA rights are owned by the Toronto Raptors, added 14 points in 13 minutes, shooting 5-for-6.
Greece will play China on Monday, with the winner earning third place in Group B and a quarterfinal matchup against Argentina. The loser will face Lithuania in the quarterfinals.
Chris Sheridan is an ESPN.com Insider. He has covered the U.S. senior national team since the 1996 Olympics. To e-mail Chris, click here.
SPONSORED HEADLINES
MORE OLYMPICS HEADLINES
MOST SENT STORIES ON ESPN.COM
Team USA: Redemption In Beijing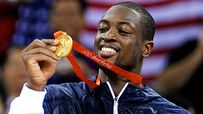 Team USA won the Olympic gold medal in men's basketball after years of frustration.
Roster | Schedule | TV | Scores | Standings
The Redeem Team

Sheridan: 1992 vs. 2008
They redeemed U.S. hoops and reclaimed Olympic gold. So, how does the '08 team stack up to the Dream Team?
Chris Sheridan
•
Sheridan: Dream scene
---

TrueHoop: What next?
Team USA was great in '08. But how will it remain on top of the world? We've got the plan (with a few new faces) moving forward.
TrueHoop
•
TrueHoop: Day of redemption
---

Jackson: Truly redeemed?
Yes, the U.S. men's basketball team recaptured the Olympic gold in Beijing. But did they really accomplish their mission? Depends how you look at it.
Scoop Jackson
---

Hollinger: International flair
Team USA got the gold, but the game of basketball was also a big winner. Here's a look at how the NBA's international stars fared in the Beijing Olympics.
John Hollinger
Medal Round
•
Sheridan: United statement
•
Forde: Coach K deserves praise
•
Hill: Rooting for redemption
•
Sheridan: USA gets revenge vs. Argentina
•
Sheridan: US-Argentina rivalry renewed
•
Sheridan: Dispelling two Team USA myths
•
Sheridan: One down, two to go
•
Sheridan: Quarterfinals roundup
•
Sheridan: A whole new ballgame
•
Sheridan: Previewing the quarterfinals
•
Sheridan: Australia won't be scared
Preliminary Round
•
Day 5: Greece earns date with Argentina
•
Sheridan: Kaman suits up for Germany
•
Sheridan: Unchallenged by Spain in 37-point win
•
Bucher: Unselfishness sets Team USA apart
•
Day 4: Aussies, China clinch medal-round berths
•
Watch: Coach K and the challenge of Team USA
•
Sheridan: Spain's strengths pose challenge
•
Mag: Rubio is Spain's teen phenom
•
Sheridan: Winning Grecian formula for Team USA
•
Broussard: Wade back in elite conversation
•
Day 3: Lithuania, Spain remain undefeated
•
Sheridan: Team USA's Greek strategy
•
Sheridan: Angola was easy, Greece won't be
•
Day 2: China almost upsets Spain; Croatia rolls
•
Forde: U.S.-China game had historic feel
•
Sheridan: Yi struggles against Team USA
•
Day 1 roundup: Argentina upset
•
Israeli, Iranian share embrace
TrueHoop
•
Chris Bosh on Olympic intensity
•
The Next Team USA
•
Suddenly, Team USA looks enormous
•
Spain's joke not funny
•
The other Redeem Team: Spain
•
Dream Team not the model
•
Yao Ming is no Kobe Bryant
•
Team USA's Chinese fans
•
Is Team USA muzzled or not?
Olympic Preview
•
Sheridan: 10 questions for opening round
•
Sheridan: Who will grab gold?
•
Sheridan: Argentina, Russia headline Group A
•
Sheridan: USA, Spain tops in Group B
•
Jackson: Something's missing on USA's roster
•
Kobe & Co. arrive to heroes' welcome in Beijing
•
Ford: Top int'l draft prospects at Olympics
•
Watch: Best internationals in action