Commentary
Day 5: Greece earns a date with Argentina
Originally Published:
August 18, 2008
By
Chris Sheridan
| ESPN.com
BEIJING -- Self-respect, along with the prospect of getting revenge against Argentina was more enticing to Greece than the notion of avoiding Team USA.
Greece used a full-court press to open a large early lead, then held off China throughout the second half of a 91-77 victory on Monday.
The win gave Greece third place in Group B, putting it into a quarterfinal matchup against Argentina and a possible semifinal game against the United States.
[+] Enlarge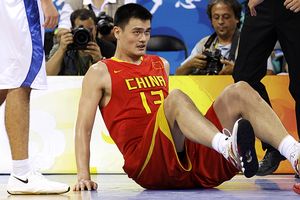 AP Photo/Eric GayYao Ming did not get as much floor time against Greece as he wanted.
"We hope we will have a little revenge against them, because they knocked us out of the tournament in Athens, when we were at home," said Greek guard Nikolaos Zisis.
There was speculation beforehand that Greece might tank the game, which would allow it to place fourth and avoid a potential matchup with Team USA until the gold medal game.
Or, the Greeks even could have used a little-known FIBA rule and defaulted the game (Article 21 in the FIBA rulebook), playing 39 minutes and then refusing to send more than one player onto the court, since any team losing by default still gets one point in the standings, the same as a regular loss, whereas zero points are awarded to a team that forfeits. (Egypt had a 2-0 forfeit loss against the United States at the 1976 Montreal Olympics when 28 countries boycotted the Games for political reasons, and the 1936 U.S. team had a 2-0 forfeit victory over Spain when the Spanish Civil War prevented the Spanish basketball team from traveling to Berlin. Egypt also forfeited its final two games in 1972 when its delegation left the Games following the Munich massacre).
But Greece coach Panagiotis Yannakis is not a proponent of funny business, believing it always backfires on the tanker, and his team came to play.
Dimitrios Diamantidis made two key plays against Yi Jianlian -- first stealing the ball from him and going in uncontested for a layup, then driving around Yi for a layup that made it 27-13. The lead grew to 38-17 early in the second quarter before Konstantinos Tsartsaris drew the ire of the Chinese crowd with a hard takedown of Yao Ming -- Greece went up by 22 at halftime.
Yao played only 7.5 minutes in the second half and appeared upset when coach Jonas Kazlauskas pulled him in the third quarter.
"If it were close, for sure Yao would have played a longer time," Kazlauskas said. "He is a fighter, he wants to play. I am the coach he is a player. I am the guy that makes the decisions."
Yao led China with 16 points, while Ioannis Bourousis and Vassilis Spanoulis had 19 apiece for Greece.
---
Australia 106, Lithuania 75
[+] Enlarge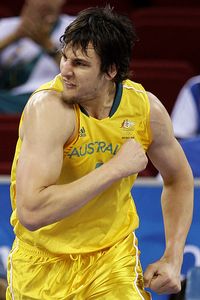 AP Photo/Eric GayAndrew Bogut was pumped up, making 10-of-12 shots against Lithuania.
The 31-point loss knocked Lithuania (4-1) from the ranks of the unbeaten, though it still finished first in Group A because of its tiebreaking head-to-head win over Argentina (4-1).
Andrew Bogut went 3-for-3 from 3-point range and scored 23 points on 10-for-12 shooting, and Australia made 16 3s overall -- including 3-for-3 shooting by both Brad Newley and Chris Anstey.
A 19-0 run put Australia ahead 52-27, and the lead eventually reached 38 as The Boomers, as they're known Down Under, shot 57 percent and forced 25 turnovers.
Australia will face the United States in the quarterfinals.
"We have to blame ourselves for this loss," Lithuania's Sarunas Jasikevicius said. "We let them play, and they took advantage, they made shots, they outhustled us, they were more motivated. I don't think it'll be the case in the quarterfinals against the States, but this team is good. They have an inside-outside team, they have players that won't be afraid of the U.S. These guys are good, definitely."
---
Argentina 91, Russia 79
This one stayed close past halftime, but Luis Scola calmly sank a 17-footer midway through the third period to put Argentina up 16, and Pablo Prigioni sank a 24-foot set shot to make it 66-50.
Game over? No.
Russia pulled to 78-75 before Scola made two from the line and grabbed a defensive rebound. A 3-pointer by Manu Ginobili with 4:40 left made it an 8-point game, and Argentina had enough stops the rest of the way to finish Russia off.
Scola scored 37 -- the most by anyone in this tournament, going 12-for-16 from the field and 13-for-16 at the line, and Andres Nocioni scored 19.
Argentina is the most likely opponent for Team USA in the semifinals, but first it must defeat Greece.
---
Spain 98, Angola 50
Pau Gasol scored 31 points, making 13 of 14 shots against Angola's undersized front line, and power forwards Alex Mumbru and Jorge Garbajosa each had four of Spain's 17 steals.
Spain captain Carlos Jimenez returned after missing two games with a bruised lower back, started and played 20 minutes. Ricky Rubio also started and had five assists, three steals and two points in 13 minutes, keeping Angola (0-5) winless for the second straight Olympics.
---
Croatia 91, Iran 57
Croatia had a 17-0 run in the first quarter to take a 19-6 lead, and it was 58-23 before Iran had its best spurt -- a 9-0 run. Marko Popovic remained sidelined for a second straight game with a foot injury, and it is unclear if he'll be available in the quarterfinals against Spain. Iran (0-5) shot just 3-for-26 from 3-point range.
Chris Sheridan is an ESPN.com Insider. He has covered the U.S. senior national team since the 1996 Olympics. To e-mail Chris, click here.
Team USA: Redemption In Beijing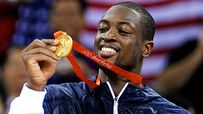 Team USA won the Olympic gold medal in men's basketball after years of frustration.
Roster | Schedule | TV | Scores | Standings
The Redeem Team

Sheridan: 1992 vs. 2008
They redeemed U.S. hoops and reclaimed Olympic gold. So, how does the '08 team stack up to the Dream Team?
Chris Sheridan
•
Sheridan: Dream scene
---

TrueHoop: What next?
Team USA was great in '08. But how will it remain on top of the world? We've got the plan (with a few new faces) moving forward.
TrueHoop
•
TrueHoop: Day of redemption
---

Jackson: Truly redeemed?
Yes, the U.S. men's basketball team recaptured the Olympic gold in Beijing. But did they really accomplish their mission? Depends how you look at it.
Scoop Jackson
---

Hollinger: International flair
Team USA got the gold, but the game of basketball was also a big winner. Here's a look at how the NBA's international stars fared in the Beijing Olympics.
John Hollinger
Medal Round
•
Sheridan: United statement
•
Forde: Coach K deserves praise
•
Hill: Rooting for redemption
•
Sheridan: USA gets revenge vs. Argentina
•
Sheridan: US-Argentina rivalry renewed
•
Sheridan: Dispelling two Team USA myths
•
Sheridan: One down, two to go
•
Sheridan: Quarterfinals roundup
•
Sheridan: A whole new ballgame
•
Sheridan: Previewing the quarterfinals
•
Sheridan: Australia won't be scared
Preliminary Round
•
Day 5: Greece earns date with Argentina
•
Sheridan: Kaman suits up for Germany
•
Sheridan: Unchallenged by Spain in 37-point win
•
Bucher: Unselfishness sets Team USA apart
•
Day 4: Aussies, China clinch medal-round berths
•
Watch: Coach K and the challenge of Team USA
•
Sheridan: Spain's strengths pose challenge
•
Mag: Rubio is Spain's teen phenom
•
Sheridan: Winning Grecian formula for Team USA
•
Broussard: Wade back in elite conversation
•
Day 3: Lithuania, Spain remain undefeated
•
Sheridan: Team USA's Greek strategy
•
Sheridan: Angola was easy, Greece won't be
•
Day 2: China almost upsets Spain; Croatia rolls
•
Forde: U.S.-China game had historic feel
•
Sheridan: Yi struggles against Team USA
•
Day 1 roundup: Argentina upset
•
Israeli, Iranian share embrace
TrueHoop
•
Chris Bosh on Olympic intensity
•
The Next Team USA
•
Suddenly, Team USA looks enormous
•
Spain's joke not funny
•
The other Redeem Team: Spain
•
Dream Team not the model
•
Yao Ming is no Kobe Bryant
•
Team USA's Chinese fans
•
Is Team USA muzzled or not?
Olympic Preview
•
Sheridan: 10 questions for opening round
•
Sheridan: Who will grab gold?
•
Sheridan: Argentina, Russia headline Group A
•
Sheridan: USA, Spain tops in Group B
•
Jackson: Something's missing on USA's roster
•
Kobe & Co. arrive to heroes' welcome in Beijing
•
Ford: Top int'l draft prospects at Olympics
•
Watch: Best internationals in action

MOST SENT STORIES ON ESPN.COM