Commentary
10 questions as Team USA begins opening-round play
Originally Published:
August 9, 2008
By
Chris Sheridan
| ESPN.com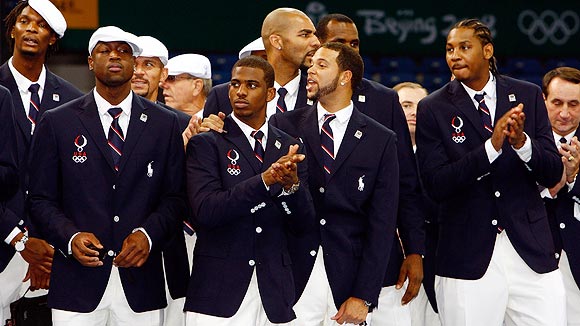 Jamie Squire/Getty ImagesTeam USA looked sharp during the opening ceremonies. How will they look during the opening round?

BEIJING -- Nobody has played a game yet, but the Olympic team from Argentina has already defeated the USA in one small, insignificant way.
OK, maybe it wasn't so insignificant if you were one of the athletes who spent four hours standing and enduring the stifling heat and humidity during Friday night's opening ceremonies.
"I see Manu [Ginobili], and they've got like a short-sleeve shirt on," Kobe Bryant said Saturday.
"It was burning hot, and you know, we had the slacks, blazer and a long-sleeve shirt on," Chris Bosh said. "I saw Carlos Delfino last night, and he had his sleeves rolled up, some nice linen pants, and I was like: 'Where were we on that one?'
"But it was all for the sake of our country, so it was worth it."
Argentina and the United States are in different preliminary-round groups, meaning they won't play each other -- if at all -- until the single-elimination medal round. And like those short-sleeved shirts the Argentines wore Friday night, many of Ginobili and Delfino's teammates have something else the Americans envy: the gold medals they won four years ago in Athens.
So what'll be the key factors for Team USA as the Olympics unfold?
Here are a few answers to some questions confronting the Americans in the 2008 Beijing Olympics:
Q: How big of a game is the opener against China (Sunday, 10:15 a.m. ET)?
A: The American players have been told that the game will be viewed by a minimum of 1 billion people worldwide, making it the most watched game in the history of basketball. So you'd have to say that makes it a big game, especially here in China, where the home team is under enormous pressure to make it to the final eight, as it did four years ago in Athens.
China will have a major height advantage with 7-foot-6 Yao Ming and 7-footers Wang Zhizhi and Yi Jianlian (the latter two of that trio will go outside and try to beat the U.S. from 3-point range), but the Americans will endeavor to keep the ball out of those players' hands by pressuring China in the backcourt, either creating turnovers or forcing the Chinese to spend 10 to 14 seconds getting the ball into position to run their offensive sets.
Q: When the ball goes up for the opening tip, who will be Team USA's starting five?
A: Coach Mike Krzyzewski said Saturday that he will continue to go with the same starting five he used in Team USA's five warm-up games: Jason Kidd at the point, Kobe Bryant at shooting guard, LeBron James at the 3, Carmelo Anthony at power forward and Dwight Howard at center.
The Americans expect China to play almost nothing but zone defense, and they've spent the past three days concentrating on what types of offensive sets they'll use against the zone. They've also focused on what kind of defensive traps they'll use against China's bigs when the ball goes into the low post.
[+] Enlarge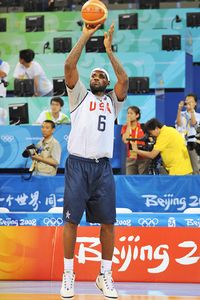 Garrett Ellwood/NBAE via Getty ImagesLeBron will see some time at the 3, the 4 and maybe even the 5.
Q: Any chance that starting five changes over the course of the tournament?
A: In my opinion, Deron Williams has a better than 50-50 chance of being the starting point guard by the time the medal round arrives, and Bosh is a realistic possibility to replace Howard in the middle.
Coach K has gone out of his way to single out Bosh for unsolicited praise, doing it so many times that it's beginning to seem a little fishy. Krzyzewski also used James at center for an extended period of time against Australia Tuesday, and Howard's free-throw shooting has gotten progressively worse.
Meanwhile, team director Jerry Colangelo has been saying Anthony needs to exert greater effort on defense, so watch for a possible change there, too, although Anthony has arguably been America's best FIBA player the past two years, and Colangelo was most likely trying to light a fire under him.
Q: What does Bosh bring to the table that Howard doesn't?
A: We'll let Bosh answer that himself, since we asked him that very question Saturday afternoon as Team USA practiced at Beijing Normal University.
"His game is a little different from mine," Bosh said, "but when I come in I think [our team] can be a little more aggressive with run-and-jump traps on defense, kind of bringing up the tempo a little more because he's more a traditional big man, he's going to roll, he's going to pound the glass hard. And then when I come in I can wear them down a little more, set quick screen-and-rolls, get guys open, just kind of finesse the game a little bit."
Q: What about the rest of the rotation?
A: Dwyane Wade has been superb as the sixth man. He was a real go-to scorer in the second halves of the two close games the Americans played against Russia and Australia. He will continue in that role -- although he won't necessarily be the first guy off the bench -- especially if Howard gets into foul trouble early (remember, you get only five fouls under FIBA rules, and technical fouls count against your personal foul limit).
Coach K has used Chris Paul and Williams as a backcourt tandem at times, though the team has looked its best when Williams has been running the point against zone defenses. Michael Redd is the designated zone buster and has been taking a majority of his 3s from the corners. Bosh is the backup center, and Tayshaun Prince and Carlos Boozer have yet to play significant roles.
Q: Is Coach K going to continue to keep Boozer and Prince on the bench, or might their roles become more substantial as the tournament evolves?
A: We'll let Coach K answer that one:
"Yes [their roles will increase], in trying to keep a fresh team out on the court that can play our defense and run the court the way we want it run. So these next two games we'll probably have a quicker rotation to make sure we do that, and we'll learn a little bit from that.
"Carlos has had good practices, and he knows how to play. And when we're on defense, that's important. Same thing with Tayshaun. And a guy who I just think has done great is Chris Bosh, every practice, every game, in the ball-screen defense he's so long, and because he has perimeter skills, he's somebody that we can rely on, and he can get more minutes, too."
Q: What aspects of international play will be most difficult for Team USA to adjust to?
A: The NBA is an outside-in game, meaning you try to move the ball from the outside to the inside for a closer look at the basket. The FIBA game is inside-out, with teams trying to penetrate the middle, draw defenders in, then kick the ball outside to the shorter 3-point line.
The best teams move the ball quickly and make the extra pass to the open man on the perimeter, and the Americans have not been quite as adept at playing that style, which features more catch-and-shoot jump shots than what we see in the NBA.
Q: Is this team better prepared for the Olympics than the 2004 team was?
A: In terms of tactical preparation, it's hard to say. Reporters are not allowed to watch practices, so it's hard to discern how well they execute the things they've concentrated on over the past three days: offensive timing, defensive positioning -- especially on the help side -- and knocking down catch-and-shoot jumpers.
From a personnel standpoint, they get tutorials on the tendencies of individual players from chief scout Tony Ronzone of the Detroit Pistons, an expert on international ball. Ronzone believes China will be most vulnerable to full-court pressure when starting point guard Liu Wei is on the bench.
Q: Any chance they'll lose in the Olympics?
A: As I said in my final dispatch from Shanghai after they played Australia, their first-round games against Greece (Thursday, 8 a.m. ET) and Spain (Saturday, 10:15 a.m. ET) should both be considered toss-ups, although Spain is the better of those two opponents.
Greece will slow the game down, whereas Spain will play them straight up and will be far less likely to use a zone. The new Spanish coach, Aito Reneses, is a huge proponent of man-to-man defense.
One particular thing to watch is whether the Americans begin to panic if they fall behind. That tendency has been their Achilles' heel throughout this decade, and this squad has not played from behind in any of their five tune-up games, or in the 2007 Tournament of the Americas.
Q: Would losing to either of those teams be disastrous?
A: Quite the contrary. Losses in the first round don't matter all that much, unless there is a danger of falling out of the top four and failing to advance. And since Team USA should have little difficulty defeating China, Angola and Germany, a spot in the quarterfinals is a 99.9 percent certainty.
Yes, it'll be hard for a significant portion of the American basketball-viewing public to stomach a loss to Spain and/or Greece. But again, in the big picture, it does not matter. What matters is winning the final three games, because if you do that, you fly home with a gold medal around your neck.
"This will be the most competitive Olympics thus far, and in London [in 2012], that will then be the most competitive. It will not get easier to win the gold medal -- for anybody. It'll continually get harder as the sport grows worldwide," Krzyzewski said.
Q: So, how do you see this tournament ending, Sheridan?
A: Those who read my preview column know I like Team USA over Spain by a whisker in the gold medal game. For the rest of the field, I like Argentina over Greece by a couple of whiskers in the bronze medal game, Lithuania for fifth, Russia for sixth, Australia for seventh, Germany eighth, with Croatia and Iran failing to advance out of Group A, and Angola and China missing the quarterfinals out of Group B.
Chris Sheridan is an ESPN.com Insider. He has covered the U.S. senior national team since the 1996 Olympics. To e-mail Chris, click here.
Team USA: Redemption In Beijing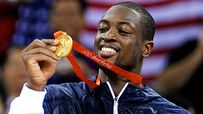 Team USA won the Olympic gold medal in men's basketball after years of frustration.
Roster | Schedule | TV | Scores | Standings
The Redeem Team

Sheridan: 1992 vs. 2008
They redeemed U.S. hoops and reclaimed Olympic gold. So, how does the '08 team stack up to the Dream Team?
Chris Sheridan
•
Sheridan: Dream scene
---

TrueHoop: What next?
Team USA was great in '08. But how will it remain on top of the world? We've got the plan (with a few new faces) moving forward.
TrueHoop
•
TrueHoop: Day of redemption
---

Jackson: Truly redeemed?
Yes, the U.S. men's basketball team recaptured the Olympic gold in Beijing. But did they really accomplish their mission? Depends how you look at it.
Scoop Jackson
---

Hollinger: International flair
Team USA got the gold, but the game of basketball was also a big winner. Here's a look at how the NBA's international stars fared in the Beijing Olympics.
John Hollinger
Medal Round
•
Sheridan: United statement
•
Forde: Coach K deserves praise
•
Hill: Rooting for redemption
•
Sheridan: USA gets revenge vs. Argentina
•
Sheridan: US-Argentina rivalry renewed
•
Sheridan: Dispelling two Team USA myths
•
Sheridan: One down, two to go
•
Sheridan: Quarterfinals roundup
•
Sheridan: A whole new ballgame
•
Sheridan: Previewing the quarterfinals
•
Sheridan: Australia won't be scared
Preliminary Round
•
Day 5: Greece earns date with Argentina
•
Sheridan: Kaman suits up for Germany
•
Sheridan: Unchallenged by Spain in 37-point win
•
Bucher: Unselfishness sets Team USA apart
•
Day 4: Aussies, China clinch medal-round berths
•
Watch: Coach K and the challenge of Team USA
•
Sheridan: Spain's strengths pose challenge
•
Mag: Rubio is Spain's teen phenom
•
Sheridan: Winning Grecian formula for Team USA
•
Broussard: Wade back in elite conversation
•
Day 3: Lithuania, Spain remain undefeated
•
Sheridan: Team USA's Greek strategy
•
Sheridan: Angola was easy, Greece won't be
•
Day 2: China almost upsets Spain; Croatia rolls
•
Forde: U.S.-China game had historic feel
•
Sheridan: Yi struggles against Team USA
•
Day 1 roundup: Argentina upset
•
Israeli, Iranian share embrace
TrueHoop
•
Chris Bosh on Olympic intensity
•
The Next Team USA
•
Suddenly, Team USA looks enormous
•
Spain's joke not funny
•
The other Redeem Team: Spain
•
Dream Team not the model
•
Yao Ming is no Kobe Bryant
•
Team USA's Chinese fans
•
Is Team USA muzzled or not?
Olympic Preview
•
Sheridan: 10 questions for opening round
•
Sheridan: Who will grab gold?
•
Sheridan: Argentina, Russia headline Group A
•
Sheridan: USA, Spain tops in Group B
•
Jackson: Something's missing on USA's roster
•
Kobe & Co. arrive to heroes' welcome in Beijing
•
Ford: Top int'l draft prospects at Olympics
•
Watch: Best internationals in action

MOST SENT STORIES ON ESPN.COM