Commentary
Team USA has shot at gold after winning weird one
Originally Published:
August 22, 2008
By
Chris Sheridan
| ESPN.com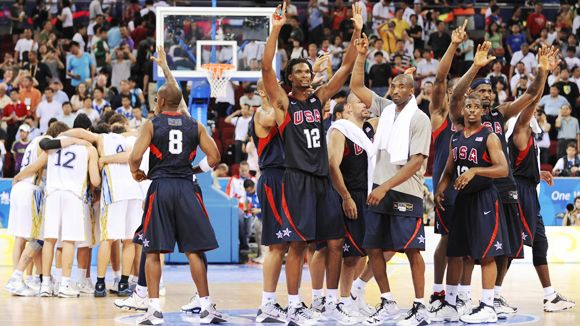 Timothy A. Clary/AFP/Getty ImagesWhat a difference four years make: Team USA was on the winning side of this semifinal vs. Argentina.

BEIJING -- You know who walked out of the arena feeling the best after the United States-Argentina game?
It certainly wasn't Manu Ginobili, who couldn't even walk after reinjuring his troublesome left foot in the first quarter and sitting out the final 33 minutes.
It wasn't coach Mike Krzyzewski, who was lamenting what he called his team's worst defensive quarter of the tournament when the Americans let their opponents cut a 21-point deficit to six just before halftime.
It might have been Carmelo Anthony, who went 13-for-13 from the line and scored 21 points to lead Team USA into the gold-medal game with a 101-81 victory Friday. But then again, Anthony was only 3-for-14 from the field, which had to put a damper on his positive vibe.
You know who it might have been?
How about the coach of the Spanish team, Aito Garcia Reneses, who had to come away with a more complete understanding of what might work against the Americans on Sunday in the gold-medal game: 40 minutes of zone defense and physicality, and an emphasis on going deep into the low post and attacking the Americans' front line.
"Their zone gave us problems because we weren't playing good defense," Coach K said. "We didn't attack the zone, but we didn't attack defensively, either. The heart of our team is playing defense, and that'll give us the best chance Sunday -- getting back to playing a full 40 minutes of defense."
This was a weird game in so many ways.
With the way the Americans stepped on the gas so hard so early, going ahead by 21 late in the first quarter and watching Ginobili leave the court in agony, it had you wondering whether the final margin would be 30, 40 or 50.
But then came an astounding lapse in focus from the Americans, who took their foot off the pedal and let Argentina climb right back into the game in the second quarter, the lead shrinking from 34-13 to 46-40, as Argentina got physical underneath and played a 2-3 zone, a 2-1-2 zone and a box-and-one zone that Team USA couldn't solve. The Americans took 20 3-point shots and just 13 2-point shots in the first half, and things could have gotten particularly scary if the Argentines had closed the gap any further -- which they should have.
Strangely, Krzyzewski opted to use Anthony at center, then Tayshaun Prince, after Dwight Howard and Chris Bosh picked up two fouls apiece. (Was it something Carlos Boozer said, Coach K?) Luis Scola scored easily inside over Anthony with 43 seconds left in the half to make it a six-point game, and Kobe Bryant missed a 3 at the other end. Carlos Delfino then made the baffling decision to dribble out 20 seconds of the shot clock and launch a shot from NBA 3-point range rather than get the ball into the low post, where Scola (28 points) was being defended by Prince.
Then, with 0.9 seconds left, Juan Gutierrez appeared to get all ball as he blocked a 3-point attempt by Anthony. But a referee called a foul, Anthony made all three from the line, and the Americans had some breathing room.
[+] Enlarge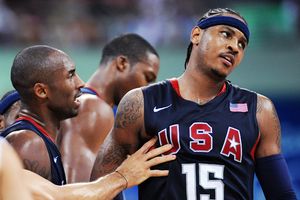 Filippo Monteforte/AFP/Getty Images)Will Carmelo Anthony be able to control his emotions when the stakes are highest against Spain?
More home cooking from the refs -- ever heard of the Americans getting home cooking from FIBA refs before? Told you this one was weird -- was served again midway through the third quarter when Andres Nocioni was given a technical foul (which counted as his fourth personal) right after Fabricio Oberto was assessed his fourth foul, and Anthony went to the line for four free throws that turned a 13-point lead into a 17-point lead.
Argentina never got closer than 13 after that, but Team USA also never stepped back as hard on the gas to finish off the Argentines as it had done in the first quarter.
And, it should be noted, Anthony might not have had a chance to get those four straight free throws if Jason Kidd hadn't corralled him and steered him away from a confrontation after Anthony took exception to a particularly hard foul on Howard by Oberto and Nocioni a few moments earlier.
Kidd was the first person Krzyzewski approached in the locker room afterward, telling him he had played his best game of the tournament and had been somewhat of a savior when the Americans did manage to have some success against the zone.
"The start of the second half was critical to that win, and Jason Kidd was the key," Coach K said.
But the Argentines showed that physicality can rattle the Americans, the zone can still give them problems, and a commitment to protecting the ball (Argentina committed only 10 turnovers in the final 32 minutes after beginning the game with seven by the time it was 21-4 late in the first quarter) can allow an opponent to have some semblance of a chance.
"We've got to play better than we did tonight," Anthony said. "I'm not saying we played bad, but we need to play better."
Spain has its own problems, too, after defeating Lithuania 91-86 with the benefit of some curious officiating discrepancies (Spain had a 44-26 advantage in free throws, and Lithuania had three players disqualified for five fouls and a fourth, Linas Kleiza, DQ'd for committing two unsportsmanlike fouls). Jose Calderon did not play for Spain due to a strained groin, and his availability for the gold-medal game is in doubt.
So the Spaniards didn't leave the arena feeling completely giddy, either, especially with the way their confidence was rattled a week ago when the Americans bludgeoned them by 37.
Still, that was a first-round game, and things can get weird, and results can be completely different in the medal round. (How's this for weird: Team USA director Jerry Colangelo's son, Bryan, who runs Calderon's NBA team, the Toronto Raptors, will undoubtedly try to influence the Spanish federation to hold Calderon out of the final game. Wouldn't you like to be a fly on the wall for those conversations?)
"Spain has a very deep bench, and they don't have any pressure. They will not lose by as much. There will be a more narrow margin," Argentina coach Sergio Hernandez said.
The Americans will take a narrower margin as long as they come out of Sunday's game with the gold medals, just as they'll take this 20-point victory in a game in which they were not at their best.
A win, after all, is a win. And with the gold medal within their grasp, they should be considerably more focused.
But this one did leave you scratching your head a little, wondering whether the Americans are going to finish this thing with a flourish, or whether they might be flustered. The answer will come Sunday.
Chris Sheridan is an ESPN.com Insider. He has covered the U.S. senior national team since the 1996 Olympics. To e-mail Chris, click here.
Team USA: Redemption In Beijing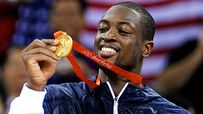 Team USA won the Olympic gold medal in men's basketball after years of frustration.
Roster | Schedule | TV | Scores | Standings
The Redeem Team

Sheridan: 1992 vs. 2008
They redeemed U.S. hoops and reclaimed Olympic gold. So, how does the '08 team stack up to the Dream Team?
Chris Sheridan
•
Sheridan: Dream scene
---

TrueHoop: What next?
Team USA was great in '08. But how will it remain on top of the world? We've got the plan (with a few new faces) moving forward.
TrueHoop
•
TrueHoop: Day of redemption
---

Jackson: Truly redeemed?
Yes, the U.S. men's basketball team recaptured the Olympic gold in Beijing. But did they really accomplish their mission? Depends how you look at it.
Scoop Jackson
---

Hollinger: International flair
Team USA got the gold, but the game of basketball was also a big winner. Here's a look at how the NBA's international stars fared in the Beijing Olympics.
John Hollinger
Medal Round
•
Sheridan: United statement
•
Forde: Coach K deserves praise
•
Hill: Rooting for redemption
•
Sheridan: USA gets revenge vs. Argentina
•
Sheridan: US-Argentina rivalry renewed
•
Sheridan: Dispelling two Team USA myths
•
Sheridan: One down, two to go
•
Sheridan: Quarterfinals roundup
•
Sheridan: A whole new ballgame
•
Sheridan: Previewing the quarterfinals
•
Sheridan: Australia won't be scared
Preliminary Round
•
Day 5: Greece earns date with Argentina
•
Sheridan: Kaman suits up for Germany
•
Sheridan: Unchallenged by Spain in 37-point win
•
Bucher: Unselfishness sets Team USA apart
•
Day 4: Aussies, China clinch medal-round berths
•
Watch: Coach K and the challenge of Team USA
•
Sheridan: Spain's strengths pose challenge
•
Mag: Rubio is Spain's teen phenom
•
Sheridan: Winning Grecian formula for Team USA
•
Broussard: Wade back in elite conversation
•
Day 3: Lithuania, Spain remain undefeated
•
Sheridan: Team USA's Greek strategy
•
Sheridan: Angola was easy, Greece won't be
•
Day 2: China almost upsets Spain; Croatia rolls
•
Forde: U.S.-China game had historic feel
•
Sheridan: Yi struggles against Team USA
•
Day 1 roundup: Argentina upset
•
Israeli, Iranian share embrace
TrueHoop
•
Chris Bosh on Olympic intensity
•
The Next Team USA
•
Suddenly, Team USA looks enormous
•
Spain's joke not funny
•
The other Redeem Team: Spain
•
Dream Team not the model
•
Yao Ming is no Kobe Bryant
•
Team USA's Chinese fans
•
Is Team USA muzzled or not?
Olympic Preview
•
Sheridan: 10 questions for opening round
•
Sheridan: Who will grab gold?
•
Sheridan: Argentina, Russia headline Group A
•
Sheridan: USA, Spain tops in Group B
•
Jackson: Something's missing on USA's roster
•
Kobe & Co. arrive to heroes' welcome in Beijing
•
Ford: Top int'l draft prospects at Olympics
•
Watch: Best internationals in action

MOST SENT STORIES ON ESPN.COM