Commentary
Team USA gets a taste of redemption against Greece
Originally Published:
August 14, 2008
By
Chris Sheridan
| ESPN.com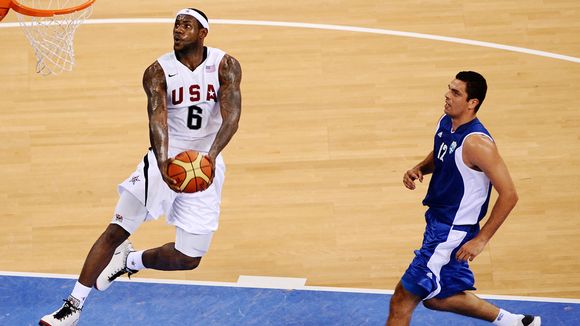 Nicolas Asfouri/AFP/Getty ImagesPowerful dunks. Ridiculous rejections. LeBron leads the team in moves meant only for video games.

BEIJING -- Here is what this night of redemption looked like:

• Cold stares deep into the eyes of their opponents, even during warm-ups when the Greeks were running their layup line.

• A hustling Dwyane Wade lunging to save the ball from going out of bounds, then flinging it toward the rim, where Kobe Bryant came flying through the air to flush it through.

• A brand of defense that was all about smarts, quick hands, minimal risk-taking and emphatic shot-blocking.

• Athleticism triumphing over size and physicality, especially on the offensive boards, where the Americans' determination to get their fingers 12 feet up in the air allowed them to keep possessions alive.

This is what it sounded like afterward, coming from the mouth of one of the players who participated in that Greek tragedy two summers ago in Japan and had been waiting over 23 long, long months to exact some revenge:

"It meant a lot to us. We wanted to keep the pressure on them, kind of redeem ourselves," Chris Bosh said. "This was a payback game for us, and we knew people were wondering how we were going to respond."

Respond they did, putting together a dominant second quarter that sucked all the life and fight out of the Greeks before the teams left the court at halftime.
That improbable Wade-to-Bryant alley-oop was only part of it. There was also Wade's seizing the moment when one of the Greek players bobbled the ball on a pick-and-roll play, grabbing one of his six steals and feeding LeBron James for a fast-break dunk; Wade getting a three-point play off an offensive rebound from a missed free throw by James; Wade faking a defender with a right-to-left twist of his body on a fast break; Kobe Bryant ending his 3-point slump by stepping back to NBA range to drain one; Bosh getting absolutely hammered on a drive to the basket but keeping his focus and converting the bucket and then the free throw.
And finally, a trap on Vassilis Spanoulis just across midcourt that produced a turnover and a lead pass that James finished with a backward, breakaway dunk, stopping afterward for a 360-degree flex.
[+] Enlarge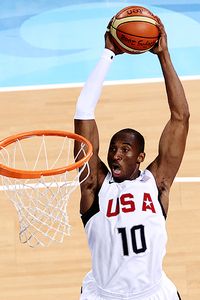 Nicolas Asfouri/AFP/Getty ImagesKobe delivered 18 points including this finish off a sick D-Wade pass.
It was a 16-point game after that jam, the Greeks were starting to point fingers at each other and every single person in the Wukesong Basketball Arena could see the same thing: This thing was over.
"Every night we want to play well, but we got better as a team tonight," said Wade, who augmented his six steals with 17 points, three rebounds and five assists in just 20 minutes.
James' line was equally impressive (13 points, six rebounds, six assists, three blocks), Bosh finished 7-for-8 for 18 points with five rebounds, and Bryant tied for a game-high 18 points.
But what made this victory most impressive was the coolness the Americans displayed when things started going against them early: three fouls whistled against Jason Kidd in the first 85 seconds, the game's being played at the Greeks' preferred slow pace over the first 10 minutes, and an alley-oop miss by Bryant turning into a three-point play by Nikolaos Zisis at the other end -- a five-point swing that cut Team USA's lead to 26-21 early in the second quarter.
Panic never even crept into the picture, only a steely determination to make things go their way by making everything start from the defensive end.
"When we can get a stop on the defensive end and get out and run, until you get out on the court with us you can't really understand how fast we are as a team," James said.
Not only fast, but mature. The loss to Greece two years ago taught the Americans a lesson about their own vulnerabilities, their need to be prepared and focused, and the respect they need to have for players they've never heard of or seen before.
They were locked in for this one, and it showed.
"We were more aggressive," Bosh said. "Last time we just sat back and let them run their sets and let them pick us apart. And when you let teams do that, they're good. They have good motion and can really hurt you. This time we made them run their offense 30 feet from the basket, were really into them and kept the pressure on the whole time."
So with this piece of redemption out of their way, the Americans now must turn their focus to an even better team that awaits them late Saturday night, Beijing time (10:15 a.m. ET).
The opponent is Spain, which also sits at 3-0 in these Olympics, and the size and talent level will be much bigger than what Team USA faced in Thursday night's 92-69 victory.
Spain beat the Greeks by 15 on the opening night of this tournament, and has a pair of big men, brothers Marc and Pau Gasol, who will test the Americans' ability to contain low-post scorers. Spain's guards are equal to if not better than Greece's, and the depth of Spain's bench -- especially if coach Aito Garcia Reneses continues to bring Jose Calderon, Juan Carlos Navarro, Ricky Rubio and Jorge Garbajosa coming off it -- is far superior to Greece's.
"We don't have a weakness," James said, "but if a team comes out and plays better than us, or if we don't come out and play like we know how to play, then we can lose."
Trust me, he wasn't saying that two years ago on the eve of the semifinals in Japan.
But that was way back when Team USA never knew it would have this great a need for redemption, a need that was fulfilled -- at least in part -- with a vengeance against Greece.
Chris Sheridan is an ESPN.com Insider. He has covered the U.S. senior national team since the 1996 Olympics. To e-mail Chris, click here.
Team USA: Redemption In Beijing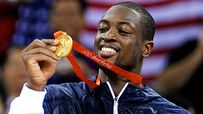 Team USA won the Olympic gold medal in men's basketball after years of frustration.
Roster | Schedule | TV | Scores | Standings
The Redeem Team

Sheridan: 1992 vs. 2008
They redeemed U.S. hoops and reclaimed Olympic gold. So, how does the '08 team stack up to the Dream Team?
Chris Sheridan
•
Sheridan: Dream scene
---

TrueHoop: What next?
Team USA was great in '08. But how will it remain on top of the world? We've got the plan (with a few new faces) moving forward.
TrueHoop
•
TrueHoop: Day of redemption
---

Jackson: Truly redeemed?
Yes, the U.S. men's basketball team recaptured the Olympic gold in Beijing. But did they really accomplish their mission? Depends how you look at it.
Scoop Jackson
---

Hollinger: International flair
Team USA got the gold, but the game of basketball was also a big winner. Here's a look at how the NBA's international stars fared in the Beijing Olympics.
John Hollinger
Medal Round
•
Sheridan: United statement
•
Forde: Coach K deserves praise
•
Hill: Rooting for redemption
•
Sheridan: USA gets revenge vs. Argentina
•
Sheridan: US-Argentina rivalry renewed
•
Sheridan: Dispelling two Team USA myths
•
Sheridan: One down, two to go
•
Sheridan: Quarterfinals roundup
•
Sheridan: A whole new ballgame
•
Sheridan: Previewing the quarterfinals
•
Sheridan: Australia won't be scared
Preliminary Round
•
Day 5: Greece earns date with Argentina
•
Sheridan: Kaman suits up for Germany
•
Sheridan: Unchallenged by Spain in 37-point win
•
Bucher: Unselfishness sets Team USA apart
•
Day 4: Aussies, China clinch medal-round berths
•
Watch: Coach K and the challenge of Team USA
•
Sheridan: Spain's strengths pose challenge
•
Mag: Rubio is Spain's teen phenom
•
Sheridan: Winning Grecian formula for Team USA
•
Broussard: Wade back in elite conversation
•
Day 3: Lithuania, Spain remain undefeated
•
Sheridan: Team USA's Greek strategy
•
Sheridan: Angola was easy, Greece won't be
•
Day 2: China almost upsets Spain; Croatia rolls
•
Forde: U.S.-China game had historic feel
•
Sheridan: Yi struggles against Team USA
•
Day 1 roundup: Argentina upset
•
Israeli, Iranian share embrace
TrueHoop
•
Chris Bosh on Olympic intensity
•
The Next Team USA
•
Suddenly, Team USA looks enormous
•
Spain's joke not funny
•
The other Redeem Team: Spain
•
Dream Team not the model
•
Yao Ming is no Kobe Bryant
•
Team USA's Chinese fans
•
Is Team USA muzzled or not?
Olympic Preview
•
Sheridan: 10 questions for opening round
•
Sheridan: Who will grab gold?
•
Sheridan: Argentina, Russia headline Group A
•
Sheridan: USA, Spain tops in Group B
•
Jackson: Something's missing on USA's roster
•
Kobe & Co. arrive to heroes' welcome in Beijing
•
Ford: Top int'l draft prospects at Olympics
•
Watch: Best internationals in action

MOST SENT STORIES ON ESPN.COM