Commentary
After dismantling Spain, Team USA stands at gold-worthy level
Originally Published:
August 16, 2008
By
Chris Sheridan
| ESPN.com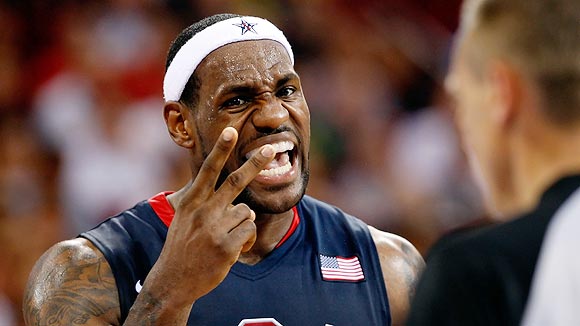 Streeter Lecka/Getty ImagesLeBron James didn't have much to complain about in Team USA's brilliant 119-82 thrashing of Spain.

BEIJING -- Spain tried everything. Pretty much none of it worked.
The zone? Team USA shot over it, drove the baseline against it and picked it apart.
The pick-and-roll? Spain tried it a lot early, and you know how many points its best player, Pau Gasol, had in the first 12½ minutes running it? Zero.
The press? Let's put it this way: If another team tries to use the full-court press against Team USA, it might as well just walk off the court and forfeit. Open up the court for the Americans, like the Greeks did two nights earlier and like the Spanish foolishly tried to in this one, and they'll crush you.
What made Saturday's 119-82 throttling of Spain so impressive was the way the Americans did everything so extraordinarily well. They're getting better each game, they're improving their few weak areas and the only thing that's scary about this 37-point beatdown is the notion that they might have peaked.
It's up to them to prove that they haven't, because the plane ride home is still more than a week away. But if they're going to keep bringing it like they brought it against the reigning world champions, there's no way they're going to lose.
"Twenty-eight turnovers is just a staggering number," said Gasol, whose team's field goal total matched its turnover total.
And another staggering number from the box score: The fast-break points were listed as 32-0.
"First time I've ever seen that happen," Carmelo Anthony said.
There was another astonishing number at halftime. When the U.S. had already opened a 16-point lead despite Spain shooting 58 percent from the field, the Americans had already forced 17 turnovers, and all 10 players Spain had used committed at least one.
"The only place Spain is beating us tonight is at the ashtray," NBA and USA Basketball official Brian McIntyre said outside the media entrance, where Spain's nicotine addicts had the American media outnumbered something like 15-2.
It never got close in the second half, and Jason Kidd even managed to attempt his first shot of the Olympics, a lefty layup off a feed from LeBron James on a 2-on-1 break after Dwight Howard had rejected Marc Gasol's shot at the other end.
"I thought he was going to give it back to me, because J never shoots the ball," James said. "Couldn't believe he laid the ball up. I thought he was going to give it back to me off the backboard."
The victory clinched first place in Pool B for the Americans, who complete opening-round play against Germany on Monday, then they likely face Australia in the quarterfinals, then Argentina or Lithuania in the semifinals.
James could find only one fault with Team USA's performance, saying it had three or four unforced errors when it tried to force outlet passes to the point guards when Spain hung back on defense. But he rated this overall performance as superior to the one two nights earlier against Greece.
"We didn't shoot the ball particularly well against Greece, from the free-throw line or the 3-point line," James said. "But we shot 45 percent from 3 and almost 80 at the line, so that's a plus. We know we're going to defend, we know we're going to get fast-break points, but when we can shoot the ball from the outside like that, and shoot free throws, it's going to be tough for anybody to beat us."
[+] Enlarge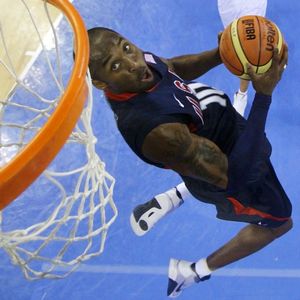 AP Photo/Eric Gay, PoolKobe Bryant's dunk helped Team USA to its biggest win in Beijing so far.
Pau Gasol called it a statement game by the Americans: "They're for real. They're serious about this."
James? He didn't totally agree.
"Statement game? I don't know. It means nothing. It means that we're 4-0, but we've got to continue to play better," James said. "I'm the leader of the team, and I'll make sure there's no slippage."
Slippage is what tripped up the Americans two years ago at the world championships in Japan -- slippage and panic. And when they fell behind by eight in the third quarter against Greece and started pressing and panicking, the deficit ballooned to 18 before they knew what hit them.
So as much as it appears this Olympic basketball tournament is going to be a gimme, as much as it appears Team USA is going to be the 12-man version of Michael Phelps, the Americans can't allow themselves to let up, to be overconfident, to put any more stock into this victory than what it was -- a preliminary-round victory.
They've still never had to play from behind, they've still not had to deal with early foul trouble for their big men, they still haven't run across a referee who seems out to get them (although Spain did in its game against China, with two particularly egregious calls: a technical against Spain's bench when China was on the verge of a five-second violation, and a phantom foul against Rubio when China had the ball with the game tied and the game clock inside 20 seconds).
They still haven't won anything.
"This was a good lesson for us to learn what we need to do to compete with a team that's at the U.S. level," Gasol said. "So hopefully we'll learn and put it behind us."
That's what the Americans need to do, too. Put it behind them.
The charter flight back to the good ol' U S of A doesn't go wheels up until Aug. 25, and the best thing they can do from here is fight off the mental and physical fatigue, keep their eyes on the prize and forget about what happened against Spain. It's still too soon to feel too good about themselves, no matter how uncommonly awesome they looked. That's what they need to take away from this game.
Chris Sheridan is an ESPN.com Insider. He has covered the U.S. senior national team since the 1996 Olympics. To e-mail Chris, click here.
SPONSORED HEADLINES
MORE OLYMPICS HEADLINES
MOST SENT STORIES ON ESPN.COM
Team USA: Redemption In Beijing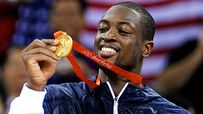 Team USA won the Olympic gold medal in men's basketball after years of frustration.
Roster | Schedule | TV | Scores | Standings
The Redeem Team

Sheridan: 1992 vs. 2008
They redeemed U.S. hoops and reclaimed Olympic gold. So, how does the '08 team stack up to the Dream Team?
Chris Sheridan
•
Sheridan: Dream scene
---

TrueHoop: What next?
Team USA was great in '08. But how will it remain on top of the world? We've got the plan (with a few new faces) moving forward.
TrueHoop
•
TrueHoop: Day of redemption
---

Jackson: Truly redeemed?
Yes, the U.S. men's basketball team recaptured the Olympic gold in Beijing. But did they really accomplish their mission? Depends how you look at it.
Scoop Jackson
---

Hollinger: International flair
Team USA got the gold, but the game of basketball was also a big winner. Here's a look at how the NBA's international stars fared in the Beijing Olympics.
John Hollinger
Medal Round
•
Sheridan: United statement
•
Forde: Coach K deserves praise
•
Hill: Rooting for redemption
•
Sheridan: USA gets revenge vs. Argentina
•
Sheridan: US-Argentina rivalry renewed
•
Sheridan: Dispelling two Team USA myths
•
Sheridan: One down, two to go
•
Sheridan: Quarterfinals roundup
•
Sheridan: A whole new ballgame
•
Sheridan: Previewing the quarterfinals
•
Sheridan: Australia won't be scared
Preliminary Round
•
Day 5: Greece earns date with Argentina
•
Sheridan: Kaman suits up for Germany
•
Sheridan: Unchallenged by Spain in 37-point win
•
Bucher: Unselfishness sets Team USA apart
•
Day 4: Aussies, China clinch medal-round berths
•
Watch: Coach K and the challenge of Team USA
•
Sheridan: Spain's strengths pose challenge
•
Mag: Rubio is Spain's teen phenom
•
Sheridan: Winning Grecian formula for Team USA
•
Broussard: Wade back in elite conversation
•
Day 3: Lithuania, Spain remain undefeated
•
Sheridan: Team USA's Greek strategy
•
Sheridan: Angola was easy, Greece won't be
•
Day 2: China almost upsets Spain; Croatia rolls
•
Forde: U.S.-China game had historic feel
•
Sheridan: Yi struggles against Team USA
•
Day 1 roundup: Argentina upset
•
Israeli, Iranian share embrace
TrueHoop
•
Chris Bosh on Olympic intensity
•
The Next Team USA
•
Suddenly, Team USA looks enormous
•
Spain's joke not funny
•
The other Redeem Team: Spain
•
Dream Team not the model
•
Yao Ming is no Kobe Bryant
•
Team USA's Chinese fans
•
Is Team USA muzzled or not?
Olympic Preview
•
Sheridan: 10 questions for opening round
•
Sheridan: Who will grab gold?
•
Sheridan: Argentina, Russia headline Group A
•
Sheridan: USA, Spain tops in Group B
•
Jackson: Something's missing on USA's roster
•
Kobe & Co. arrive to heroes' welcome in Beijing
•
Ford: Top int'l draft prospects at Olympics
•
Watch: Best internationals in action