Commentary
Yi struggles against Team USA defense
Originally Published:
August 10, 2008
By
Chris Sheridan
| ESPN.com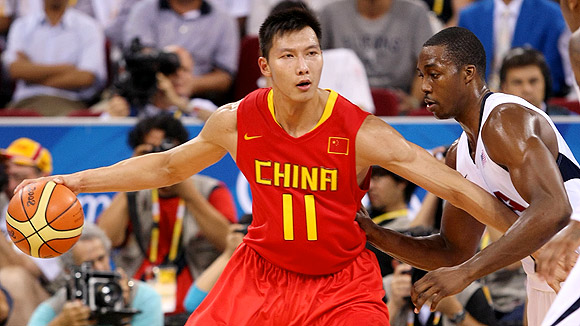 Jed Jacobsohn/Getty ImagesYi came up small on the big stage against Team USA.

BEIJING -- No matter how uptight or nervous folks back in America must have felt when this thing was staying too close for too long, there's a decent chance that 999,999,999 people around the world weren't feeling quite the emotions that had to be gripping Rod Thorn.
The longtime USA Basketball executive whose tenure with the national program dates back to the Dream Team days, Thorn probably couldn't believe his eyes midway through the second quarter when the Americans were 1-for-12 from 3-point range -- compared to China's 7-for-11 -- and were ahead just three points, 35-32.
But what had to make Thorn choke on his Cheerios even more Sunday morning back in the States was the sight of his newest prize acquisition, Yi Jianlian, looking even worse than those smog-filled panoramas you keep seeing on the broadcasts out of Beijing.
Six times Yi put the ball in the air, and six times he missed. Take away that 0-for-6 first half, and the Chinese were just one made bucket away from shooting 50 percent from the field.
And somewhere, former U.S. Olympian Richard Jefferson had to shake his head wondering how in the wide, weird world he was traded for someone who looked so lost on such a massive stage.
Yi, to put it politely, looked horrible before salvaging a little respect with a late offensive flurry in the fourth quarter after the Americans' 101-70 victory had long been decided.
"Maybe our biggest mistake was thinking this would continue, because we got nervous, we made mistakes," China coach Jonas Kazlauskas said. "Some players hesitated too much, and we lost control."
That they did, and the Americans' relentless pressure finally cracked the Chinese midway through that second quarter after they had stunned the crowd and a worldwide audience estimated at 1 billion -- the largest ever to watch a basketball game -- by staying even with Team USA for the first 15 minutes of play.
And the first to crack was Yi, who lost the ball on a trap that led to a dunk by Kobe Bryant to make it 35-29 before Li Nan hit a 3 to get China within three points for the final time.
Over the course of the next minute and a half, Yi had an unsportsmanlike foul and a missed 3 before Kazlauskas yanked him.
The deficit was 14 by the time Yi slammed in a miss early in the third quarter for his first bucket, but that came one play after Dwight Howard easily bodied Yi out of the way to make room for Bryant to throw down one of Team USA's many, many dunks.
Yao Ming was visibly upset at Yi after he broke off a set play and tried to force-feed Yao in the low post, the ball sailing straight out of bounds. Yao gestured at Yi that he should have thrown the ball to an open teammate at the 3-point line.
Yi exited with China down 53-39, replacing Yao later in the third quarter with the deficit at 19 after Yao appeared to aggravate his foot injury and was slumped over cringing in pain. My notebook for the rest of the quarter reads like this:
Yi misses 3. Yi misses 2-on-2 fast break, Yi fouls Chris Bosh with a hard slap that could be heard in the upper deck, Yi stands stationary as sloppy pass leads to Kobe fast-break dunk. 71-48.
Yi's final line read 4-for-13 for nine points with three rebounds, three fouls and two turnovers, with two missed free throws and four misses in four attempts from 3-point range.
Remember that rookie wall he hit back in February? Back before the Milwaukee Bucks got rid of him?
He's still hitting it.
"You know, what I did see from him in the fourth quarter was resilience. He struggled, but he was still being aggressive. And as a young player you like to see that out of him. He has a lot of growing to do, but he's going to be terrific," Michael Redd said afterward of his former Bucks teammate, who he described as a nice, Americanized kid already well-versed in U.S. street lingo.
To which I responded, "Well, you guys got the better of that trade."
To which Redd quickly responded: "We did, oh we did, we did, we did, we did. We're happy, no question." (I played the tape back five times to make sure I had an accurate count of "we dids.")
And somewhere back in the States, we're guessing a certain president of a certain team whose relocation date to Brooklyn grows ever more uncertain … well, we're fairly certain he turned off his TV Sunday morning having a hard time feeling good about what he watched from Beijing -- no matter how happy he was for his old friends on the staff of USA Basketball.
Chris Sheridan is an ESPN.com Insider. He has covered the U.S. senior national team since the 1996 Olympics. To e-mail Chris, click here.
SPONSORED HEADLINES
MORE OLYMPICS HEADLINES
MOST SENT STORIES ON ESPN.COM
Team USA: Redemption In Beijing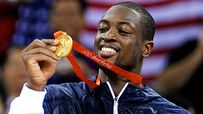 Team USA won the Olympic gold medal in men's basketball after years of frustration.
Roster | Schedule | TV | Scores | Standings
The Redeem Team

Sheridan: 1992 vs. 2008
They redeemed U.S. hoops and reclaimed Olympic gold. So, how does the '08 team stack up to the Dream Team?
Chris Sheridan
•
Sheridan: Dream scene
---

TrueHoop: What next?
Team USA was great in '08. But how will it remain on top of the world? We've got the plan (with a few new faces) moving forward.
TrueHoop
•
TrueHoop: Day of redemption
---

Jackson: Truly redeemed?
Yes, the U.S. men's basketball team recaptured the Olympic gold in Beijing. But did they really accomplish their mission? Depends how you look at it.
Scoop Jackson
---

Hollinger: International flair
Team USA got the gold, but the game of basketball was also a big winner. Here's a look at how the NBA's international stars fared in the Beijing Olympics.
John Hollinger
Medal Round
•
Sheridan: United statement
•
Forde: Coach K deserves praise
•
Hill: Rooting for redemption
•
Sheridan: USA gets revenge vs. Argentina
•
Sheridan: US-Argentina rivalry renewed
•
Sheridan: Dispelling two Team USA myths
•
Sheridan: One down, two to go
•
Sheridan: Quarterfinals roundup
•
Sheridan: A whole new ballgame
•
Sheridan: Previewing the quarterfinals
•
Sheridan: Australia won't be scared
Preliminary Round
•
Day 5: Greece earns date with Argentina
•
Sheridan: Kaman suits up for Germany
•
Sheridan: Unchallenged by Spain in 37-point win
•
Bucher: Unselfishness sets Team USA apart
•
Day 4: Aussies, China clinch medal-round berths
•
Watch: Coach K and the challenge of Team USA
•
Sheridan: Spain's strengths pose challenge
•
Mag: Rubio is Spain's teen phenom
•
Sheridan: Winning Grecian formula for Team USA
•
Broussard: Wade back in elite conversation
•
Day 3: Lithuania, Spain remain undefeated
•
Sheridan: Team USA's Greek strategy
•
Sheridan: Angola was easy, Greece won't be
•
Day 2: China almost upsets Spain; Croatia rolls
•
Forde: U.S.-China game had historic feel
•
Sheridan: Yi struggles against Team USA
•
Day 1 roundup: Argentina upset
•
Israeli, Iranian share embrace
TrueHoop
•
Chris Bosh on Olympic intensity
•
The Next Team USA
•
Suddenly, Team USA looks enormous
•
Spain's joke not funny
•
The other Redeem Team: Spain
•
Dream Team not the model
•
Yao Ming is no Kobe Bryant
•
Team USA's Chinese fans
•
Is Team USA muzzled or not?
Olympic Preview
•
Sheridan: 10 questions for opening round
•
Sheridan: Who will grab gold?
•
Sheridan: Argentina, Russia headline Group A
•
Sheridan: USA, Spain tops in Group B
•
Jackson: Something's missing on USA's roster
•
Kobe & Co. arrive to heroes' welcome in Beijing
•
Ford: Top int'l draft prospects at Olympics
•
Watch: Best internationals in action