Commentary
Kaman the German: He'll never wear a Team USA jersey
Originally Published:
August 17, 2008
By
Chris Sheridan
| ESPN.com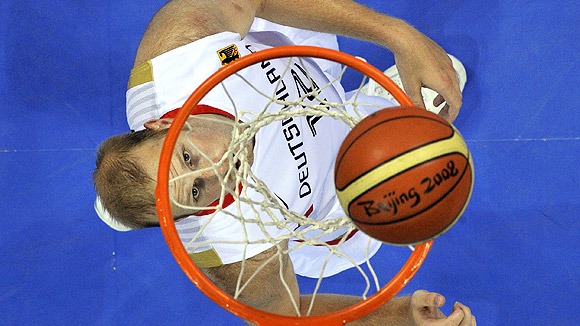 Filippo Monteforte/AFP/Getty ImagesHaving great-grandparents who were German helped the Clippers' Chris Kaman to suit up for Germany.
BEIJING -- Half a world away, Kamanhaus is divided.
Actually, LeRoy Kaman would probably take issue with calling his home Kamanhaus. He'd prefer "the Kamans' house."
And if LeRoy Kaman turns on the television in Grand Rapids, Mich., on Monday morning to watch his son Chris play basketball, he'll be cheering against him.
"My dad is not so thrilled," Kaman said. "My mom has always supported me, she's great. My dad is kind of negative about it. He's like: 'You're not German, you're an American citizen.'"
But the Los Angeles Clippers center is not only an American citizen, he's a German citizen now, too, in possession of a freshly minted Deutschland passport that was processed earlier this summer, allowing him to join the German national team for the Beijing Olympics.
So when Germany takes the court against Team USA on Monday at 8 a.m. ET for its final game of this tournament, the man in the middle playing opposite Dwight Howard and Chris Bosh will be Chris Kaman. A red-blooded, born-and-bred American, three generations removed from the great-grandparents who decades ago first set foot on U.S. soil at Ellis Island in the shadow of the Statue of Liberty.
"He should be happy," Kaman said of his father, whom he has not spoken to since the Olympic tournament began more than a week ago. "It's his grandparents, so he should be happy about it, but sometimes he focuses on the negative a little bit. I tell him, 'C'mon, it's just basketball. That's the way I look at it.' But my dad was a little negative. I had to get in his face a little bit."
Under FIBA rules, Kaman is no longer eligible to represent the United States in international tournaments unless a special waiver is granted (the same rule applies to J.R. Holden, the American point guard from Pittsburgh who is representing Russia, along with Becky Hammon, who is playing for the Russian women's team) for extreme circumstances, such as the partitioning of a country.
So unless the Berlin Wall gets rebuilt in the next four to eight years, Kaman -- even if he becomes the best center in the NBA (stop laughing, we're trying to make a point here) -- will not be allowed to wear the red, white and blue in London in 2012, or in Rio de Janeiro, Chicago, Madrid or Tokyo in 2016.
"I don't know all the rules, I don't care. It was something I wanted to do, go to the Olympics," Kaman said.
Might he have regrets someday?
"Right now, no," Kaman said. "Maybe down the road I might. I'm not thinking about down the road now."
[+] Enlarge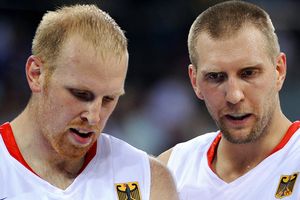 Filippo Monterorte/AFP/Getty ImagesDirk Nowitzki, right, welcomed a man with German ancestry to his team.
Kaman has been living out of a suitcase since July 6, when his passport finally arrived and he joined the team for preparations for the Olympic qualifying tournament. He has traveled through Pottenstein, Wurzburg, Frankfurt, Mannheim, Munich, Bamberg, taking an hour-long tour of Devil's Cave in Pottenstein with the team manager (Kaman calls him "Teamster"), and getting shown around Wurzburg with the father of his new friend and teammate,
Dirk Nowitzki
.
He bought a Rosetta Stone language CD to teach himself some German, though his learning curve has been hindered by the fact that the team coach, Dirk Bauermann (who once coached at Fresno State ), and all 11 of his teammates speak fluent English. And he has bonded with his new teammates to a strong enough degree that many of them allowed Kaman to wield an electric razor and shave the Olympic rings on their heads.
He has no use for those back home who consider him some sort of a traitor.
"People are going to hate you no matter what you do. People hate Kobe Bryant, and he's the best player in the world," Kaman said. "I just want to be positive, not focus on the negative stuff. It doesn't get you anywhere."
Germany missed out on a chance to reach the quarterfinals by losing to China on Saturday, so Monday's game against the well-rested Americans, who were given the day off Sunday by coach Mike Krzyzewski, completes Kaman's tour of German duty -- though he said he'll play in EuroBasket next summer in Poland if Nowitzki plays, too.
After going 10-for-12 from the field and scoring 24 points in Germany's opener against Angola, Kaman had only a dozen more buckets in his three other games, and he was yanked early in favor of Patrick Femerling against China when Yao Ming was scoring over him with ease.
So it has been somewhat of a disappointing tournament, but an experience Kaman will treasure.
"You know why I did it? One reason is every summer I play in the summer league, and all these guys in summer league are trying to get a job or are just starting on a team and are trying to prove something," Kaman said. "And I'm not trying to prove anything. I know I'm a good basketball player, I know what I can do, I know what my skills are, I try to play within my game and within my skill set, and the other reason is I want to have some fun. Summer league is not what I want. I want to try something else. And this is fun. Look, I'm in Beijing, China, with a once in a lifetime opportunity here."
Chris Sheridan is an ESPN.com Insider. He has covered the U.S. senior national team since the 1996 Olympics. To e-mail Chris, click here.
Team USA: Redemption In Beijing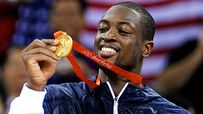 Team USA won the Olympic gold medal in men's basketball after years of frustration.
Roster | Schedule | TV | Scores | Standings
The Redeem Team

Sheridan: 1992 vs. 2008
They redeemed U.S. hoops and reclaimed Olympic gold. So, how does the '08 team stack up to the Dream Team?
Chris Sheridan
•
Sheridan: Dream scene
---

TrueHoop: What next?
Team USA was great in '08. But how will it remain on top of the world? We've got the plan (with a few new faces) moving forward.
TrueHoop
•
TrueHoop: Day of redemption
---

Jackson: Truly redeemed?
Yes, the U.S. men's basketball team recaptured the Olympic gold in Beijing. But did they really accomplish their mission? Depends how you look at it.
Scoop Jackson
---

Hollinger: International flair
Team USA got the gold, but the game of basketball was also a big winner. Here's a look at how the NBA's international stars fared in the Beijing Olympics.
John Hollinger
Medal Round
•
Sheridan: United statement
•
Forde: Coach K deserves praise
•
Hill: Rooting for redemption
•
Sheridan: USA gets revenge vs. Argentina
•
Sheridan: US-Argentina rivalry renewed
•
Sheridan: Dispelling two Team USA myths
•
Sheridan: One down, two to go
•
Sheridan: Quarterfinals roundup
•
Sheridan: A whole new ballgame
•
Sheridan: Previewing the quarterfinals
•
Sheridan: Australia won't be scared
Preliminary Round
•
Day 5: Greece earns date with Argentina
•
Sheridan: Kaman suits up for Germany
•
Sheridan: Unchallenged by Spain in 37-point win
•
Bucher: Unselfishness sets Team USA apart
•
Day 4: Aussies, China clinch medal-round berths
•
Watch: Coach K and the challenge of Team USA
•
Sheridan: Spain's strengths pose challenge
•
Mag: Rubio is Spain's teen phenom
•
Sheridan: Winning Grecian formula for Team USA
•
Broussard: Wade back in elite conversation
•
Day 3: Lithuania, Spain remain undefeated
•
Sheridan: Team USA's Greek strategy
•
Sheridan: Angola was easy, Greece won't be
•
Day 2: China almost upsets Spain; Croatia rolls
•
Forde: U.S.-China game had historic feel
•
Sheridan: Yi struggles against Team USA
•
Day 1 roundup: Argentina upset
•
Israeli, Iranian share embrace
TrueHoop
•
Chris Bosh on Olympic intensity
•
The Next Team USA
•
Suddenly, Team USA looks enormous
•
Spain's joke not funny
•
The other Redeem Team: Spain
•
Dream Team not the model
•
Yao Ming is no Kobe Bryant
•
Team USA's Chinese fans
•
Is Team USA muzzled or not?
Olympic Preview
•
Sheridan: 10 questions for opening round
•
Sheridan: Who will grab gold?
•
Sheridan: Argentina, Russia headline Group A
•
Sheridan: USA, Spain tops in Group B
•
Jackson: Something's missing on USA's roster
•
Kobe & Co. arrive to heroes' welcome in Beijing
•
Ford: Top int'l draft prospects at Olympics
•
Watch: Best internationals in action

MOST SENT STORIES ON ESPN.COM