Commentary
In historic game, U.S. dominance trumps hoops diplomacy
Updated:
August 10, 2008, 6:56 PM ET
By
Pat Forde
| ESPN.com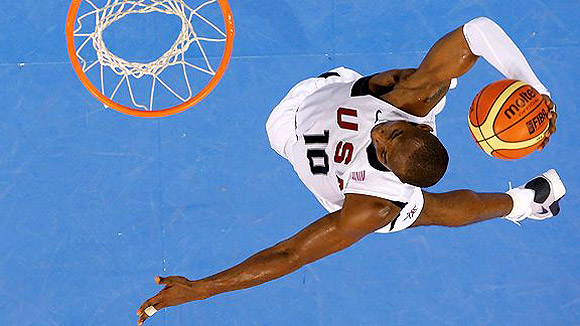 Phil Walter/Getty ImagesKobe Bryant helps feed the monster Sunday at the Beijing Olympic Basketball Gymnasium.

BEIJING -- The night began with hundreds of Chinese fans lined up in the rain outside Olympic Basketball Gymnasium, four hours before tip-off. It began with volunteers distributing plastic ponchos to the damp throng, presumably to keep the red flags painted on their cheeks from running. The night ended with Mike Krzyzewski being asked by a foreign journalist what he did "to get your players to kill their own superego." Between the drips and Freudian slips, the United States and China played a basketball game of historic import and global impact. The country with the best players walloped the country with the most players, 101-70. The country that owns the game's past and present showed the country that could possess much of its future how to hoop at the highest level -- literally and figuratively, dunk you very much. And up to a billion people might have witnessed it, either live or on TV, the president of the United States among them. In terms of signaling something big, it might have been the game's most portentous moment since Bird played Magic in the 1979 NCAA championship, or Michael Jordan scored 63 on the Boston Celtics in the NBA playoffs. "This was the mother of all the games?" another foreign journalist asked American player Chris Bosh. It might have been the symbolic mother, given China's staggering basketball potential. On the court, it was more a game of "Who's your daddy?" And bringing up baby. The Americans won. So did the Chinese. Even in 31-point defeat, this was the best basketball night the host country has ever seen. This was East meets (Jerry) West. He's the human logo for the NBA, and the league is bullish on Chinese basketball -- not just drafting its best ballers but pumping massive funds and manpower into developing the game in a nation that has a reported 300 million players. The biggest and best of those players is Yao Ming, the 7-foot-6 NBA All-Star for the Houston Rockets. He missed much of the NBA season with a stress fracture in his foot but wasn't going to miss this milestone moment. "It is a treasure in my life," said Yao, who carried his country's flag in the Opening Ceremony on Friday night. Yao opened the game by making a 3-point shot, a stunning thing for a guy who has made exactly one in his NBA career. He played passionately before coming out with four minutes, 45 seconds left to a huge ovation. Yao pumped his fist to the crowd and was animated on the bench, standing and encouraging his teammates even in the final minutes of a lopsided defeat. He has the personality of a supporting actor on the court in the U.S., but he's a leader here and knows it. He also has a staggering number of followers. The wildly enthusiastic home folks showed up early and soggy, settling in to cheer for every high-altitude move in pregame warm-ups. They chanted incessantly -- "Chi-na!" Clap-clap, "Chi-na!" -- even with the game out of reach. They came to roar for their favorite export, Yao, but also to laud the heroes they've imported via satellite from the States. At last, all those NBA stars China is crazy over were right here, running and dunking in living color. You'll never hear a road team get that many cheers -- in introductions, and every time the Americans rammed home another breakaway slam. LeBron James is huge here. Kobe Bryant is bigger. Up in the stands, two teenaged kids were trying to talk their way into media seating to get nearer to the floor. The fact that one was wearing a Kobe jersey and the other a LeBron unit might have given away the fact that they weren't media members. The fact that they were Chinese might have given away the fact that the NBA's hold on the nation is strong and getting stronger. Even if the kids had talked their way into press seating, there was nowhere to go. The IOC designates media tickets for what it perceives as its most popular sporting events, capping the number of journalists. For unfathomable reasons, this was an unticketed event, which meant that every reporter's seat was full -- and then some. The entire upper concourse was ringed three-deep with overflow reporters and photographers -- and many of them jammed the postgame news conference, a comedy of lingual errors and an exercise in perpetuating negative stereotypes of American players. There was the kill-the-superego question, apparently not pertaining to psychoanalysis but meant as a swipe at the perceived me-first attitude of the American players. (Other than Kobe, can't say it fits this bunch.) Krzyzewski's cute response to that one: "I didn't have to destroy or kill anything." There was a question to the Chinese about whether the Americans were guilty of excessive celebration at the expense of an outclassed opponent with all the dunking: "Do you think the U.S. team was showing off a bit too much? About because trying to show the numbers of circus?" (That's the straight quote. Apparently the only proper way to score an uncontested layup is to demurely kiss it off the glass. Memo to that dude: This ain't "Hoosiers." If you can flush it, do it. If you can reverse it, all the better.) Though it was directed at the Chinese, Krzyzewski later made sure to register his response: "There was no showing off. I don't know what your definition is of showing off. Maybe it's a language thing. That's hard basketball. … Don't confuse hard with show off." And don't confuse this with any other first-round Olympic basketball game. This portentous night could mean much more years down the road.
Pat Forde is a senior writer for ESPN.com. He can be reached at ESPN4D@aol.com.
SPONSORED HEADLINES
MORE OLYMPICS HEADLINES
MOST SENT STORIES ON ESPN.COM
Team USA: Redemption In Beijing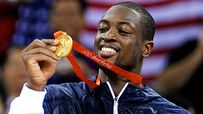 Team USA won the Olympic gold medal in men's basketball after years of frustration.
Roster | Schedule | TV | Scores | Standings
The Redeem Team

Sheridan: 1992 vs. 2008
They redeemed U.S. hoops and reclaimed Olympic gold. So, how does the '08 team stack up to the Dream Team?
Chris Sheridan
•
Sheridan: Dream scene
---

TrueHoop: What next?
Team USA was great in '08. But how will it remain on top of the world? We've got the plan (with a few new faces) moving forward.
TrueHoop
•
TrueHoop: Day of redemption
---

Jackson: Truly redeemed?
Yes, the U.S. men's basketball team recaptured the Olympic gold in Beijing. But did they really accomplish their mission? Depends how you look at it.
Scoop Jackson
---

Hollinger: International flair
Team USA got the gold, but the game of basketball was also a big winner. Here's a look at how the NBA's international stars fared in the Beijing Olympics.
John Hollinger
Medal Round
•
Sheridan: United statement
•
Forde: Coach K deserves praise
•
Hill: Rooting for redemption
•
Sheridan: USA gets revenge vs. Argentina
•
Sheridan: US-Argentina rivalry renewed
•
Sheridan: Dispelling two Team USA myths
•
Sheridan: One down, two to go
•
Sheridan: Quarterfinals roundup
•
Sheridan: A whole new ballgame
•
Sheridan: Previewing the quarterfinals
•
Sheridan: Australia won't be scared
Preliminary Round
•
Day 5: Greece earns date with Argentina
•
Sheridan: Kaman suits up for Germany
•
Sheridan: Unchallenged by Spain in 37-point win
•
Bucher: Unselfishness sets Team USA apart
•
Day 4: Aussies, China clinch medal-round berths
•
Watch: Coach K and the challenge of Team USA
•
Sheridan: Spain's strengths pose challenge
•
Mag: Rubio is Spain's teen phenom
•
Sheridan: Winning Grecian formula for Team USA
•
Broussard: Wade back in elite conversation
•
Day 3: Lithuania, Spain remain undefeated
•
Sheridan: Team USA's Greek strategy
•
Sheridan: Angola was easy, Greece won't be
•
Day 2: China almost upsets Spain; Croatia rolls
•
Forde: U.S.-China game had historic feel
•
Sheridan: Yi struggles against Team USA
•
Day 1 roundup: Argentina upset
•
Israeli, Iranian share embrace
TrueHoop
•
Chris Bosh on Olympic intensity
•
The Next Team USA
•
Suddenly, Team USA looks enormous
•
Spain's joke not funny
•
The other Redeem Team: Spain
•
Dream Team not the model
•
Yao Ming is no Kobe Bryant
•
Team USA's Chinese fans
•
Is Team USA muzzled or not?
Olympic Preview
•
Sheridan: 10 questions for opening round
•
Sheridan: Who will grab gold?
•
Sheridan: Argentina, Russia headline Group A
•
Sheridan: USA, Spain tops in Group B
•
Jackson: Something's missing on USA's roster
•
Kobe & Co. arrive to heroes' welcome in Beijing
•
Ford: Top int'l draft prospects at Olympics
•
Watch: Best internationals in action