Taurasi scores 21 as Americans blast Russia
Updated:
August 4, 2008, 1:25 PM ET
Associated Press
HAINING, China -- Seeing Becky Hammon on the Russian side was exactly what the Americans needed.
Diana Taurasi scored 21 points and the United States pulled away in the second half, beating the Russians 93-58 Monday night in the FIBA Diamond Ball tournament.
In a much-hyped matchup against her native country, Hammon scored 10 points, but her adopted team was no match for the Americans. This was the first meeting between the U.S. and Russia since the Russians beat the Americans in the 2006 world championship semifinals.
[+] Enlarge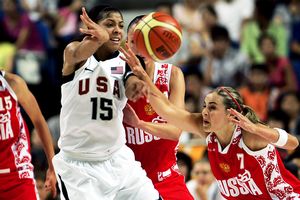 AP Photo/ Elizabeth DalzielTeam USA forward Candace Parker passes Monday amid pressure from Russia guard and South Dakota native Becky Hammon, right.
"She made her choice, and that was up to her," U.S. co-captain Katie Smith said. "We're here to represent our country. We have a nice rivalry with Russia with or without her. It's always been a battle whether she's here or not; we'll always bring our best."
Sylvia Fowles and the U.S. team came out focused and showed flashes of the dominance that has helped them win three straight Olympic gold medals. They got easy uncontested shots on the offensive end while defensively containing Russia.
Hammon wasn't in the 29-player pool used to select the U.S. Olympic team. So she chose another option: playing for Russia.
"It's not an issue anymore; we're playing against Russia now and it's 12 people," U.S. coach Anne Donovan said. "Anyone who puts that uniform on is our opposition. There is no individual that we look at or highlight."
A South Dakota native, Hammon competes for a Russian club team during the winter and became a naturalized citizen there. Since she hadn't played for the United States in any major FIBA-sanctioned international events, she was allowed to compete for Russia in the Olympics, which begin Friday.
Even though she was wearing a Russian uniform, Hammon had her eyes closed and her hand over her heart during "The Star-Spangled Banner."
"I think the pregame was worse than anything," Hammon said. "Once the ball went up, it was just another basketball game."
Hammon entered the game midway through the first quarter as she is still learning the Russian system after only three practices with the team. She missed her first two shots before hitting a 3-pointer to start the second quarter and make it 17-13.
Then the Americans went on a 26-6 run to close the half and put the game away. Taurasi scored seven points during the spurt, including a 3-pointer for a 20-point lead. The Americans extended the advantage to 43-19 at the break.
"We did a good job of putting 40 minutes together," Taurasi said. "We took a step closer to what we are trying to accomplish."
The United States went up by 30 on Katie Smith's 3-pointer early in the third quarter, and Russia got no closer than 19 the rest of the game.
Fowles added 15 for the USA, and Tatiana Shchegoleva led Russia with 14 points.
Up next for the United States is rival Australia in what could be a preview of the Olympic gold medal game.
"We expect it to be a great game and look forward to it," Donovan said.
Russia will face Mali in the fifth place game.
If the United States and Russia meet again in the Olympics, it will be on a much bigger stage with most likely a medal at stake.
"They are the No. 1 ranked team in the world. They have tremendous players on there. Basketball is a game where anything can happen. You want to meet the U.S. as late as possible," Hammon said. "I have been playing against those players for 10 years. I think when the ball goes up it's just going to be another basketball game."

Copyright 2008 by The Associated Press
SPONSORED HEADLINES
MORE OLYMPICS HEADLINES
MOST SENT STORIES ON ESPN.COM