Australia's effort, poor 3-point and free-throw shooting hinder Americans
Updated:
August 5, 2008, 1:55 PM ET
Associated Press
SHANGHAI, China -- They couldn't shoot, and occasionally they didn't defend. It was definitely a performance the Americans should be relieved came before they got to Beijing.
Undefeated, but no longer unchallenged, the U.S. Olympic men's basketball team wrapped up its exhibition schedule with its toughest test, pulling away to beat Australia 87-76 Tuesday night.
The United States led by only four points nearly halfway through the third quarter and was up by seven midway through the fourth against an Australian team that was resting its best player, Milwaukee Bucks center Andrew Bogut.
The U.S. players still feel like gold-medal favorites, but they hardly looked like gold-medal locks during this shaky outing.
"Nothing alarming for us. It's alarming when you lose," Dwyane Wade said.
"We're still growing. We're still going to get better as each game goes on, but I think tonight we learned something."
[+] Enlarge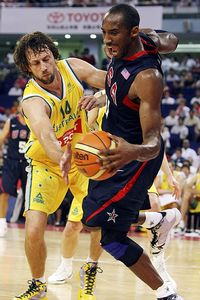 AP Photo/Eugene HoshikoMatthew Nielsen, left, gave Kobe Bryant a battle for the ball, as the Australians posed an unexpected challenge in their matchup against the United States.
The Americans relied on an aggressive defensive effort to overcome a horrendous night from 3-point range and the free-throw line, the same areas that proved costly in their semifinal loss to Greece in the world championships two years ago.
Wade scored 22 points and LeBron James had 16 for the Americans, who finished 3-of-18 from 3-point range and 20-of-33 (61 percent) at the foul line.
The U.S. team won two blowouts in Macau but found things much more difficult here, starting with an 89-68 victory over Russia on Sunday.
"The last two games the ball has been sticking a little bit, so we have to get back to looking like the first game where everybody was touching the ball and we were playing like we should," point guard Jason Kidd said. "We're too talented of a team to take tough shots because there's always going to be someone open."
Patrick Mills and Chris Anstey, who had a first-half altercation with Wade, each scored 13 points for Australia.
"In the third quarter they knocked down some big shots and I think that got them back in the ballgame," Kobe Bryant said. "And for us, we have to understand that that's going to happen from time to time and it's important to keep our poise, keep our composure and buckle down."
The U.S. team seemed in control after allowing one basket in the final 5½ minutes of the first half to open a 44-29 lead. But the Americans left that defensive intensity in the locker room, allowing a number of open 3-pointers and uncontested drives to the basket.
"We came out lazy," Wade said.
The Australians outscored the Americans 13-2 to open the third quarter, pulling to 46-42 on David Barlow's layup with 6:52 remaining in the period.
"We just broke down. We gambled a couple of times and allowed them to make the extra pass," James said. "We can't have those types of mental breakdowns because these teams can really shoot the ball."
Michael Redd and Wade had layups to open the scoring in the fourth, pushing the U.S. lead to 69-55. Australia scored nine of the next 11 points to pull within seven with half the period left, making the upset seem possible. The crowd even got behind the Australians, loudly booing a call that overruled what seemed to be a potential three-point play for them on an offensive rebound.
The Americans got their running game going again, and Wade had some easy baskets as they pulled away for their closest victory. The win over Russia was the previous closest game for the Americans, who came in averaging 110.8 points and shooting 64.2 percent from the field.
Bryant scored 13 points and Carmelo Anthony had 12 points and 10 rebounds for the United States, which faces host China on Sunday in its Olympic opener.
Bogut, the No. 1 pick in the 2005 draft, wanted more time to rest a sore right ankle that has been bothering him, but said he expects to be ready by the opener against Croatia on Sunday.
The Australians threw a scare into defending gold-medalist Argentina in an earlier friendly, building a 19-point lead in the third quarter before losing 95-90.
They started well in this game, with Mills fearlessly driving to the basket and helping Australia lead by four a few times in the first quarter before the Americans rallied to grab a 22-19 lead. U.S. coach Mike Krzyzewski started the second quarter with a lineup of James, Bryant, Wade, Anthony and Deron Williams. Australia wasn't scared of that unit, with Wade and Anstey jawing after Anstey fouled Wade away the ball and the players got tangled when the U.S. guard got up.
"What they've done, and where you see them, can intimidate a lot of people," Anstey said. "I think to come into a game intimidated you've given up before you start, and we didn't feel like we did that tonight."
Australia cut it to 26-25 on David Andersen's basket with 5:36 remaining in the half, then the small unit's pressure defense set in and made it hard for the Australians to even take shots.
The Americans forced eight turnovers in the period led by James, who was all over the court coming up with steals and blocks. He scored eight straight points to make it 37-25, then swatted a shot into the seats about a minute later.
Australia finally ended its drought when Mills went all the way for a layup with 1:51 to go, but the Americans came back with a steal by James leading to his own bucket and were up 15 at the break.

Copyright 2008 by The Associated Press
Team USA: Going For Gold In Beijing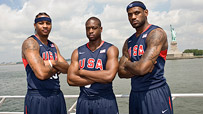 Team USA aims for the gold medal at the Beijing Games, playing its opening game against host China on Aug. 10.
Roster
|
Schedule
|
TV
News
•
Kobe & Co. arrive to heroes' welcome in Beijing
Pre-Olympic Tour
•
Jackson: Team USA will miss Amare
•
Sheridan: Flaws exposed against Aussies
•
Sheridan: Point-guard change?
•
Sheridan: D-Wade is back
•
Sheridan: Meet the Doberman
•
Sheridan: King James mastering FIBA rules
•
Jackson: Melo aiming for gold and more
Video
•
Watch: Best internationals in action
SportsNation
•
Who would you have picked?
MOST SENT STORIES ON ESPN.COM