Commentary
Pasta and pizza? That's Phelps' gold-medal secret?
Updated:
August 12, 2008, 9:31 PM ET
By
Jim Caple
| ESPN.com
BEIJING -- And now, Michael Phelps reveals how we, too, can be Olympic champions.
Asked to describe what his routine is here when he's not in the pool attempting to break Mark Spitz's gold-medal record, Phelps replied, "I'm eating a lot of pasta and pizza. I'm eating a lot of carbs. And sleeping as much as I can. I think just about every morning I've woken up at 4:30 or 5. It takes me a while to fall back asleep, but I do for about an extra half hour. It takes me a while to get up, but it's the Olympics, it's what you have to do."
See how simple it is? All we have to do is order the left side of the menu at Olive Garden, curl up in bed and hit the snooze button when we wake up, and we, too, can challenge Spitz's record. But there must be more to it than that. Otherwise, how should I explain why my body looks more like the Michelin Man's than like Phelps' sinewy form even though I've been following his Gold Medal Diet most of my life?
So perhaps it's the coaching, the years of training, the miles and miles of swimming each week, or that near-pornographic speedsuit. Perhaps we're just seeing a very, very special athlete at the peak of his game.
"I'm not sure when, it might be once a century, you see something like this," said Aaron Peirsol, who defended his gold medal in the 100-meter backstroke Tuesday. "Especially the way the competition is building up. For him to be doing what he's doing, at this moment of time with the way the rest of the world coming up the way it is, is amazing. The way he's attacking it -- he's not just winning, he's destroying the competition. It's awesome to watch."
Monday, we watched how perilously close Phelps came to losing his quest for eight golds in a 4x100 freestyle relay race so thrilling that reporters were still asking swimmers questions about it after Tuesday's races. Tuesday, we watched Phelps show how outrageously far ahead of the competition he is. First, he won his third gold medal in yet another world-record time. Then, he qualified for Wednesday's 200 butterfly final in an Olympic-record time.
Sure, he only tied the Olympic record in the semifinal. But bear in mind that he had only one hour to rest between races. That's barely enough time for him to have pizza delivered from Domino's, let alone eat it.
"I tried not to go all-out and conserved as much as I could, but I felt fine," Phelps said after the 200 fly. "I barely had enough time to relax between races. Now I just have to go back and get some food in my system. I've been able to recover as much as I can. Tonight will be some extra recovery time, which will be crucial for the next races."
The win brought his career Olympic gold-medal count to nine, matching Carl Lewis and Mark Spitz for the most by an American in Summer Olympics history, a mark Phelps says he didn't know about until this year. He also is five gold medals shy of breaking Spitz's record for most in one Olympics, a record he most certainly is aware of.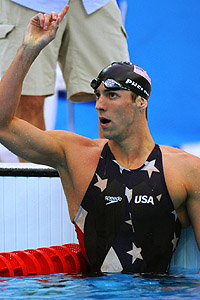 Francois-Xavier Marit/Getty ImagesNext up for Michael Phelps? Two finals (200 fly and 4x200 free relay) Wednesday morning (Beijing time).
The 200 free was considered almost a given for Phelps, which is odd because it was the individual race that prevented him from matching Spitz in 2004, when he finished third behind Australia's Ian Thorpe by .61 seconds. (He also missed gold in the 4x100 free relay.)
"Four years ago, I just wanted to race," Phelps said, evidently expecting reporters to believe he didn't also care about winning. "I hate to lose, and getting third in the 200 free four years ago -- when I do lose in a race like that, it motivates me even more to get better. Sometimes I'm successful and sometimes I'm not. In the last four years, I've been able to make some pretty significant drops in the 200 free."
Phelps won the race Tuesday with a world-record time of 1:42.96 that was more than 2½ seconds faster than his time in Athens. It also was nearly two seconds faster than the time of Korean silver medalist Park Tae-hwan.
Park is a strong enough finisher that Phelps was concerned about him.
"Being in Lane 6, I wasn't out in the middle of the pool," Phelps said. "I knew if I jumped on the first 100 meters, those guys in the middle wouldn't be able to see me. Hopefully I would have enough ground where I would be able to hold them off. It was a good race. I knew Tae-hwan was going to finish strong, so I knew I had to be more than a body length ahead of him at 150."
That wasn't a problem. Phelps started so quickly that he was almost an arm ahead of everyone else by the first stroke of the race. He steadily added to that lead as the race continued, and Park had no chance to catch him. Phelps had enough time to touch the wall, see his world-record time, celebrate and call to see when the all-you-can-eat buffet at the Olympic Village closes.
"Phelps swam so fast," Park said. "It is my honor to compete with him."
Phelps faces another big day Wednesday. He'll race for gold in both the 200 fly and the 4x200 free relay with only an hour of recovery time in between.
"I'm not even halfway done yet. I'm just about halfway done with my races," he said. "I think the most important ones are the ones coming up. I'm lucky enough to have a recovery session this afternoon and be able to catch up on my sleep as much as I can. [Wednesday] is a pretty big morning with the finals in the fly and the relay."
Yes, a very big day. Better order the manicotti formaggio and the ravioli di portobello. And maybe the tiramisu, just to be on the safe side.
Jim Caple is a senior writer for ESPN.com. He can be reached here. His Web site is at jimcaple.net.
PHELPS: THE GREAT 8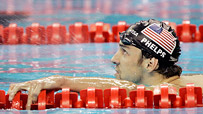 Michael Phelps has become the most decorated gold medalist in history, winning eight gold medals in a single Games. Here's a review of what we saw from this super American swimmer in Beijing:
• Coverage | Schedule | Results | Phelps news
RACE BREAKDOWN
•
Pat Forde's breakdown:
Phelps bettered Mark Spitz's record of seven gold medials, set at the 1972 Munich Games. Here is a review of Phelps' races at Beijing.
Story
• Race No. 1 -- 400-meter IM: Phelps kept pace with teammate Ryan Lochte and László Cseh in his weakest discipline, the breaststroke, before putting the hammer down in the freestyle to win his first gold of the Games. Story | Forde's take
• Race No. 2 -- 4x100 free relay: Phelps almost saw his run end, but Jason Lezak came back in the final leg to help the U.S. men edge France to win gold in one of the most memorable relay races in Olympic history. Story | Forde's take
• Race No. 3 -- 200 freestyle: Phelps easily won his third gold of the Games and ninth of his career in one of his strongest events. He also broke his own world record (1:42.96). Story | Caple's take
• Race No. 4 -- 200 butterfly: It wasn't even close, folks. Phelps controlled the race from the beginning to win, breaking his own world record and becoming the most decorated gold medalist in Olympic history. Story | Forde's take
• Race No. 5 -- 4x200 free relay: Phelps chose to swim the first leg of the relay and immediately set the tone. By the time Peter Vanderkaay swam the anchor leg, the Americans held a five-body-length lead. Story | Forde's take
• Race No. 6 -- 200 individual medley: Phelps dominated right from the start of the 200 IM and powered away to win in 1:54.23, another world record. Less than an hour later, Phelps won his 100 butterfly qualifier. Story | Forde's take
• Race No. 7 -- 100 butterfly: Just when you thought it couldn't get any better ... Phelps beat Milorad Cavic by a hundredth of a second to win the 100 fly and match Mark Spitz's record of seven golds in the same Games. Story | Forde's take
• Race No. 8 -- 4x100 medley relay: The relay team of Aaron Peirsol (back), Brendan Hansen (breast), Phelps (fly) and Jason Lezak (free) won, helping Phelps pass Mark Spitz for an unprecedented eighth gold medal in the same Olympics. Story
PREVIEW
•
Bowman on Phelps:
What makes Phelps so good? ESPN.com asked his coach, Bob Bowman, to break him down by each discipline.
Story
• ZOOM gallery: A look at Michael Phelps, stroke by stroke. Launch
• ESPN The Magazine: Once again, Michael Phelps is poised at a frontier of the impossible. Eric Adelson
WATCH
•
SportsCenter:
ESPN's Hannah Storm sits down with Phelps, who says this will be his last run at history.
Watch
• Outside The Lines: Eric Adelson gives us a behind-the-scenes look at Phelps' training regimen. Watch
MOST SENT STORIES ON ESPN.COM