Commentary
How can one not be won over by Phelps' feat?
Updated:
August 17, 2008, 3:06 PM ET
By
Jim Caple
| ESPN.com
BEIJING -- Mark Spitz, meet Roger Maris. And say hello to Bob Beamon while you're at it.
I was 10 years old the summer Spitz won seven gold medals at the 1972 Munich Games, and I still vividly remember getting the news of his latest races in Munich. For 36 years, those seven golds loomed as one of the few true magic numbers in sports, like Joe DiMaggio's 56-game hitting streak, Ted Williams' .406 batting average and Wilt Chamberlain's 100-point game. Spitz's mark was so special that a little part of me wanted Michael Phelps to fail in his quest to surpass him. But I soon was swept up pulling for Phelps to break the record just as everyone else was.
And Sunday he did, replacing Spitz's seven on sports' ever-changing ledger with an eight that will mean as much to current kids as Spitz's number meant to me.
"The term 'Spitzian feat' might be outdated now," U.S. teammate Aaron Peirsol said. "It might be 'Phelpsian feat.' By the way, I just coined that."
Thanks, Aaron. The royalty checks are in the mail.
Sports is filled with hyperbole, but rarely does the moment live up to the hype. (Jets fans will know what I mean by the first week of October.) This did. Without actually saying the words, without raising eight fingers the first day he pulled down his goggles and leaned over a starting block, Phelps made it clear that he planned to win eight gold medals at the Olympics, and that is exactly what he did. We don't often see anyone in any endeavor set out to achieve and then pull it off. We don't often see someone come along and fulfill our most unrealistic expectations. Tiger Woods did. LeBron James did. And now Phelps has.
"Today," said the usually stoic, reserved Chinese moderator at Phelps' first mini-news conference, "we are lucky to see the birth of a legend."
Imagine how frustrating it would be to be a swimmer who is the same age as Phelps and competes in the same events. Phelps began swimming in the Olympics in Sydney, began winning in Athens and plans to continue competing at least through London. It would be like coming up as a shortstop in the Yankees system in 1996.
Can any young swimmer surpass Phelps? Perhaps. After all, Peirsol said, Spitz came along in 1972 and Phelps came along now. And although the competition is much deeper than it was in Spitz's day, swimmers from Zimbabwe and Serbia won medals here, even if they live and train in America.
"Records are always made to be broken no matter what they are. Anybody can do anything they set their mind to," Phelps said. "I've said it all along, 'I want to be the first Michael Phelps, not the second Mark Spitz.' Never once will I ever downplay his accomplishment and what he did. It's still an amazing feat and will always be an amazing accomplishment in the swimming world and the Olympics.
"To have something like that to shoot for, it made those days when you were tired and didn't want to be [at practice] and just wanted to go home and sleep, it made those days easier to be able to look at him and say, 'I want to do this.' It's something that I've wanted to do, and I'm thankful for having him do what he did."
In other words, Spitz both set the standard and helped provide the means to break it.
Asked what effect he wanted his performance to have on swimming, Phelps replied, "I don't want this sport to be a once-every-four-years sport. Yeah, we get a lot of attention every four years, but in between those four years, there is really not as much exposure for us as I would like. … But we swim every single day of the year. There's never really an offseason. There's an offseason every four years, right after the Olympics. I just want people to get more involved in the sport and be aware of what we're doing. I really think it's going to happen."
Well, Phelps didn't achieve what he did by setting his expectations low, but he's taking on a task even more challenging than eight gold medals.
We won't be watching a lot of swimming on TV in the next three years or seeing many fantasy swimming drafts. But we will see a surge in swimmers who will try out for the swim team this school year, all of them stoked to be the next Michael Phelps, or, more accurately, the first someone whose name we'll eventually learn.
And if that someone matches or breaks Phelps' record, it will be his own damn fault for inspiring a new generation of swimmers across the map.
Jim Caple is a senior writer for ESPN.com. He can be reached here. His Web site is at jimcaple.net.
PHELPS: THE GREAT 8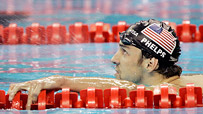 Michael Phelps has become the most decorated gold medalist in history, winning eight gold medals in a single Games. Here's a review of what we saw from this super American swimmer in Beijing:
• Coverage | Schedule | Results | Phelps news
RACE BREAKDOWN
•
Pat Forde's breakdown:
Phelps bettered Mark Spitz's record of seven gold medials, set at the 1972 Munich Games. Here is a review of Phelps' races at Beijing.
Story
• Race No. 1 -- 400-meter IM: Phelps kept pace with teammate Ryan Lochte and László Cseh in his weakest discipline, the breaststroke, before putting the hammer down in the freestyle to win his first gold of the Games. Story | Forde's take
• Race No. 2 -- 4x100 free relay: Phelps almost saw his run end, but Jason Lezak came back in the final leg to help the U.S. men edge France to win gold in one of the most memorable relay races in Olympic history. Story | Forde's take
• Race No. 3 -- 200 freestyle: Phelps easily won his third gold of the Games and ninth of his career in one of his strongest events. He also broke his own world record (1:42.96). Story | Caple's take
• Race No. 4 -- 200 butterfly: It wasn't even close, folks. Phelps controlled the race from the beginning to win, breaking his own world record and becoming the most decorated gold medalist in Olympic history. Story | Forde's take
• Race No. 5 -- 4x200 free relay: Phelps chose to swim the first leg of the relay and immediately set the tone. By the time Peter Vanderkaay swam the anchor leg, the Americans held a five-body-length lead. Story | Forde's take
• Race No. 6 -- 200 individual medley: Phelps dominated right from the start of the 200 IM and powered away to win in 1:54.23, another world record. Less than an hour later, Phelps won his 100 butterfly qualifier. Story | Forde's take
• Race No. 7 -- 100 butterfly: Just when you thought it couldn't get any better ... Phelps beat Milorad Cavic by a hundredth of a second to win the 100 fly and match Mark Spitz's record of seven golds in the same Games. Story | Forde's take
• Race No. 8 -- 4x100 medley relay: The relay team of Aaron Peirsol (back), Brendan Hansen (breast), Phelps (fly) and Jason Lezak (free) won, helping Phelps pass Mark Spitz for an unprecedented eighth gold medal in the same Olympics. Story
PREVIEW
•
Bowman on Phelps:
What makes Phelps so good? ESPN.com asked his coach, Bob Bowman, to break him down by each discipline.
Story
• ZOOM gallery: A look at Michael Phelps, stroke by stroke. Launch
• ESPN The Magazine: Once again, Michael Phelps is poised at a frontier of the impossible. Eric Adelson
WATCH
•
SportsCenter:
ESPN's Hannah Storm sits down with Phelps, who says this will be his last run at history.
Watch
• Outside The Lines: Eric Adelson gives us a behind-the-scenes look at Phelps' training regimen. Watch
MOST SENT STORIES ON ESPN.COM