Commentary
Even in fighting for bronze, U.S. baseball team wants to show its worth
Updated:
August 22, 2008, 11:57 AM ET
By
Jim Caple
| ESPN.com
BEIJING -- The American baseball players will battle Japan for a bronze medal Saturday morning and then go back to their summer jobs with the Midland Rockhounds, the Las Vegas 51s, the Albuquerque Isotopes and other minor league teams spread throughout the country.
As gigs go, playing in the Olympics is more rewarding than say, a road trip between Buffalo and Durham. The U.S. team lived in the Olympic village, met President Bush at a practice game and learned such cultural insights as, catcher Lou Marson said, "European people always cut ahead in the lunch line."
[+] Enlarge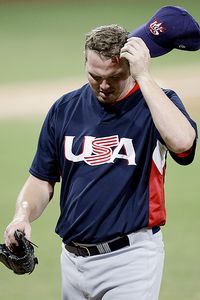 AP Photo/Kathy WillensBlaine Neal and the U.S. will play Japan in the bronze-medal game Saturday.
What the Americans could not do was beat Cuba or take home a gold-medal souvenir. After losing by one run under the tiebreaker system to Cuba in a preliminary game last week, the U.S. lost 10-2 to its archrival in Friday's semifinal in what may have been America's last chance to win an Olympic gold in its national pastime.
Whether future U.S. players will trade an International League road swing for a true international league in the Olympics depends on an IOC vote next fall. Baseball, which along with softball was dropped as a sport for 2012 in London, has a good chance to be voted back in for 2016. If it is, Cuba may have to beat the likes of Brandon Webb or Tim Lincecum because International Baseball Federation chief Harvey Schiller said this week he would like to see major leaguers play in the medal round.
U.S. manager Davey Johnson said he doubted major league owners would allow such a thing -- teams would have to release not just two dozen Americans, but possibly another two-to-three times that many foreign players for other national teams -- but Schiller is a former USOC chief executive who has pull with all the principle people who will make the decisions.
With big leaguers unavailable, the U.S. relied on top minor leaguers and draftees in its Olympic competitions over the years; but Johnson started his lone collegian, San Diego Sate pitcher Stephen Strasburg, on the mound against Cuba. The possible No. 1 pick in next June's draft, Strasburg threw fastballs in the mid-90s and effective off-speed pitches, but also allowed three runs in four innings against Cuba and the U.S. never caught up.
"He was great out of the windup, but when he went to the stretch, he was trying to be a little too quick to keep guys at first," said Marson, who plays in Philadelphia's farm system. "He was trying to be too quick and left the ball up. But he's going to be a great pitcher as he continues to mature and gain experience. He's going to be a good player for whoever gets to pick him."
The score was close for most of the game, but Cuba broke it open with six runs in the eighth, all coming on a pair of three-run homers, including one that was longingly admired by the man who hit it, Alexei Bell.
"Well that wasn't really the first time," Johnson said of Bell's display. "They have a lot of fun and they do a lot of things we don't condone in the United States."
Yeah, right. No major leaguer would ever pause to admire a home run or take a long, slow, loving home-run trot.
Bad blood between the two teams was obvious in the preliminary round robin, when Johnson accused the Cubans of intentionally throwing at Jayson Nix and the Cubans responded by saying the accusations showed a lack of respect. Friday's game was more restrained. The biggest beefs were Bell's home run and when Cuban pitcher Norge Vera knocked Dexter Fowler off his feet with a little extra shove while tagging him on a grounder down the first-base line. Vera immediately motioned that he didn't mean to push so hard.
"It was just about baseball tonight," St. Louis infield prospect Brian Barden said. "I respect the guys for coming out here and playing like that. In the end, that's what it's about. I have to give it to them; they're a good ballteam. They came out and swung the bats and got the pitching done."
If Saturday marks baseball's final appearance in the Olympics, the U.S. said it was determined to go out with a medal, even if it is bronze. As disappointing as not medaling would be for the U.S., it would be even more so for Japan, which shut down its major leagues for the Olympics to send its best players here -- or at least its best players not named Ichiro, Dice-K or Matsui -- only to see them lose four games already.
"Definitely, that's our No 1 goal, to take home the bronze," Strasburg said. "I think baseball will be back in the Olympics at some point. We just need to let people know that it's a popular sport and people want to see it in the Olympics."
Jim Caple is a senior writer for ESPN.com. He can be reached here. His Web site is at jimcaple.net.
SPONSORED HEADLINES
MORE OLYMPICS HEADLINES
MOST SENT STORIES ON ESPN.COM