Commentary
Still plenty to watch before Games close on Sunday
Updated:
August 23, 2008, 3:22 AM ET
By
Jim Caple
| ESPN.com
BEIJING -- We wait four years for the Olympics. Then, just when we were finally getting the time difference down and figuring out the scoring system for gymnastics, the Games draw to a close. But before we bid goodbye to Beijing and begin the countdown to London, here are 10 final events to watch this weekend (all listed in Beijing time, 12 hours ahead of ET):
[+] Enlarge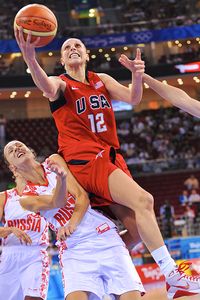 Jesse D. Garrabrant/NBAE/Getty ImagesDiana Taurasi will try to help the United States win its fourth consecutive gold medal.
Baseball medal games
(Saturday: Gold-medal game, 6 p.m.)
Olympic baseball has given us Mark McGwire, Will Clark, Ben Sheets, Tino Martinez, Nomar Garciaparra and many other All-Stars, albeit when they were still young and unknown rather than established major leaguers who wouldn't sign autographs. Will this be the last time we see baseball in the Olympics? It won't be played in 2012, but stands a good chance of coming back in 2016. Cuba goes for the gold (again) against Korea.
Table tennis
(Saturday: 8:30 p.m.)
OK, so it's not Michael Phelps racing for another gold medal. But table tennis is China's national sport and it did help jump-start U.S.-Chinese relations in the 1970s. The volleying is pretty dazzling and, well, foosball isn't an Olympic sport yet.
Women's volleyball gold-medal game
(Saturday: 8 p.m.)
It isn't played on the beach and the women don't wear bikinis, but this is still a pretty compelling game. The Americans have trailed 2-1 in their sets five times in these Olympics, but rallied again and again to advance to the gold-medal game. They'll play top-ranked Brazil in an attempt to win their first gold medal. Most local Chinese fans will be on U.S. coach Lang Pang, who won a gold for China as a player in 1984 and a silver as its coach in 1996.
Women's basketball gold-medal game
(Saturday: 10 p.m.)
The women will play for their fourth consecutive gold medal and their third consecutive against Australia and Lauren Jackson. Apparently, the Americans were able to survive despite Becky Hammon playing for Russia.
Men's and women's 4x400-meter relays
(Saturday: Women's at 8:40 p.m.; men's at 9:05 p.m.)
Usain Bolt isn't entered in the relay, so maybe someone else will finally win a race. And maybe the U.S. runners can hold onto the baton this time.
Men's marathon
(Sunday: 7:30 a.m.)
It's not only the most classic of Olympic sports; the course goes past Tiananmen Square. Best of all, it's probably the last you'll have to hear about Beijing's smog and whether it affects performances.
Men's volleyball gold-medal game
(Sunday: Noon)
The worst story of the Olympics was the murder of coach Hugh McCutcheon's father-in-law at a Beijing tourist site. The team played without its coach until he returned to guide them to the gold-medal game for the first time since 1988.
Men's basketball gold-medal game
(Sunday: 2:30 p.m.)
It is tough to decide who to root for in this one. On the one hand, you want to see the U.S. win gold, don't you? On the other hand, how can you possibly bring yourself to root for a team coached by Mike Krzyzewski?
Men's water polo gold-medal game
(Sunday: 3:40 p.m.)
Look, you'll get to see the basketball players again soon enough. Do yourself a favor and catch some phenomenal athletes playing an exciting, fast-paced and very physical game when the U.S. plays for the gold in water polo -- for the first time since 1988 -- against two-time defending Olympic champ Hungary.
Closing Ceremony
(Sunday: 8 p.m.)
How will the Chinese top the spectacular way they lit the Olympic cauldron? Whatever happens, it's going to be quite a show.
Jim Caple is a senior writer for ESPN.com. He can be reached here. His Web site is at jimcaple.net.
SPONSORED HEADLINES
MORE OLYMPICS HEADLINES
MOST SENT STORIES ON ESPN.COM